American Bully Breeders – American Bully Puppies For Sale
For many enthusiasts, owning an American Bully is a dream come true. These mighty canines are ferocious, muscular, strong, and a bit intimidating but they also create a strong bond with their owners.
As there are plenty of American Bully breeders, it can be hard to find one that guarantees a happy and healthy Bully.
A reputable breeder should offer you a Bully puppy that has the best temperament, physical attributes, and behavior as well as receives early socialization and training.
They should also provide you with registration papers and health certificates for the puppy before you take them home.
This article will give you information about the 10 places you can find American Bullies for sale.
10 Best American Bully Breeders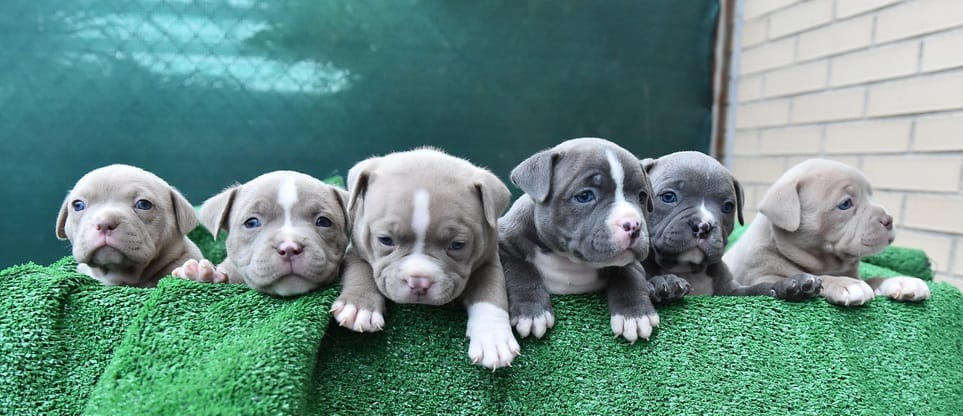 You must deal with trusted American Bully breeders when looking for a Bully puppy.
This is because there are many backyard breeders and puppy mills that subject their puppies to unfavorable and harsh environments or practice unethical breeding.
A Bully puppy from these places grows up to become ill-tempered, less socialized, and aggressive.
To ensure that your future Bully has an excellent temperament, the following is a list of reputable breeders you can get your puppy from:
#1. Venomline, Texas Size Bullies – Florida
Venomline is a family-owned breeding company that produces some of the thickest American Bully adults and puppies in the world, without sacrificing health or conformation.
The Pocket American Bullies from Venomline are known to have dense bones, massive head, wide shoulders, short muzzles, broad chest, and packed with muscle on compact and short frames.
Venomline has produced several ABKC pocket American Bully champions. It is different from most breeders because they do not use traditional kennels and their dogs sleep in beds and are not kept in kennels all day.
Bullies produced by this breeder come with the 'wow' factor as well as great athleticism and temperament despite the heavy bone and muscle they carry.
Dogs from Venomline have been featured in BULLY KING Magazine, Rolling Stone Magazine, on television (NBC, Barcroft Animals), and in Music Videos.
They ship their puppies worldwide and customers can pick up their Bully at the nearest airport. They hand-deliver the puppies for local customers.
Their dogs are Health and DNA tested, and the puppies come with ABKC registration, health certificate, de-worming, and shots, as well as a health guarantee to cover any issues related to genetics.
Information and Details
Name: Venomline, Texas Size Bullies
Phone: (832) 452-0898
Email: texassizebullies@gmail.com
Website: Texas Size Bullies
#2. Monster Bully Kennels – Portland
Monster Bully Kennels breed the most colorful and biggest XL American Bully dogs in the world. The XL American Bully is a popular breed with incredible strength, size, and calm demeanor which makes them great family pets.
The XL Bully does not have the aggressive drive compared to the Pitbull. XL American Bullies from Monster Bully Kennels are bred to be social, confident, and protective with the eagerness of pleasing their family.
Dogs from this breeder have been featured on cd albums, magazine covers, national news articles, and have been sold to various celebrities, NFL players, NBA players, politicians, MMA fighters, and many more.
There XL American Bullies come in different patterns, colors, and sizes and all of them are DNA health tested.
This breeder is the only one that offers a 100% satisfaction guarantee, where if you are not happy with the puppy you buy from them, you can return it within 15 days and you will a full refund.
They have spent years and more money in perfecting the pedigree of their XL Bullies to ensure that they are not only the biggest but also dogs with the best health, structure, temperament, and overall correctness.
Some of the dogs produced by Monster Bully Kennels are King Louii, a triple champion who has been featured on magazine covers and videos,
Morpheus who is the world-famous merle male with puppies who have been sold for $50,000, and Queen Karma, who has been voted the 'Bully Queen' by the public with over 1 million votes online.
Information and Details
Name: Monster Bully Kennels
Phone: (503) 893-4693
Email: mbk_south@yahoo.com
Website: Monster Bully Kennels
#3. Royalty Bully Kennelz
This is a family-owned kennel that provides top-quality bullies in Farmland in Indiana, Elkhart, and Indiana in Michigan as well as Quebec in Canada.
The journey of Royalty Bully Kennelz began with just one dog as a pet and since then they have grown and joined the competition in providing the best American Bullies in the market.
Their puppies are vaccinated and examined by licensed veterinarians, de-wormed, and micro-chipped before they transition to their new homes.
Bullies from Royalty Bully Kennelz have won several awards and have been great companions to many families across North America.
This breeder is a member of The American Bully Kennel Club, Junior Handlers, The Bully Registry Company, and the United Kennel Club.
Their males are healthy, have a negative test for Brucellosis, and all their vaccinations are up to date. They are available at different prices depending on their titles and bloodlines.
Their females are also up to date with their vaccinations and most of them are shown in both the BRC and ABKC.
Their Bullies look the way they do because of genetic and diet. Their dogs feed on raw food which is a blend of ground beef, chicken, rabbit, organs, and fish, as well as add the Origins 5-in-1 product on top.
Information and Details
Name: Royalty Bully Kennelz
Phone: (574) 304-2589
Email: royaltybullykennelz@outlook.com
Website: Royalty Blue Kennelz
#4. Swag Kennels Inc – Washington
Swag Kennels specializes in breeding XL and XXL American Bullies. They are best known for Phantom, who is the world's most popular two-faced merle American Bully.
They have the best family dogs that have amazing temperaments with children, infants, and adults. They produce dogs that have size, quality, beautiful colors, and structure.
They understand that a dog is not just a best friend or companion but also a family member, that is why they breed and sell the best American Bullies that are high in quality.
They offer both XXL and XL American Bullies in various colors from black, brown, blue, white, ticking, fawn, chocolate, lilac-tri, brindle, to champagne.
Swag Kennels also sell diamond and gold chains as well as leashed that are specially customized for American Bullies.
American Bullies from Swag Kennels are bred to provide companionship and friendship to their owners because their aggressiveness has been reduced and diluted over time through selective breeding.
Bullies from Swag Kennels are bred by pairing well-behaved dogs to ensure that raising them is an easy job. Their American Bullies are quick learners, intelligent, and people-pleasers, which makes training them easier.
Since they have plenty of energy, these Bullies require lots of exercises, therefore, if you love jogging an American Bully from Swag Kennels is a good option for you.
Information and Details
Name: Swag Kennels Inc
Address: Otis Orchards WA 99027
Phone: (206) 250-1917
Email: support@swagkennels.com
Website: Swag Kennels Inc
#5. Big Mack Bully Ranch – Central Oklahoma
Big Mack considers itself as a premier breeder of amazing American Bully XL. Since the American Bully is a relatively new breed, Big Mack has positioned itself to bring the biggest specimens known.
Their mission is to breed responsibly by tracking DNA and medical traits on all their stock as well as scrutinizing them to offer the finest American Bully.
All their puppies are socialized regularly, raised around children, and in a family setting to ensure that they have the best temperament, adequate and proper socialization, playtime, and handling.
This ensures customers get a well-rounded Bully puppy.
Their foundation dogs consist of Brush Creek Blue Pits, Probulls, Mugleston, Royal, Iron Cross, and OG Greyline. The majority of their blood is Ganghis Kon, Watchdog, Greyline, and Ruffian.
Their priority is to produce healthy dogs as well as a stable American Bully with a phenomenal size, temperament, athletic ability, and mass.
All Big Mack dogs are registered through the United Kennel Club and American Bully Kennel Club. Some Bullies are registered through BRC Global.
Information and Details
Name: Big Mack Bully Ranch
Address: Stillwater, OK
Phone: (405) 697-0145
Email: bigmackbully@gmail.com
Website: Big Mack Bully Ranch
#6. NorthWest Goldenline – Oregon
Northwest Goldenline is a small family-run kennel that breeds American Bullies to be thick, short, boned up, and wide with a good temperament and a Goldenline Bully head.
This breeder uses the best producing bloodlines such as Razors Edge, Gottiline, Kingdomline, Kingpinline, and many more.
Their main goal is to produce the perfect micro bullies, extreme pocket bullies, and extreme lapdogs for everyone to enjoy.
Their bullies are the perfect size to live indoors and outdoors. They are short enough to qualify as apartments dogs where most large dogs are not accepted.
Information and Details
Name: Northwest Goldenline
Phone: (541) 817-5866
Email: nwgoldenline@yahoo.com
Website: Northwest Goldenline
#7. Unleashed Kennelz – Los Angeles, CA
Founded in 2003, Unleashed Kennelz is a family-operated and owned kennel that specializes in breeding elite XL American Bullies and Pitbulls.
They have an established line that produces excellent health, immaculate structure, stable temperament, and unparalleled athleticism.
Most of their dogs have been health tested over the years to ensure that all the puppies come with health guarantees. They provide a stimulating, safe, and clean environment with enough space for physical activity in their 38-acre farm.
They strive to create Bullies that are top of the line and to provide quality, convenience, and expertise to their customers.
Unleashed Kennelz treats every customer as part of their family and will help you throughout the puppy ownership process including choosing the right breed and planning the logistics on how to get your new puppy to your home.
Their puppies are given the best care until the age of around 8 weeks old when moving to their new homes. The puppies are imprinted to different surfaces, environments, and situations when they are around 3 weeks old.
Unleashed Kennelz sends plenty of pictures and videos to customers to help with decision-making.
Consistency, mental stability, and health are the hallmarks of their male stock. Their female Bullies are elite and have an impressive physique, great temperament, and high vitality.
Information and Details
Name: Unleashed Kennelz
Phone: (616) 970-5697
Website: Unleashed Kennelz
#8. The Bully Garage – Delaware
The Bully Garage Home is a small kennel based out of Delaware. They pride themselves on breeding family members and friends.
Their focus is to produce excellent breeds that have qualities for a show ring and great temperaments at an affordable price. They currently breed American bully's pocket, standard, exotic, micro, and extreme.
It is a member of the American Bully Registry (ABR), United Bully Nation (UBN), and united kennel club (UKC). Their love for dogs led them to create dog hydration and vitamin supplement known as Bullydane.
The American Bully Breeds are friendly with strangers and great with kids and other dogs. It is highly undesirable and uncharacteristic of this breed to show extreme shyness, aggression, or viciousness.
The general impression of the Bullies from the Bully Garage is that they show great strength because of their muscular and bulky bodies.
They are also known for being compact, medium to large dogs with blocky heads. Similar to other breeders, Bully Garage breeds have heavy bone structures.
The height and weight of their Bullies are in proportion with the body frame. Their back is short to medium, slightly sloping from withers to rump or straight with a short slope at the rump to the base of the tail.
Information and Details
Name: The Bully Garage
Address: 810 S. Walnut St. Wilmington, DE 19801.
Phone: (302) 983-5670 or (302) 377-4757
Email: info@thebullygarage.com
Website: The Bully Garage
#9. Tennessee River Bullies – Tennessee
Tennessee River Bullies is a family-owned kennel that is passionate about the American Bully breed.
They produce gentle giants who are family companions with XL to Extreme XXL Bully characteristics that balance the health, quality, and structure to attain standards set by the UKC and the ABKC. They are fascinated by the bulky body and heavily muscled type of the American Bully
The standout quality is because of the several months of researching the pedigrees and breeders to ensure they get the finest lineage. Their goal is to grow and develop the breed in the right direction and get the best in the breed.
It is a new breeding business; thus, they take the advantage to produce the highest quality with a focus on beauty, health, structure, finest color, function, and the total package.
Their puppies are well socialized and have a veterinary certificate of good health before leaving the kennel. The Tennessee River Bully XL puppy will exceed your expectations because they obsess over style and details. They are committed to beauty, function, structure, and color.
The bloodlines they use include the Gotti, Gray line, Royal, and Razors Edge.
Information and Details
Name: Tennessee River Bullies
Phone: (731) 441-3610
Email: webmaster@tennesseeriverbullies.com
Website: Tennessee River Bullies
#10. Wall Street Bullys Kennel – Ohio
Wall Street Bullys is an XL Bully and XL Pitbull Breeder in NW Ohio. Their commitment is to specialize and produce the highest quality of XL American Bullies which are also called XL Pitbulls.
Their puppies are everything you would expect in an XL-style Bully and Pitbull dog. Their program has some of the most respected bloodlines of XL Pitbull in the American Bully Community.
They pride themselves in producing quality high-end puppies for pet homes, working dog homes, show homes, and for a breeding home that wants to add exceptional quality, pedigree, and size to their program.
Their Bullies are from the highest quality kennels from all over the world.
They are ABKC and UKC registered.
Their bloodlines include Gotti, XB, GK, ICK, Gray Line, and Razors Edge. Their focus is to breed not for quantity but quality, intelligence, structure, health, and temperament. Their dogs are big, wide, thick, and above average from the rest.
Their puppies are dewormed and up to date on shots before they leave for their new home at eight weeks old with vet certificates.
They searched hard and long to select the perfect bullies that build and represent their breeding program. They aim to create a Bully puppy with perfect traits in looks, structure, color, bone, stability, and head size.
They take into consideration all the characteristics and produce the best quality dogs in Ohio.
Information and Details
Name: Wall Street Bullys Kennel
Phone: (419)785-5858
Email: wallstreetbullys@yahoo.com
Website: Wall Street Bullys Kennel
Final Words
It can be challenging to find the perfect American Bully. Fortunately, there are high-quality kennels that are registered as Bully breeders making it easier for you to find a Bully puppy of your own. Use the contact details provided to get in touch with the above breeders.
It is best to get a Bully puppy from a reputable breeder because you are assured of a healthy puppy who can live with you harmoniously.
Also, remember that taking care of an American Bully requires dedication and effort to ensure that they live their best lives.
Hopefully, the above list has provided you with information on where you can find American Bully breeders.