Do Poodles Shed – Poodle Shedding & Grooming
Poodles are known as the national dog of France, but they have their start in Germany more than 400 years ago. They were originally bred to be duck hunters but are seen today as sissy dogs.
They are versatile dogs with muscled bodies and a square build. Furthermore, they make great companions to the entire family, as they are athletic smart, and loyal.
There are three main sizes of poodles which are the standard poodle (more than 15 inches tall) the miniature poodle (15 inches or under) and the toy poodle (no more than 10 inches). Though their sizes differ, they basically have the same bolt and proportions.
The Poodle is a great retriever with a beautiful, curly coat as protection against the elements, proficient swimming ability, and superior intelligence.
There was a practical purpose for the Poodle's coats. Poodles were able to have free-range movement in water because of the shaved legs tail and neck. The other parts of their bodies still had fur so that they could be protected from the coals.
Many people wonder: do poodles shed? And we answer this question in the detail as well as other useful information about poodle shedding.
Do Poodles Shed A Lot?
The answer is yes! Poodles do shed because all dogs shed; some more than others. The poodle is a unique breed because its coat is very coarse and curly.
So shedded hair gets stuck in the curly coat, instead of falling to the floor. Sometimes a Poodle's hair will fall out naturally or during grooming, which is to be expected from all animals with hair.
Shedding is normal. Compared to heavy shedder breeds, the Poodle does earn its reputation as a low shedding breed.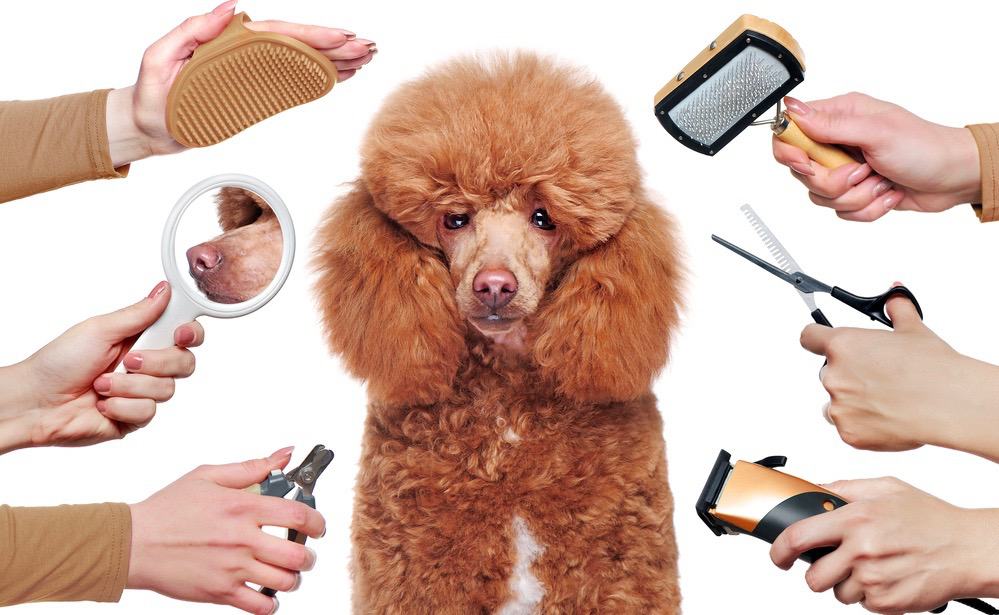 After hearing about the Poodle's reputation as a low shedding hypoallergenic dog, many potential dog owners become interested in the Poodle which comes in three different types.
If you have pet allergies, the answer to this question can be particularly important. The idea of a dog that doesn't shed too much is welcome to many potential dog owners, even if you and your family don't have allergies.
Poodle Shedding Frequency
We all lose hair, and a typical human will lose about 100 hairs a day. As a general rule when it comes to Poodles, you should keep in mind that bigger dogs have more coat area, so this means that they will have more hairs to shed.
If you're really worried about shedding, then a miniature or toy Poodle may be a better choice than a Standard Poodle.
All dog hair goes through a natural "growth cycle". This consists of three main phases, which are: new hair growing (anagen), resting (catagen), and falling out (telogen).
Poodles are known to have a longer hair growth cycle. This cycle happens repeatedly. Therefore, the longer it takes for the hair to finish the growth part of the cycle, the less they shed.
The Main Reasons Poodle Shed
The Poodle has a single coat, not a double coat, and the coat is curly and dense, which results in relatively low shedding.
In addition to the usual shedding throughout the year, the undercoats of double-coated dogs go through heavy seasonal shedding as well. Typically, double-coated dogs shed more than single coated dogs because of this.
The amount of shedding a dog goes through, can differ considerably. The Poodle is a minimal shedder, while dogs with thick double coats shed a great deal, especially as the seasons change. Poodles are low shedders that don't blow their coats with the change of weather.
If they have certain illnesses or skin conditions, low shedding dogs like the Poodle can shed more hair than usual. Common causes of hair loss in dogs include skin infections, inflammatory diseases, hormonal imbalances, and nutritional deficiencies.
Your Poodle may lose hair or have coat issues for several reasons. These include:
Allergies – this may be because of dog shampoo, commercial dog food additives, and other toxic chemicals – severe itching can make a dog repeatedly scratch himself so much that scabs form and hair is lost.
Castration responsive Dermatosis – this is hair loss that occurs in young male Poodles. It usually starts in the groin area spreading throughout the body.
Red Mange – this causes patches of hair loss when your Poodle has an allergic reaction to microscopic mites that live on dogs
Sebaceous Adenitis – this is a genetic medical issue that causes the coat to thin out or fall out completely
How To Manage Your Poodle Shedding
Brushing
Poodles like to be groomed especially if you give them a treat when you are done. It will be easier as they grow older if you start this practice at a young age.
To remove loose hair and prevent shedding in unwanted areas, it would be good to have a brushing schedule because their shedded hair gets trapped inside their fur.
You should use a wide enough brush with sturdy bristles so that the fur will be detangled. This brush should also be soft, run it along your arm to check.
Poodles have curly fur that gets entangled, you will need to maintain frequent brushing. By brushing every day you will ensure that your Poodle has a healthy coat and skin with less shedding.
Bathing & Shampoo
Part of taking care of your Poodle means regular baths with a mild shampoo for healthy coats of fur. You should bathe your Poodle regularly, but you should not overdo it.
Most people find a reasonable time to be at least once per week or about once per month. This depends on your preference or your dog's needs.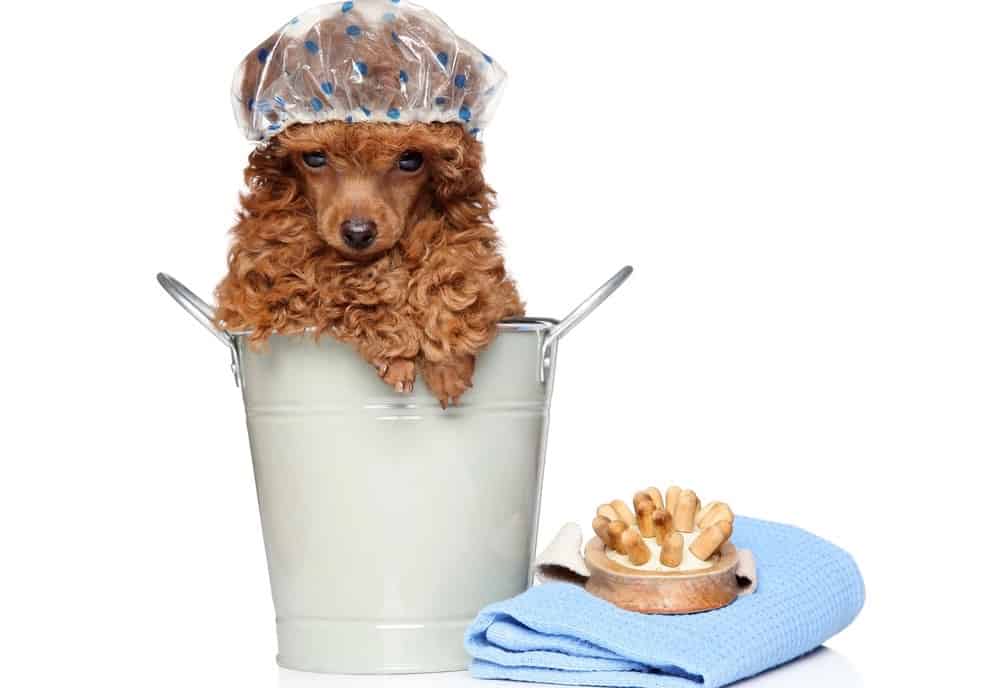 To keep the hair soft, moist, and tangle-free, Poodles should have a coat conditioner applied after the shampoo. This is especially important for Poodles because their hair is curly and prone to tangling.
To keep hairs on the dog from becoming fly-a-ways, you should buy high-quality brands will have anti-static compounds. It will also have mink oil which adds a luster or gloss to enrich and deepen the natural color of the coat.
Diet
A sufficient amount of protein and essential vitamins and minerals can only be found in high-quality dog foods. You should do your best to source foods that contain the nutrients your dog needs.
Additionally, it is better that these foods contain no artificial colors, sweeteners, and grains. Not only that but, you should see a vet's so that he or she can recommend the best course of action for dealing with your dog's allergies.
Poodles may have sensitivities or food allergies that can lead to skin infections, excessive shedding, and itching. Monitoring the ingredients that are in the meals you give to your Poodle is one of the most important things you can do to prevent excessive shedding.
Supplements
Omega-3 fatty acids can cause your Poodles coat to improve. Poodles require a diet that is high in omega-3 fatty acids. If you feed your puppy a lot of meat then you should consider giving them fish, for its high content of omega-3 fatty acids.
Supplements are also a great way to provide this essential nutrient to your dog's diet. You can also try to introduce flax seeds into their diet to help the coat. You will notice that your dog is shedding less and has healthier fur because of this.
Poodle Coats
The Poodle is a low shedding dog breed, even though their hair can grow out to very long lengths when left untrimmed. It is also prone to tangling because it is curly.
A Poodle who sheds excessively could be displaying signs of a more serious health problem. Therefore, you should take your dog to the veterinarian if you see a lot of shedding.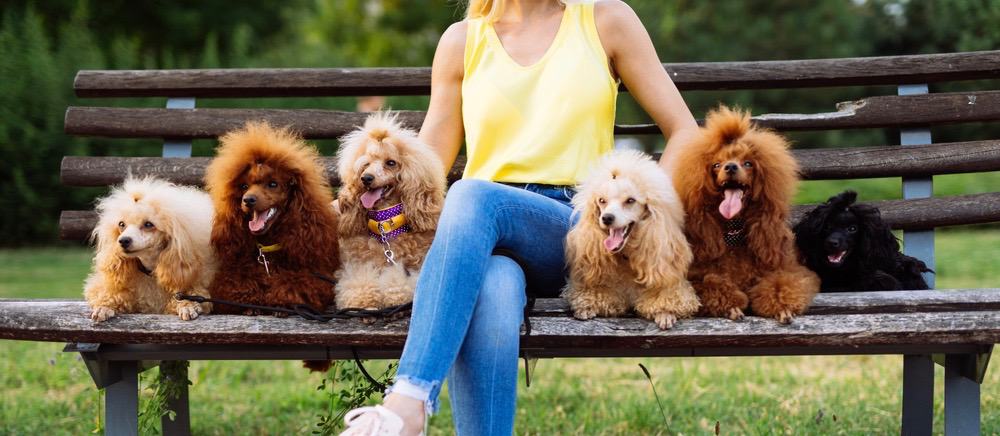 Remember that there is no such thing as a 100% hypoallergenic dog despite the fact that Poodles are low shedders. They can be a wise decision particularly for owners with pet allergies because compared to other breeds, their coat is easier to handle.
You still need to consider the situation carefully before getting one of your own. Understand that with Poodles, low shedding does not mean low maintenance.
What Is The Difference Between Shedding And Fur Loss?
Shedding is normal and typically many dog breeds shed their fur according to the climate as they are seasonal hair growers.
Because of this, they have a spurt of hair growth at certain times of the year, but in between, their hair doesn't grow as much. As a dog parent, you have to do is be patient and wait for spring or the next hair growth cycle.
Nevertheless, not all shedding is normal. Some dogs are afflicted with medical conditions that cause the coat to fall out, usually in patches.
This is known as alopecia, especially If the result is a bald patch or patches. Alopecia is a condition that occurs when the hair loss rate is more than the regrowth rate.
Do Spayed & Neutered Poodle Shed Less
A female Poodle's coat can be impacted by hormonal changes, specifically a surge in estrogen that presents when she is going through a heat cycle or after giving birth.
The coat may thin and hair loss may happen when she is in heat and also when she is whelping a litter.
When your dog is shedding too much, this may be because they have recently been spayed or neutered. Shedding usually happens because of the hormonal imbalances associated with those procedures.
Many dog breeds shed excessive fur after giving birth or when they have just been spayed or neutered.
Do Poodle Puppies Shed More Than Adult Dogs
With a Poodle's curly, and fine coat, clean-up becomes relatively easy especially in comparison to other dogs. Puppies have been known to shed more fur than their adult counterparts because they are still growing.
This usually levels out once they reach adulthood. As puppies, this is the best time to implement a brushing and grooming schedule, so that your Poodle will become accustomed. A healthy and nutritious diet is important at any age as this also affects the shedding of your dog.
Are Poodles Hypoallergenic
Many people look for Hypoallergenic dogs but no dog breed is 100% hypoallergenic. If a breed is claiming this then they are probably lying.
The Poodle is a light shedder and produces less dander than other breeds, this is great news for those who are allergic. This makes Poodles easier to manage for people with allergies, but not completely hypoallergenic.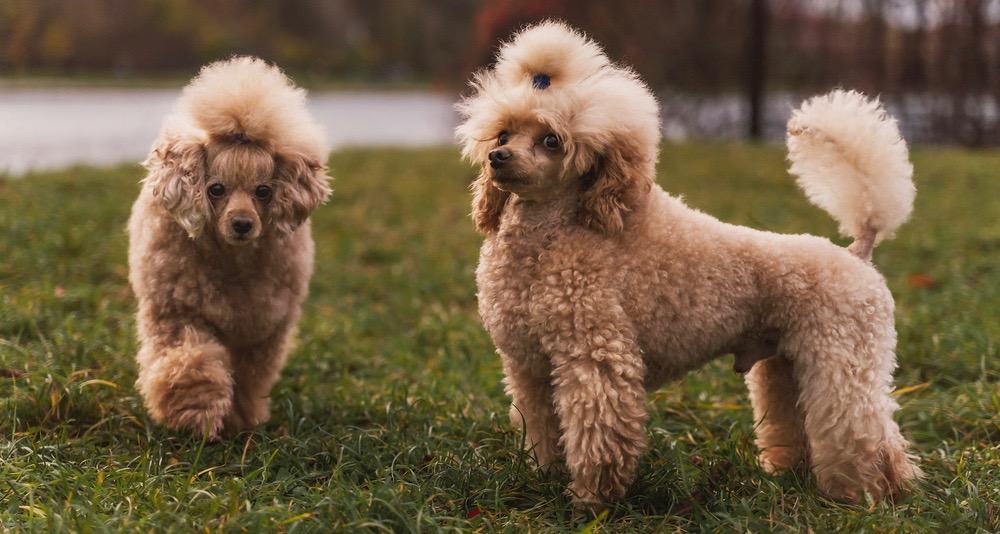 The best way to determine if a Poodle is the right choice for you is to spend time with him in his home environments, so you can see first-hand if their dander bothers you. Remember that you will have to be living with this dog for the duration of his life.
Do Poodles Smell
All dogs smell and many of them have a particularly bad order. English Bulldogs usually create a bad smell because of their tangle-prone coat. To mitigate this you need to brush and bathe your Poodle regularly so that the scent will be diminished.
Implement this method in addition to conditioner treatment so that the smell will be tolerable and the fur will be manageable.
This is especially important because Poodles have hair as opposed to fur, meaning it consistently grows instead of falling out like fur. If you live in a small apartment or house as the scent will be persistent throughout this enclosed space when proper grooming is not done.
Do Poodles Shed More Than Yorkshires?
Poodle and Yorkies are both low shedding dogs. Even though they have minimal shedding, both of these breeds need daily brushing to remove any dead hairs and tangles from their coat.
Not only are Yorkies and Poodles non-shedding, but these dogs create fewer allergens than many other breeds.
Most dogs shed around every three to four days, but a Poodle sheds once every few weeks. It is much easier to manage your Poodle's shedding while simultaneously keeping your allergies to a minimum due to their less frequent shedding and curly coats.
Poodle Shedding FAQs
What Time Of The Year Do They Shed The Most
Poodles usually shed every few weeks. However, the hair gets trapped in the curls when it sheds, this is why they need to be groomed regularly.
Due to this, people hold the erroneous belief that poodles do not shed. Their coats still require daily brushing, although they do shed less frequently than other breeds.
Poodles are known for their unique, curly hair. They are not double coated and there is no reason to blow their coats.
How Bad Is Poodle Shedding To Deal With
You should give your Poodles proper grooming. Grooming them is not about brushing out a heavily shedding coat because Poodles are minimal shedders.
Brushing is about ensuring that the coat is not tangled. The maintenance of the coat itself requires a good amount of time and attention.
To keep it from tangling, a Poodle's coat needs daily brushing and combing. You will need to go down to the skin with your grooming tools to prevent matting if you keep your Poodle in its full coat.
How To Brush Your Poodle At Home
Instead of keeping it long, some Poodle owners find it better to clip and trim their dog's coat in short cuts. Many Poodle parents prefer to take their dog to a professional groomer because grooming a Poodle at home can be troublesome and time-consuming.
If you want to bathe your dog and clip its coat you should set up a regular schedule with a groomer. grooming once a month works well for most owners. There's a large array of Poodle haircut styles to choose from.
How To Protect Your Furniture From Dog Hair
The best way to keep a dog's hair away from your furniture is to ensure that he is not sitting on said furniture. However, many people don't like doing this because they want to be close to their pets on the furniture.
You can get around this by placing a covering over your furniture and only removing it when you are expecting visitors. By doing this, you will have clean furniture beneath the covering.
Final Words
If you notice that your Poodle is shedding too much, you should first look at the possible reason for this shedding. You need to ask yourself if this is normal shedding or actual fur loss, due to alopecia or other condition.
The normal amount of shedding should not be of concern to you, but sudden and excessive shedding should be monitored closely. Always pay a visit to your vet when you are unsure about something you have noticed.
Because of the Poodle's hair texture, its hair does not end up all over the furniture or on your clothes. This is great news for owners.