Best Food For Boxer Puppy
Boxers have large, muscular bodies and shorter snouts. They are very playful and require a balanced diet to be healthy and strong. For this reason, we have compiled a detailed guide for the best food for a boxer puppy.
A boxer puppy does best with a fresh and natural canine diet. However, the essential components to look for in the best food for boxer puppy includes lean muscle meat like beef, chicken, rabbit, and venison and edible, meaty bones.
Boxer puppies make great companions because they are very affectionate and have a special appearance that is sure to melt the heart of anyone around them. They have innocent faces that beckon you to pay attention.
Furthermore, they are highly trainable, and if raised correctly, they can be a loyal member of your family. It is no wonder they ranked as one of the most favorite dogs worldwide.
Boxer Puppy Nutritional Needs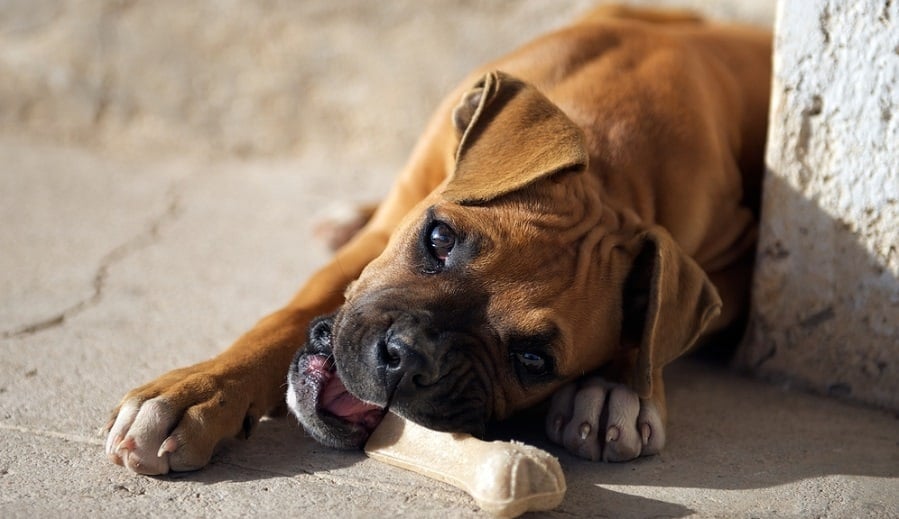 Boxers have specific nutritional needs that need to be met at critical stages of their development. If these needs are not met, they are more likely to develop many dangerous health problems.
These problems include certain heart conditions and issues related to their diets, like bloating and allergies.
For this reason, you should look for the best food for a Boxer puppy available so your dog will be happy and healthy. Remember to support better health by arranging regular visits to a qualified veterinarian.
Protein
This is perhaps the most important ingredient that must be found in commercial pet food and the food that you may prepare for your boxer puppies at home. If you are buying commercial food, ensure that the protein source is listed as the first ingredient.
When your boxer is a puppy, he needs at least 22%  protein in his diet; when he is an adult, he needs at least 18% protein.  This is usually the standard for muscular breeds.
He may get this protein from meat such as chicken, fish, seafood, and cattle.
Fat/Omega
Boxers are all known to be fairly high-energy dogs, so they require a moderate amount of healthy fats. This should be at least 5% of their daily diet.
This can be found in animal fats like salmon and chicken but may also be found in plant oils for a good balance of Omega 6 and Omega 3.
Carbohydrates
Your dog doesn't require carbohydrates, even though healthy carbohydrate options can give them great nutrition. They may also get vitamins and minerals from certain carbohydrate sources.
Fiber
Your boxer needs the dietary fiber that is found in fruit and vegetables. This helps them absorb the sugar in the fruits at a slower rate, thereby preventing spikes in sugar and facilitating healthy digestion and sleep.
The number of calories your boxer needs on a daily basis will vary from puppy to puppy based on his level of activity. In general, boxer puppies need at least 55 calories for each pound of body weight in a single day.
This is 25-30 more than the number of calories adults need. Particularly active puppies may need over 60 calories per pound or more. 
Best Food For Boxer Puppy: Quick Picks
This post contains affiliate links, and I will be compensated if you make a purchase after clicking on my links.
Royal Canin Boxer Puppy Dog Food [Editor's Choice]
Nutro Natural Choice Puppy Dog Food [Runner-Up]
Purina Pro Plan Puppy Dog Food [For Sensitive Stomach & Skin]
Pure breed boxers will greatly benefit from this food, which is specifically designed for boxers that are 15 months and under. Because of the boxer's short muzzle and brachycephalic jaw, it is harder for them to reach the kibble in their bowls.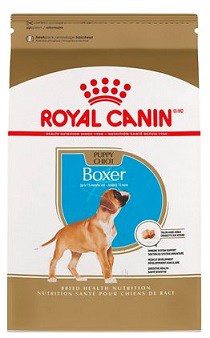 This dog food makes it easier for them to grasp and chew the food.
It also provides ample nutrients so these boxers can grow to be active and playful. Royal Canin Boxer Puppy Dry Dog Food is specially formulated to suit a boxer puppy's developmental needs, making it stand out as our number one pick.
This specially designed recipe helps to prevent cardiac problems and burn fat, which frequently affects boxers.
Another reason for the superior quality of this brand is the high protein levels contained within the kibble, which leads to a happy, healthy boxer puppy.
It also has glucosamine and chondroitin to help promote healthy joints since some boxers are known to have joint problems. It is one of the few brands of dog food to consider the unique shape of the boxer's jaw.
Not only that, but it features a unique combination of vitamins and antioxidants that are easily digestible and great for the boxer's development and health.
They have formed the kibble into an appealing shape that allows your boxer to chew properly. Because of this, there will be less likelihood of bloating, which boxers often suffer from.
Pros
Easily digestible
L-Carnitine for muscle development
Wave-shaped kibble that encourages chewing
Antioxidants for natural defenses
Supports and maintains digestive health
Cons
For pups up to 15 months only

Nutro Natural Choice is highly recommended because it can improve your boxer's health through targeted, nutritious meals. The Chicken & Brown Rice Recipe will certainly please your boxer.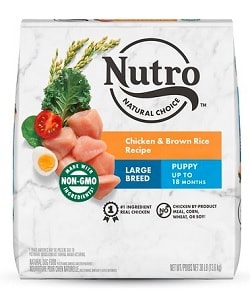 Not only that, but they list chicken as the first ingredient, which means that they are serious about providing high-quality and real protein that a medium to large dog breed like the boxer needs for muscle growth.
It also contains ample amounts of omega 3 fatty acid known to bolster eye and brain development.
This dog food brand also caters to large dog breed puppies because of the calcium, which fosters strong joints and bones that are of concern to dogs of larger breeds. They help with immune health because of the essential antioxidants found in food.
Nutro Natural Choice believes in natural ingredients, so you can rest assured that there are no GMO ingredients or chicken by-product meals.
Additionally, there is no soy, wheat, or corn. Their ingredients are all real and obtained from reputable farms and suppliers.
Pros
Omega 3 fatty acids for brain & eyes
Calcium for healthy bones & joints
Great for large breeds with high energy
High protein content with chicken
No GMO, corn, wheat, soy, or chicken by-product
Cons
Not all dogs like kibble size

Purina Pro Plan Puppy Sensitive Skin & Stomach Salmon & Rice Formula dry puppy food is a good way to begin your puppy's development in a healthy way from a young age.
Salmon is listed as the first ingredient, showing that it contains real meat and protein. With its high protein content, your boxer will enjoy the taste and benefits that come with it, such as strong muscle development.
This kibble for your boxer breed is made from the finest ingredients for a range of nutritional benefits. The ingredients are specifically selected, and each of them serves a functional purpose.
The live probiotics aid the digestive system and immunity, while the natural prebiotic fiber allows the multiplication of good intestinal bacteria and aids the digestive system.
For your boxer's vision and brain development at this sensitive stage, the Purina Pro Plan puppy formula includes Omega Rich oils. For strong teeth and bones, they have included phosphorus, calcium, and other minerals so your dog can meet developmental milestones.
He will also have an irresistible coat because of the vitamin A, sunflower oil, and omega-6 fatty acids. This all amounts to a balanced diet in a tasty package.
Pros
Rice is easy on the digestive system
High in salmon protein
Great for large breeds
No artificial colors or flavors
Antioxidants for immune health
Omega-rich for brain and vision
Cons

Instinct Raw Boost Large Breed is a grain-free dry dog food with real chicken & freeze-dried raw pieces specially formulated to meet your puppy's growing needs.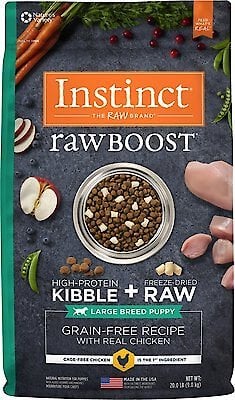 This dog food stands out because of its method of freeze-drying the raw meat within the kibble. It is also very high in animal protein to increase nutrition in every bite.
It is a cut above the rest when it comes to kibble because it uses cage-free chicken but focuses on raw nutrition so that your puppy incorporates a bit of raw food within his diet.
This can really unlock the potential of your boxer's full growth and health while they are a puppy and even throughout adulthood.
Chicken is listed as the first ingredient, so you can be sure that this product is high in protein. Protein is especially important as your boxer grows and develops muscles when he runs around and plays.
An added benefit is the natural DHA, which supports eye and brain development and overall health. They take special care to use the best ingredients sourced from various parts of the world.
They use grain-free kibble that is high in protein, but they also add freeze-dried raw food within the bag, and this combination works together to provide your dog with maximum nutrition.
Pros
Easy to digest
Made from non-GMO ingredients
Natural DHA for eye and brain  development
Cage-free chicken used
Supports natural defenses with antioxidants
Packed with protein for strong muscles
Cons
Dogs may become fed up after a time

For a well-balanced and complete meal specially designed for large breed puppies, you can look no further than Puppy Chow Large Breed Formula Dry Dog Food.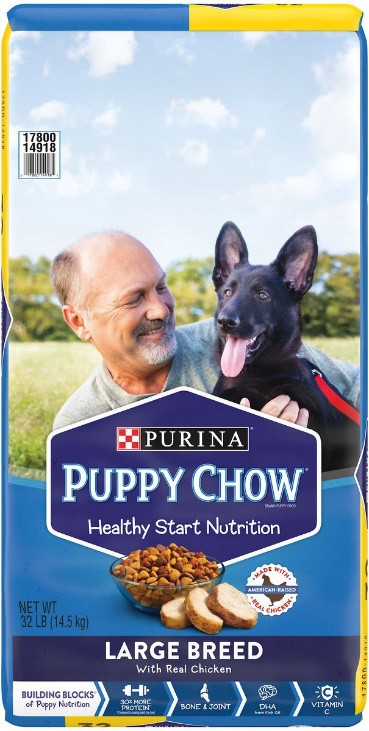 For most large breed dogs, the initial two years of their development are critical because it paves the way for a healthy life. Therefore, having a puppy chow that specifically looks at growth and development during this stage is highly beneficial.
Your puppy gets the benefit of a range of vital nutrients that they need to meet developmental milestones.
The nutrition received at this puppy stage will help your boxer throughout his life, as it provides balanced nutrition for all the life stages of a canine.
Your puppy will benefit from this new unique formula, a DHA, and other essential nutrients that you can find in the milk of his mother. So your dog has all the nutrients he needs to thrive.
Also, their vision, brain, and immune health and development are handled because of the nutrients found in this brand.
They managed to do this all while including natural ingredients. There are no preservatives, artificial flavors, or colors in this food.
Pros
Easily digestible
Calcium for healthy bones
27% protein content for muscles
Contains minerals and vitamins found in milk
DHA for brain development
Cons
Only for pups under 12 months

The first five ingredients in this best food for boxer puppy are buffalo, pork, chicken meal, grain sorghum, and millet. Its profile is suitable for dogs at all life stages but is best for boxer puppies and adults.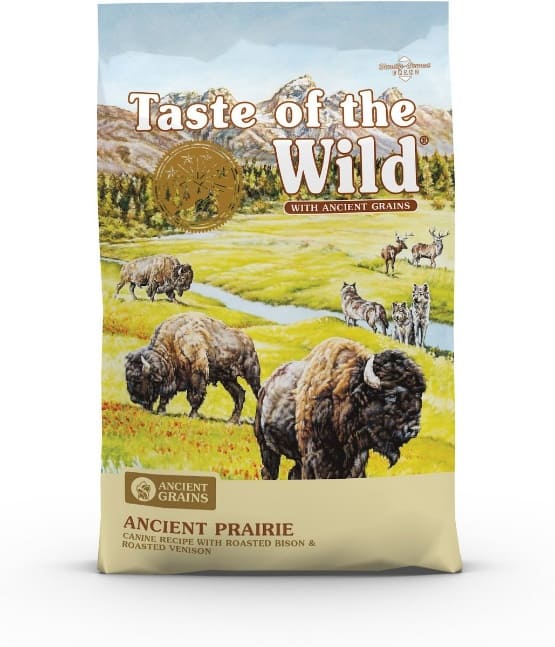 This boxer puppy food is a roasted bison and venison dry dog food that also contains ancient grains, real meat as the first ingredient, and is high in protein at 32%. This supports your dog's bones, joints, and lean muscles.
It also contains essential vitamins and minerals, including real fruits, superfoods, and omega fatty acids for skin and coat health.
This dog food recipe is smoke-flavored, roasted, created with quality ingredients from trusted sources, and specially crafted for your boxer pup.
Taste of the Wild dog food also developed proprietary K9 strain probiotics that were developed specifically for dogs. Each pound of this dog food contains 80 million live active cultures to ensure a healthy digestive and immune system for overall health and wellness.
Pros
Designed to meet your dog's nutritional requirements
Good for immune support, skin and coat health
High protein food
Does not contain any egg or egg products
Cons
May cause loose stool for some dogs

Wellness Complete Health puppy food is developed without GMOs, meat by-products, fillers, or artificial preservatives. It has been specially formulated for whole body nutrition and support for your large breed boxer puppy.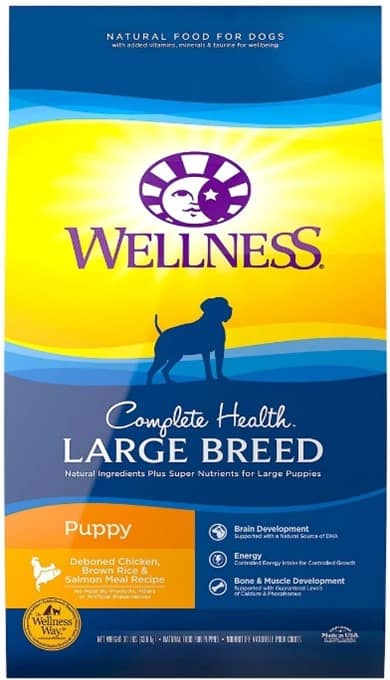 This best puppy food was developed without GMOs, meat by-products, fillers, or artificial preservatives. It has been specially formulated with premium proteins and wholesome grains to provide your large breed puppy with all the nutritional support he needs.
Wellness Complete is also free of corn, wheat, and soy and is made with natural ingredients your pup will love. This food encourages bone and teeth strength and contains essential antioxidants, glucosamine, and probiotics.
In addition to fresh meat, it also has blueberries for vitamins A and C, potassium, and fiber, spinach which is rich in carotenoids, and carrots, which is a good natural source of beta-carotene.
Pros
Does not contain GMOs, fillers, or artificial preservatives
Made in the US with high-quality ingredients
Encourages healthy brain development
Optimal nutrient absorption and healthy muscle growth
Cons
Not many flavor options available
May cause soft stool

Iams ProActive Health Smart Puppy food has been formulated to support your large breed puppy's nutritional needs. Farm-raised chicken is listed as the first ingredient.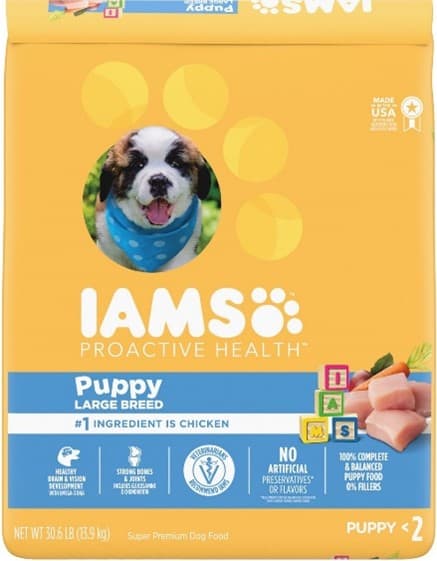 Iams puppy food is formulated to meet the nutritional demands of your large breed puppy. It has real farm-raised chicken as its first ingredient, and this premium protein helps your pup grow strong muscles.
This dog food also contains 22 key nutrients similar to what your puppy would find in his mother's milk. Omega 3 DHA is also added to help with cognition.
It provides your boxer dog with 100% complete and balanced food with no fillers, artificial flavors, or preservatives. It is specifically formulated to target your puppy's age, size, and breed.
It also contains antioxidant-rich vegetables and amino acids. Fiber and prebiotics help with digestion and omega 6 is ideal for maintaining healthy skin and coat.
Pros
Suitable for dogs of all ages and sizes
Promotes skin and coat health
Provides nutrition to meet specialized needs
No fillers or artificial preservatives and flavors
Cons
Not a lot of flavor options

Boxer Puppy Feeding Schedule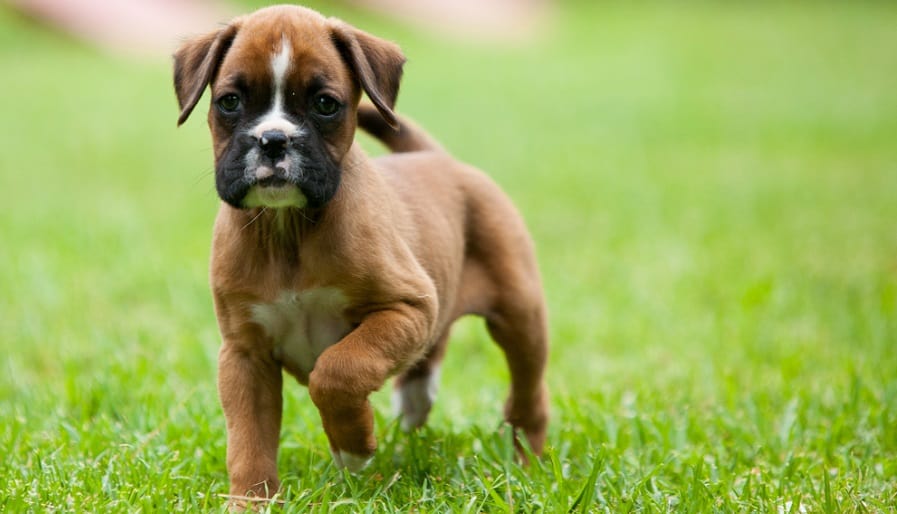 When your boxer is a puppy, he needs to eat frequently during the day, and the number of calories he consumes should be spread across multiple meals.
This results in a healthier puppy because his food is better able to digest as he absorbs the nutrients and can consume more. It would also mean that he is not hungry throughout the day.
However, some dog owners prefer to free-feed the puppy in the early years. This may work for other breeds, but boxers tend to overeat, so this method may not suit him.
Do your best to prevent weight gain and overeating by sticking to a schedule for your boxer puppy.
In the first three months of your boxer puppy's life, separating his food into four meals is good.
When they are 3 to 6 months old, you can reduce this to three times per day, but remember to monitor your puppy to see how he copes with the schedule. With your assessment, you can adjust the schedule as necessary.
Most boxer puppies will begin to shed their puppy weight and look after 6 months. When they are around 1 year, you could limit his feeding times to twice per day, but keep in mind that you do not limit the amount of food he consumes daily.
You need to spread out the feeding time and not the amount.
Also, remember, puppies mature at different rates, so some puppies will not be ready to switch to the eating schedule of twice per day just yet.  You may have to wait a few extra months.
Wet Food vs Dry Dog Food For Boxer Puppies
There has been an ongoing debate about whether you should feed your boxer puppy dry food or wet food. The answer is still unclear, but either option has advantages and disadvantages.
Wet foods are mostly found in a can and may be more tempting to your dog because of the moisture contained in them. On the other hand,  dry food is more convenient and economical. This is why dry food is mainly highly recommended. It can also stay long after you open it.
For boxers, we need to carefully consider these options as they have a short muzzle, which makes chewing a bit more difficult. You need to find a good dog food with a specific kibble shape so that it is a bit easier when they grasp the food with their mouths.
What To Do If My Boxer Puppy Doesn't Want To Eat?
You should take the matter seriously if your puppy does not want to eat the food you gave him. This is because food literally sustained his life; if the problem continues for too long, it can cause more serious issues.
You should pay special attention to this situation, but there are a few things you can do before you visit your vet.
Prepare some bland food, such as equal parts of white rice with plain boneless chicken and see if he would eat it. If he doesn't, you would have no choice but to see the vet and find out what the problem is.
What To Do If My Boxer Has A Sensitive Stomach?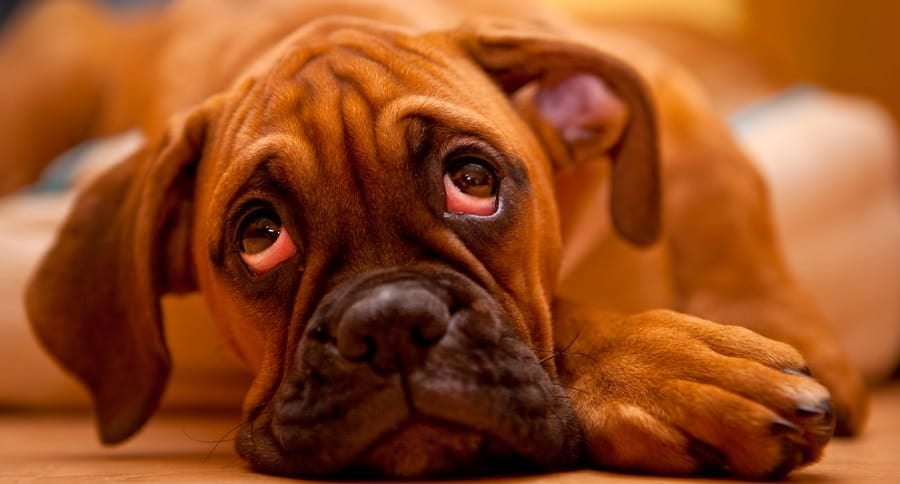 Because boxers have slightly different body types from most other breeds, they are prone to develop certain conditions, such as stomach issues. Boxers are known to have sensitive stomachs like many other purebred dogs. These stomach issues affect many different bodily systems.
You may also notice that your boxer has certain digestive conditions. One such condition is called boxer colitis, which can be very dangerous for them, so you must be careful.
To fight all these conditions, the best thing you can do is implement a healthy and balanced diet. You also must regularly visit your veterinarian to ensure that no serious problems develop.
Boxers & Gas Problems
Boxers are at a greater risk of developing bloat. This is also called gastric dilation, where the dog's stomach becomes so filled with gas that it can put undue pressure against a dog's diaphragm, making it hard to breathe.
In the case of boxers, gas is most often caused by an inability to digest food that is given.
Normally, this is because a diet contains too much fat or some ingredients your dog might be allergic to. Gas is more than foul-smelling air when it comes to boxers and should be treated cautiously.
Switching From Boxer Puppy Food To Adult Food
When your Boxer is at least 12 – 18 months, you should start to switch from puppy food to adult food.  Remember that puppies develop at different paces; therefore, assess and adjust as necessary.
Also, ensure that the switch is seamless by giving him a little adult food at a certain feeding time during the day until you switch entirely. Abrupt changes can lead to an upset stomach and other issues.
Final Words
The clear winner when it comes to the best puppy food for Boxer is the Royal Canin Boxer Puppy Dry Dog Food because it has everything your boxer can ask for to be healthy. He will love this food, which is specifically designed for boxers that are 15 months and under.
A boxer's short muzzle and brachycephalic jaw make it harder to reach the kibble in their bowls, but this brand works around this issue. They make it easier for them to grasp and chew the food.
It also provides ample nutrients so these boxers can grow to be active and playful. This is what makes it stand out as our number one pick.