How Much To Feed A Cane Corso Puppy? 4 Week – 6 Week – 8 Week Old Cane Corso Puppies
Cane Corso puppies are highly intelligent and trainable. They make great protectors as they are confident and assertive.
With their noble lineage, which dates back to ancient Rome, a typical Cane Corso can weigh over 100 pounds in adulthood. The breed gets its name from the Latin influence and translates to "bodyguard dog".
Their imposing appearance does a great job of scaring off intruders, making them great for defense. They are also eager to please their owners with fierce loyalty. With these qualities, it is no wonder they are seen as bodyguards.
As a dog owner, you would be responsible for feeding your Cane Corso puppy and may find the task a daunting one.
But this does not necessarily need to be the case. With the correct knowledge, feeding your Cane Corso puppy can be as easy as petting him.
However, keep in mind that large breed dogs like Cane Corsos require a lot of food but at the same time, you do not want to overfeed them.
To take the guesswork out of the process, we have outlined this guide so that you will know exactly how much to feed a Cane Corso puppy.
How Much Should A Cane Corso Puppy Eat?

When deciding the amount of food you should give your Cane Corso puppy, you should first consider the type of food you would feed him. Because the amount of food you give him would depend on the type of food he eats.
This is why one of the best things you can do is look at the package of commercial dog food and follow the instructions based on your puppy's weight and age.
Some commercial dog foods even specify the different dog breeds and make recommendations accordingly. This would make it much easier, but it is not always the case.
If you do not feed your dog with commercial dog food or kibble, then you wouldn't need to consult a Cane Corso puppy feeding chart.
What is most important is that you start with smaller amounts of food and gradually increase this as your dog begins to grow. As a large breed dog, the Cane Corso has a lot more growing to do than other breeds.
Cane Corso Puppy Feeding Chart
Another way that owners sometimes apply to figure out the amount of food that their dog should eat is by calculating his RER. Your dog's RER simply stands for the Resting Energy Requirements.
It is quite simple to calculate your dog's RER. You can get this figure by using your Cane Corso's weight. Simply measure your dog's weight in kilograms and raise this figure to the power of ¾.
Your puppy would need to have an accurate weight measurement taken as he develops to use this method. But keep in mind that this calculation will be just an estimation or guide because you should still assess your puppy's health and adjust his rations accordingly.
Another thing to remember when it comes to a feeding schedule for puppies is that the rations should be spread into small meals throughout the day.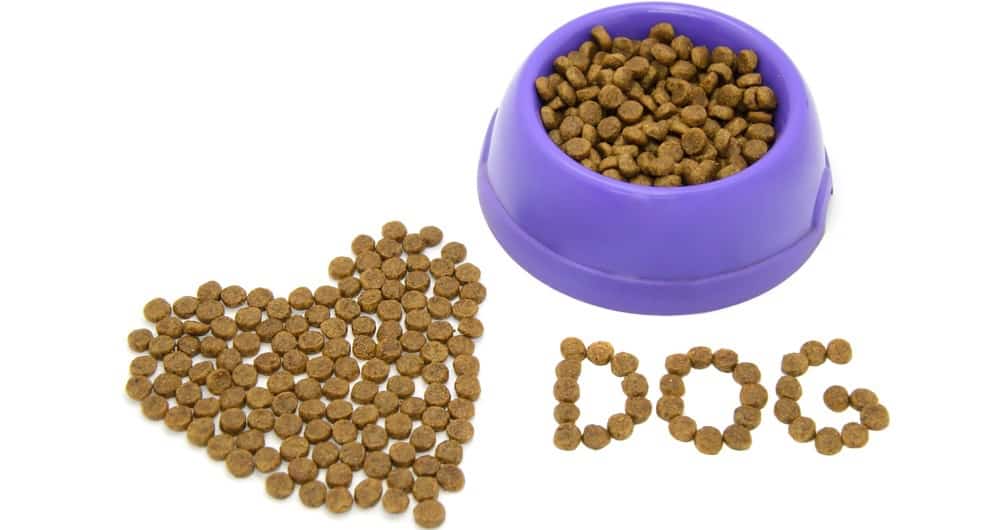 So for a 2-month Cane Corso, you can feed him 3-4 times per day. This is according to the AKC recommendation.
When he is 3 months old, however, you could reduce the feeding times to 3 times per day, but not the amount of food. And at 6 months old, you can reduce the feeding times to twice per day.
2-Week-Old Cane Corso Puppy
A Cane Corso puppy that is 2 weeks old will be suckling his mother. This means that you won't be responsible for much in the feeding department. He will need warmth and nutrition from his mother.
Even though most puppies would be dependent on their mothers, there are some cases when they may be rejected. This happens to the youngest puppy most of the time and the time when you are needed. You must swing into action to care for this abandoned puppy.
The first thing you should do is substitute his mother's warmth with a heating pad that should be placed under a blanket. Check the temperature to make sure that it is warm and not hot.
The temperature should not be too hot because it's may cause injury to a sensitive pup. See if the medium setting is appropriate.
You also need to source a canine replacer, so that you can substitute his mother's milk. You can feed him via a bottle or a tube.
4-Week-Old Cane Corso Puppy
Major developments and changes will occur with your Cane Corso puppy at the 4-week mark. This is a sensitive time when he is weaning and starts to make the switch to a solid diet for the first time.
Do your best to make this transition easy for your Cane Corso by making his first solid meal a bit watery, as his teeth are not fully developed. The food you give him should be the consistency of a thick soup or mashed potatoes.
Allow him time to learn how to chew and make sure the food is not scalding hot because his mouth will be sensitive.
Now would be a good time to decide whether you will purchase commercial food or make food for him at home. Don't be alarmed if you see him reverting to his old ways and attempting to suckle his mom.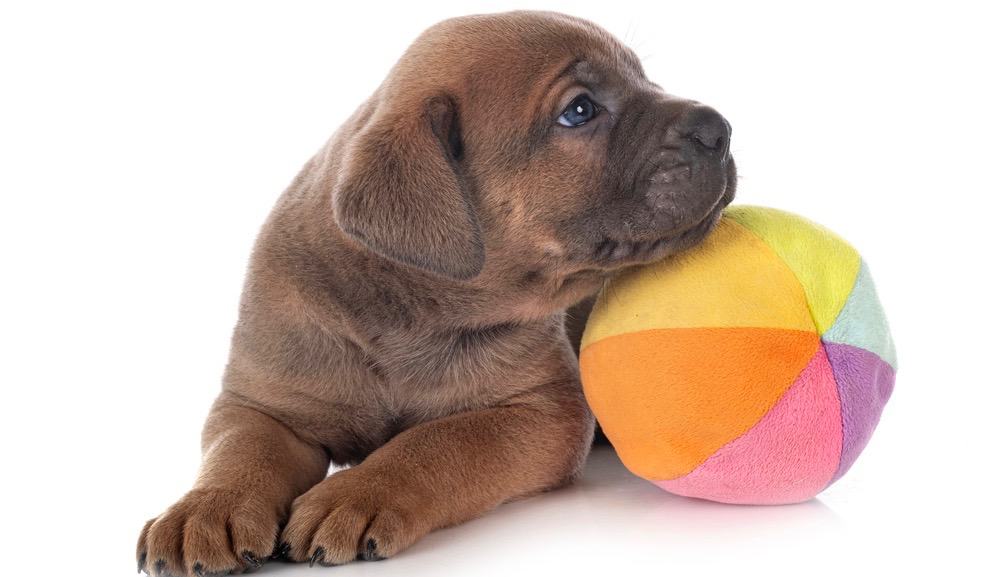 He will begin to get the hang of chewing as it is his nature, and he should begin to get the hang of more solid food.
One cup of food should be fine at this stage but only introduced more solid foods as he begins to get comfortable, and make sure it is the same brand of kibble if you are buying commercial food.
6-Week-Old Cane Corso Puppy
By now, your little Cane Corso will be accustomed to solid food and spend a little time around his mother for nourishment. This would be a good time to increase his food rations, as he will be eager to explore his environment.
His meals should be spread up between four times per day, as it is not good for him to spend long periods without food. He should still get a total of 1 cup of food per day, but it needs to be fed to him over four meals during the day.
8-Week-Old Cane Corso Puppy
The duty of feeding your puppy will now be totally up to you as a dog owner. At this time they will definitely be strong and independent enough to live without their mothers with no problem.
She will not be feeding them or grooming them, and this is a great time for you to start with training.
It is okay to give him a total of 1 ½ cups of food daily, but disseminate this over 4 meals. Give him healthy food so that he will develop properly.
10-Week-Old Cane Corso Puppy
You can start to feed your Cane Corso puppy 3 times per day at this stage. It is now okay to slowly decrease the feeding times, but not the total amount per day.
Your Cane Corso should be able to sustain himself with 1 ½ – 2 cups per day, if you notice that he is hungry or begins to lose weight you can increase this amount as you see fit.

You will be able to tell if he is hungry by certain behaviors, such as searching through the trash or pacing up and down with his nose to the floor so that he can locate food.
You should avoid this at all costs because you don't want your puppy to be hungry during the day. You can immediately increase his rations if you notice this behavior.
12-Week-Old Cane Corso Puppy
At 12 weeks old, you can start to increase the total amount of food you are giving your Cane Corso pup. He needs to be fed around 2-3 cups during the day.
Your Cane Corso will be eager to eat his food at mealtimes, and he'll begin to get accustomed to his feeding schedule. We can't stress feeding him healthy food enough, because foods that contain fillers can actually harm him.
Best Puppy Food For Cane Corso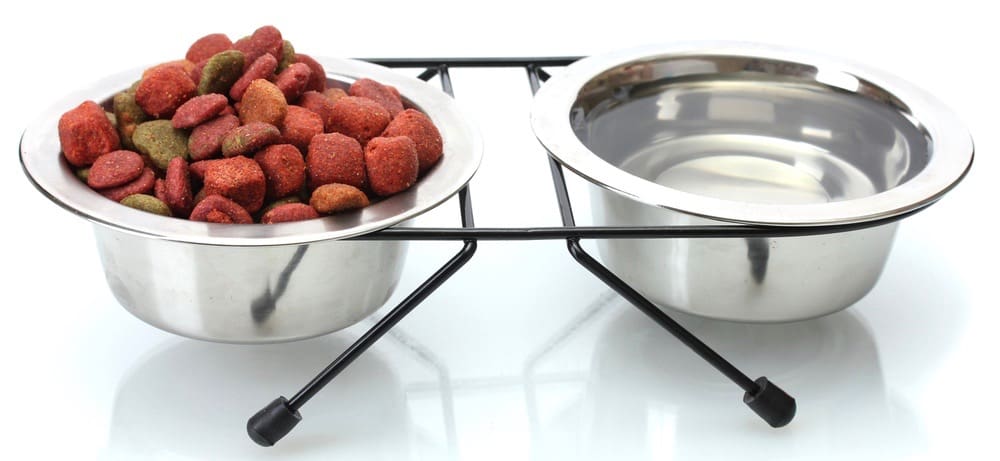 Editor's Choice
#1. Nutro Ultra Large Breed Puppy Dry Dog Food
With quality ingredients that are mixed perfectly, you can rest assured that Nutro Ultra Large Breed Puppy Dry Dog Food has everything your Cane Corso will need.
This dog food is our number one pick because it uses only quality lean proteins and the best vegetables and fruits that are packed with antioxidants so that your dog can grow up healthy.
They use only natural ingredients in their products and your dog will love the taste. It is veterinarian-approved and meets the nutritional standards set forth by the AAFCO.
They use a specific formula combining foods that are high in nutrients and real animal protein and fats that what benefits your pup.
Pros
Digestible grains
Sunflower oil for skin and coat
Natural ingredients for healthy joints
Taurine to act as antioxidants
No artificial flavors, colors, or preservatives
Cons
For pups up to 1 year only
Runner-Up
#2. Holistic Select Large & Giant Breed Puppy Dog Food
this brand of dog food also comes highly recommended because it is specially targeted to large breed puppies who will become 50 lbs and over by the time they reach adulthood.
Holistic Select Natural Grain-Free Dry Dog Food does a great job of supporting your puppy through his development.
It is a grain-free kibble made from only the finest ingredients that were gathered from all over the world. It also has added digestive enzymes, live yogurt cultures, prebiotics, and probiotics, along with natural fiber.
These ingredients combined work together to not only improve your puppy's digestion but also aid in the absorption of nutrients.
Pros
For large breeds
Prebiotics and probiotics
Ingredients for a healthy heart
Antioxidants for better overall health
Healthy coat and skin with Omega – 3 fatty acids
Cons
Not all puppies like the taste
#3. Now Fresh Puppy Dry Dog Food
The distinctive feature of Now Fresh Large Breed Puppy food can be found within its name. Puppies tend to enjoy the freshness of this brand because it uses only the best 100% salmon, turkey, and duck as animal protein.
It also contains pure Omega 3 and 6 oil that came from canola and coconuts.
It is different from many other foods on the market because of its inclusion of fresh berries. In fact, it contains vegetables like spinach, carrots, lentils, and peas, and fruits such as cranberries and blackberries.
These ingredients will go a long way when it comes to providing nourishment for your Cane Corso.
Pros
Balance of protein & fats
Added probiotics for digestion
Great for large breeds
No gluten, corn, soy pr wheat
Pure Coconut oil to provide antioxidants
Cons
Grain-free may cause issues
#4. Instinct Raw Boost Puppy Dog Food
This dog food takes into account your puppy's love of raw food by including raw pieces that of freeze-dried meat within the kibble.
Instinct Raw Boost Large Breed Puppy food gives your dog targeted nutrition with a high amount of animal protein. This specifically targets large breed dogs with this unique recipe.
The raw meat dispersed throughout the kibble will be appealing to your Cane Corso. It features cage-free chicken that is listed as the first ingredient, which means that there is a high amount of protein for your developing puppy.
It also contains DHA for eye and brain health. The combination of real meat vegetables and fruits will give your Cane Corso an abundance of nutrition.
Pros
DHA vision and brain
High in protein
No potato, wheat, corn, or soy
Nutritious, high-quality ingredients
Supports natural defenses with antioxidants
Cons
Grain-free can cause issues

#5. Chicken Soup For The Soul Large Breed Puppy Dog Food
This dog food brand is serious about nutrition and delivers it with a high amount of protein for your growing Cane Corso.
Chicken Soup for the Soul Large Breed Dog Food contains quality chicken, turkey, and brown rice that is sure to satisfy your pup. There is also DHA that comes from salmon oil for the development of vision and the brain.
The calcium and phosphorus included in this food support the development of strong teeth and bones. Additionally, the Omega 3 & 6 fatty acids give your puppy a beautiful coat and skin.
Pros
Easy to digest
Great for large breeds
Glucosamine & chondroitin for healthy joints
No wheat, soy, or corn
Omega 3&6 healthy coat and skin
Cons
Understanding Cane Corso Puppy Nutritional Needs
Throughout your Cane Corsos life, he will have different nutritional requirements. For instance, at birth, he needed his mother's milk but as he grows older you would need more protein which you would feed him.
According to the Merck Veterinary manual, your large breed puppy should consume 56.3 grams of protein if he is older than 14 weeks and 43.8 grams of protein if he is under 14 weeks.
When it comes to fat, he should consume 21.3 grams and 3 grams of calcium. Also, 2.5 grams of phosphorus and 1.1 grams of potassium are required to have a healthy pup.
Kibble vs Wet Food For Cane Corso Puppies
The decision to use kibble or wet food is one that should be contemplated carefully. We all know that dry food is more convenient for your puppy as it can stay out and last long. However, it is not the most nutrient-rich option for your pup.
Wet foods tend to be richer in nutrients and for a Cane Corso, this is something you should consider, especially when it comes to protein.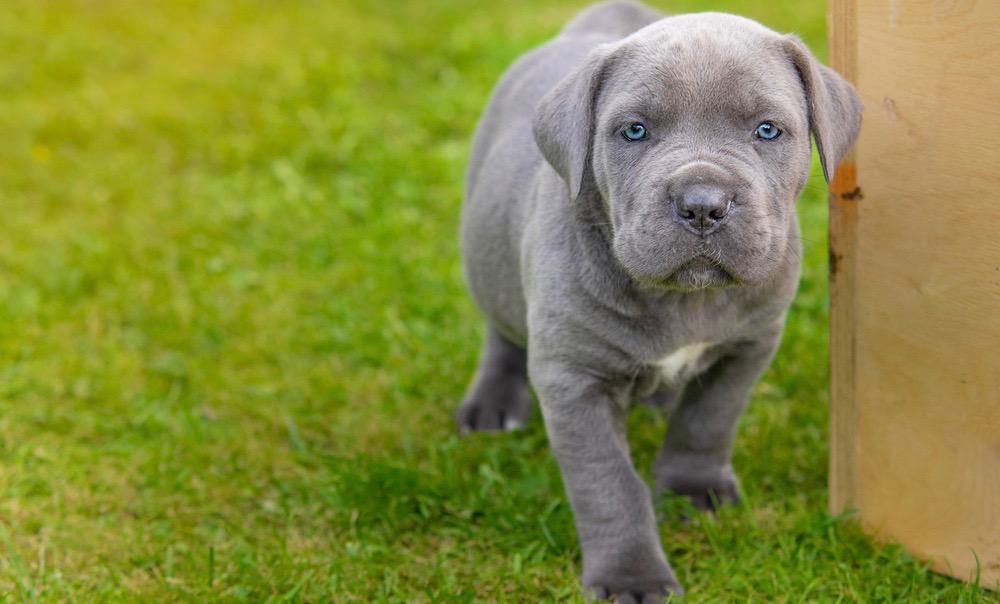 Cane Corsos are muscular dogs and require a lot of protein. More so than other breeds.
Wet food is also a great option if your dog is a picky eater, and you want him to eat more food that is full of nutrients. keep in mind however that this option is more expensive.
2-Month-Old Cane Corso Puppy Weight
At 2 months, a male Cane Corso is expected to weigh 30 – 36 lbs, while his female counterpart should weigh 26 – 32 lbs. This is typically the phase when most owners begin to further increase rations, as he is expected to be more active.
3-Month-Old Cane Corso Puppy Weight
At 3 months, a male Cane Corso is expected to weigh 35 – 40 lbs, while his female counterpart should weigh 30 – 37 lbs. Monitor his progress and see how he is coping with the rations he is given and increase as necessary.
4-Month-Old Cane Corso Puppy Weight
At 3 months, a male Cane Corso is expected to weigh 42 – 46 lbs, while his female counterpart should weigh 36 – 43 lbs. Typically, at this stage, he will start to look less like a puppy and depend less on his human.
How Much Do Cane Corso Puppies Grow Each Week?
Even within the same breed, dogs usually grow at different paces, so the answer to this question is not clear-cut. Growth in a Cane Corso is hinged upon several factors so that no two puppies will develop at the same rate.
It depends on the foods, you give to your Cane Corso, his level of activity, and the simple genetics.
Therefore, it is possible to say exactly how much growth takes place in a single week, especially because there may be growth spurts throughout his development.
There are also instances where a puppy grows quickly in the early years and this tends to peter out as he gets older.
Switching From Puppy Food To Adult Food
It typically takes a Cane Corso about 15 months to be considered an adult. As a large breed dog, he has more growing to do, which is why it takes a bit longer.
Along with proper monitoring of your dog, you can use this benchmark as the time when you can make the switch from puppy to adult food.

If you are in doubt, then continue with puppy food and then consult with your veterinarian to make sure.
Make the switch as seamless as possible because abrupt changes may cause your dog to get sick. Gradually introduce some adult food at certain meeting times.
What If My Cane Corso Won't Eat?
It may not always to be a serious issue when your dog refuses to eat, but you should monitor closely because if this persists, then it is cause for concern. Food is the way that critical nutrients are delivered to your puppy, so pay close attention.
Think about recent changes made in dog food or feeding schedule to try and identify the problem. Some dogs simply do not like dry food and will refuse to eat.
Or this may be a case where your puppy is over-fed, and he just would like to fast for a day or two. In any case, you would need to consult your vet.
Can You Freefeed A Cane Corso Puppy?
Since Cane Corsos a prone to bloating, it is not recommended that you free feed as a puppy. This gas may make him uncomfortable and can even be fatal.
The AKC guidelines of 4 times per day is a safe schedule. Additionally, you do not want your puppy to be overweight and develop other serious health problems.
Should You Feed A Cane Corso Puppy Supplements?
Glucosamine and/or chondroitin soft chews are good supplements to give your dog once he has reached adulthood. But at the puppy stage, joint problems are less of a concern unless you are over-feeding him.
Keep the joints lubricated with healthy fats. You should also check with your vet to find out exactly the type of supplements you should provide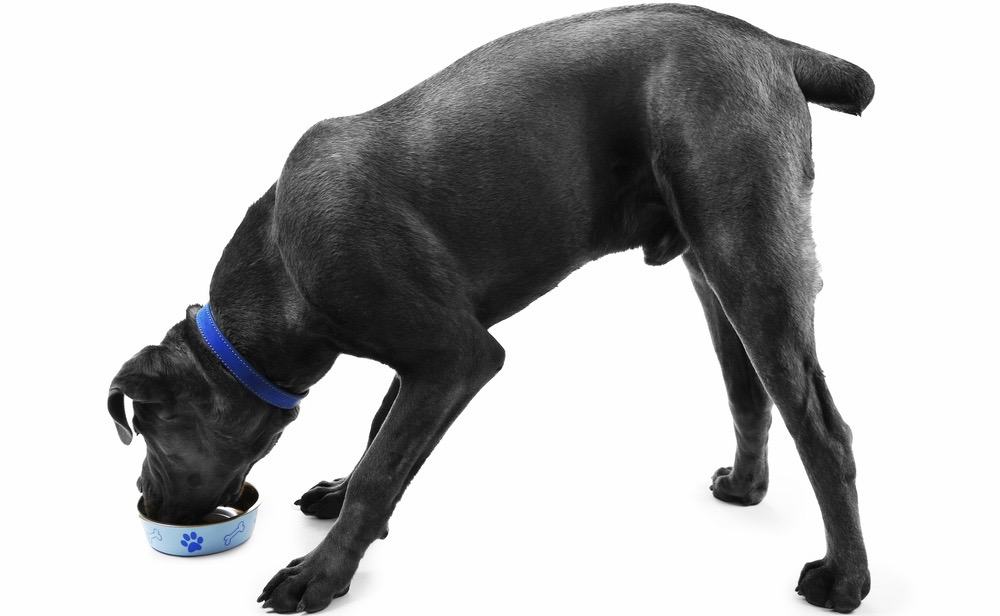 How Much Water Should A Cane Corso Puppy Drink?
As active dogs who love spending time with humans, you should ensure that your Cane Corso has enough drinking water.
It is okay to free-feed water as long as you monitor and make sure he doesn't overdo it. Make sure that his bowl is always full so that he can access the water whenever he feels thirsty.
How Much Exercise Does A Cane Corso Puppy Need A Day?
For a healthy Cane Corso puppy, around 1 to 2 hours of exercise per day is acceptable.
Make sure that the exercise is not too vigorous in earlier years because the injury may occur. But as your puppy gets older, more strenuous exercise is perfectly okay.