How Much To Feed A Mastiff Puppy? 4 Week – 6 Week – 8 Week Old Mastiff Puppies
Mastiffs are known as one of the heaviest and most massive dog breeds there are. They are classified as giant dogs and can grow to sometimes upwards of 220 pounds.
Therefore, any dog owner or potential dog owner should expect that this breed of dog would require a lot of food, whether it be dry or wet.
Mastiffs have a very large appetite and are sometimes called lazy giants. They grow to their enormous size quickly, so as a puppy they need the proper nutrients so that they can meet their developmental milestones.
Generally, they will need about 6 to 10 cups of dry food by the time they reach adulthood.
As a dog owner, it would be wise of you to implement a proper feeding schedule of the best types of food so that your Mastiff puppy can be healthy and develop properly.
We can't stress proper nutrition enough because they are one of the fastest-growing breeds that exist.
To help you with your responsibility of caring for these special dogs, we have formulated a detailed guideline, so you can know how much to feed a Mastiff puppy.
How Much Should A Mastiff Puppy Eat?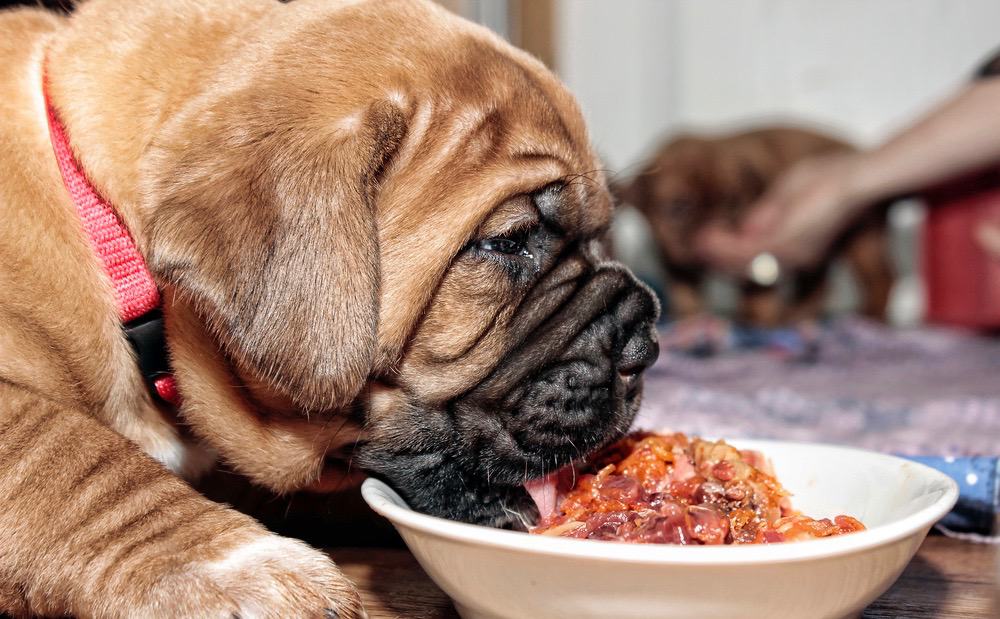 You may be at a loss when it comes to the correct feeding schedule for your new Mastiff puppy. But it is actually not such a daunting task once you get the hang of it. Keep in mind that Mastiffs grow at a very rapid pace, especially in their initial stages.
There are nutritional requirements in these stages as well. With any guideline, remember that you should always expect to tweak it to meet your specific puppy's needs.
Every puppy faces a different circumstance such as genetics and physical activity. So feeding should be adjusted to suit.
A Mastiff puppy will begin his life feeding on his mother's milk. When solid food is introduced, it should ideally start with 1-2 cups when he is about 2 weeks old.
When he reaches about 1 ½ years, you can expect to be feeding him around 12 cups of food. This will be gradually increased as he grows.
Mastiff Puppy Feeding Chart
Many owners like to calculate something called an RER which simply means your dog's Resting Energy Requirements. You can calculate his RER by simply multiplying his body weight and raising that figure to the power of 3/4.
In order for the RER method to work, you would be required to weigh your Mastiff puppy as he develops so that the calculations can be performed. Also, you should do this as an estimation while constantly monitoring the health of your puppy.

A good way to figure out your puppy's feeding schedule is to simply look at the package of the dog food and follow the instructions based on age and weight. Some dog foods even have specific breeds on their package. This would make it a lot easier.
The amount you give you a Mastiff will definitely change as he develops. You can always adjust the amount of food you gave him based on how he is doing.
2-Week-Old Mastiff Puppy
This is a very sensitive stage where your Mastiff will be expected to be suckling from his mother. Therefore, there won't be much feeding responsibility on your part. He will stick close to his mother, and littermates for warmth.
For those rare cases when pups are rejected by their Mastiff mothers, you would be expected to swing into action as the dog owner. Most of the time this will be the youngest pup. This puppy is now your responsibility, so you must keep him warm and feed him.
To substitute his mother's warmth, you can use a heating pad glad you were placed under a blanket to keep his core temperature warm and steady. You will also need to give him a canine milk replacer. You can do this with a bottle or a tube.
4-Week-Old Mastiff Puppy
At this critical stage, you will notice that's your Mastiff will go through rapid changes as he develops. This is even more true, for a Mastiff dog because of their accelerated growth rates.
He should be weaning at this stage and looking toward a solid diet, leaving behind the liquid one he had previously.
Do your best to make this transition a smooth one because your Mastiff needs proper nutrition, but he may not eat if there are abrupt changes. If you don't handle this correctly, he may be deprived of the critical nutrition that he needs to grow.
Make sure that his food is not too hard. A lot of kibble on the market is actually too hard for him. His food should be like the consistency of mashed potatoes or a thick soup.
So you can mix the kibble with liquid food that you have prepared, but be careful and monitor to make sure he is coping well.
Your puppy will be learning how to chew in this stage. He should have 3 to 4 cups of food spread out over three to four meals. it is not uncommon for some Mastiffs to revert to the mother's milk, but this will be left in the past eventually as he gets used to solid food.
As you continue to introduce solid food, remember to stick with the same brand because abrupt changes can cause him to reject the food which he desperately needs. It may also make him upset.
6-Week-Old Mastiff Puppy
You can expect your Mastiff to continue to grow rapidly and will be used to solid food at this time. He will break away from his mother as nursing is no longer necessary.
Monitor him closely and increase his rations because he is expected to be a bit more active as he explores his environment.
He should be eating about 4-5 cups of food per day spread over three to four meals. See how 1-1 ½ cups works for him at every feeding time. If it doesn't work, and he is too hungry or doesn't eat, then you need to adjust as necessary.
8-Week-Old Mastiff Puppy
As your Mastiff continues to develop, you can now give him about 6 cups of food, which should be spread out into 3 to 4 meals. He will be a bit more energetic and playful as he explores and learns his boundaries.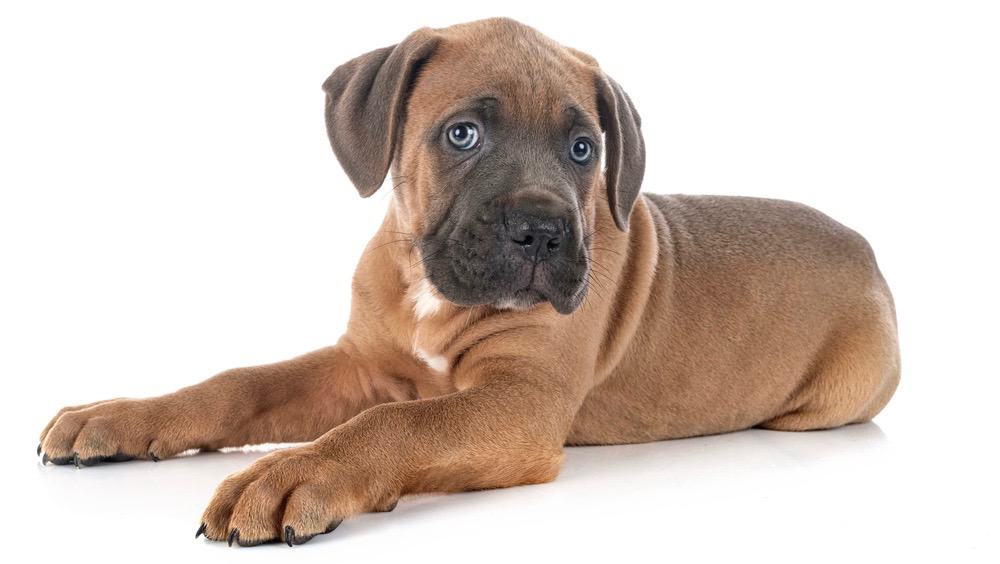 At this stage, it is not just food that is important, but physical activity as well for proper bone and muscle development. They will be strong enough to survive without their mothers, who do not need to feed and groom them anymore.
10-Week-Old Mastiff Puppy
At this stage, you can begin to feed your puppy about 7 cups of food per day. Observe how he is coping with 3 -4 times per day with this increase, and then you can gradually start to move toward three times per day with the same amount of food.
Remember that Mastiffs are prone to bloating, so too much food in one setting can affect them. This is why you have to monitor the amount of food that you give them at any given time.
This does not mean that you should underfeed them. Look for signs that they are underfed. You will know if they start to look through garbage or pace up and down looking for food on the floor. You will also know if they appear too thin.
12-Week-Old Mastiff Puppy
This would be the time when you should increase your Mastiff's food to 8 cups per day. If you are feeding him 3 times per day, you still need to monitor him to ensure that he doesn't suffer from bloating or upset stomach.
He should be eager to eat his meals when it is meal time as an indicator of a healthy appetite. Make sure that the meals are healthy and well-balanced for proper development.
Best Puppy Food For Mastiff

Editor's Choice
#1. Holistic Select Large & Giant Breed Puppy Dog Food
It is no surprise that Holistic Select Large & Giant Breed Puppy Health Lamb Meal & Oatmeal Recipe is our number one pick because it is specially formulated to suit the needs of large and giant breed puppies.
The kibble pieces are large for the larger mouth of the Mastiff. They also contain digestive enzymes, healthy fiber, and active probiotics to aid in your puppy's digestive health. This is often overlooked with most brands.
Proper digestion means better absorption of nutrients that are vital to your dog's health. It makes no sense to feed him food that is rich in nutrients without the ability to absorb those nutrients.
Another very important factor that needs to be highlighted about this brand is the high level of protein to support healthy muscles and the glucosamine to aid with healthy joints.
Pros
Ingredients that help digestion
Great for giant breeds
Tasty for puppy's enjoyment
Ingredients for a healthy heart
Healthy coat and skin with Omega-3 fatty acids
Cons
Kibble too large for some pups
Runner-Up
#2.Purina Pro Plan Puppy Dog Food
As a puppy chow that is also specially designed for larger breeds, Purina Pro Plan Puppy Large Breed Chicken & Rice Formula stands out because of its added probiotics.
It does a great job at delivering essential nutrients that are needed by your Mastiff during critical growth stages at a young age. Chicken is listed as the first ingredient, which means that this is high in real animal protein.
Your Mastiff puppy is sure to taste the difference as well because this food is infused with real ingredients that are tasty and nutritious. It contains DHA that comes from Omega fatty acids for brain development and better vision.
Pros
Ingredients that help immunity & digestion
Great for large breeds
Chicken protein as the first ingredient
Delicious and crunchy Kibble
DHA to support eyes and brain
Cons
Probiotics can cause upset
#3. Hill's Science Diet Puppy Large Breed Dog Food
If you are looking for dry dog food that gives your puppy the right amount of nutrition for a healthy lifestyle, then you can look no further than Hill's Science Diet Puppy Large Breed Dry Dog Food.
This food is loaded with an abundance of wholesome ingredients that are combined in a well-balanced recipe that caters to your dog's health. It contains chicken meal as well as Oats that help your dog to develop.
There is added DHA that is derived from fish oil to help your growing dog with eye and brain development. To top it all off, your Mastiff will revel in the taste and come running because of the inviting smell.
Pros
Calcium for bone growth
Antioxidants & Vitamins for immune health
Glucosamine and chondroitin for muscle & joints
No artificial flavors or preservatives
Delicious aroma for encouragement
Cons
#4. Eukanuba Large Breed Puppy Dry Dog Food
For ample nutrition that is specially targeted toward large breed dogs that develop quickly, Eukanuba Large Breed Puppy Dry Dog Food is a great choice.
It gives your Mastiff a balanced and complete, nutritious food that will help him to develop and be healthy.
It contains high-quality animal protein as well as calcium and phosphorus. This will help in the development of strong bones and muscles.
The DHA along with the optimized fats and carbohydrates will allow your puppy to look and feel his best. For digestion, there is natural fiber as well as prebiotics
Pros
Ingredients that aid muscle growth
Great for giant breeds
Animal protein & calcium of high quality
Fat and carbs needed for growing pups
DHA for trainable pups
Great for puppies up to 2 years
Cons
Kibble too hard for smaller pups

#5. Blue Buffalo Wilderness Large Breed Puppy Dog Food
This may be our last recommendation, but it is certainly not the least. Blue Buffalo Wilderness Large Breed Puppy Chicken Recipe, is a grain-free brand that is packed with protein for your Mastiff's healthy muscle growth.
Chicken is listed as the very first ingredient, so you can be sure that your dog is getting adequate protein. It also contains DHA for cognitive development and a host of other vitamins and nutrients that see after his overall health.
Pros
Real chicken listed as the first ingredient
Great for large breeds
DHA and ARA for cognitive development
Antioxidants, vitamins & minerals for immunity
No poultry by-product meals, wheat, corn, or soy
Cons
Bad bag seal that may affect food
Understanding Mastiff Puppy Nutritional Needs
If you own a Mastiff, you should understand his nutritional needs as a puppy to foster healthy development. And it's more than just about choosing the correct puppy chow.
It is about knowing the type of foods that he should be fed as parts of a well-balanced and nutritious diet.
Your dog needs proper food so that he can grow into a strong adult free of major disease and have proper bodily function.
Mastiff pups require 25-27% protein and 12-15% fat content, which is different from adults because of the rapid muscle growth that occurs and younger years.
A Mastiff who is an adult should be given 21-25 % protein and 8-10 % fat. If an adult Mastiff is given more than 21- 25% protein, then diseases such as hepatic and renal failure can happen.
Kibble vs Wet Food For Mastiff Puppies
The first few weeks of your mastiff puppy's life should have a mixture of both wet and dried food.
The wet food will provide hydration along with their mother's milk, while the dry food will have their first teeth to develop. Make sure that the food is not too hard in the initial stages.
Without a doubt, we know that dry food is the most convenient of all and can provide adequate nutrition to your Mastiff.
However, it is important to ensure commercial dog food does not contain harmful fillers that can stunt your dog's growth. Also, ensure that when he eats dry food, he gets adequate water.
If you have the knowledge of how to prepare your dog food, then you can go with the wet option. And this can be cooked or raw meats along with fruits and vegetables.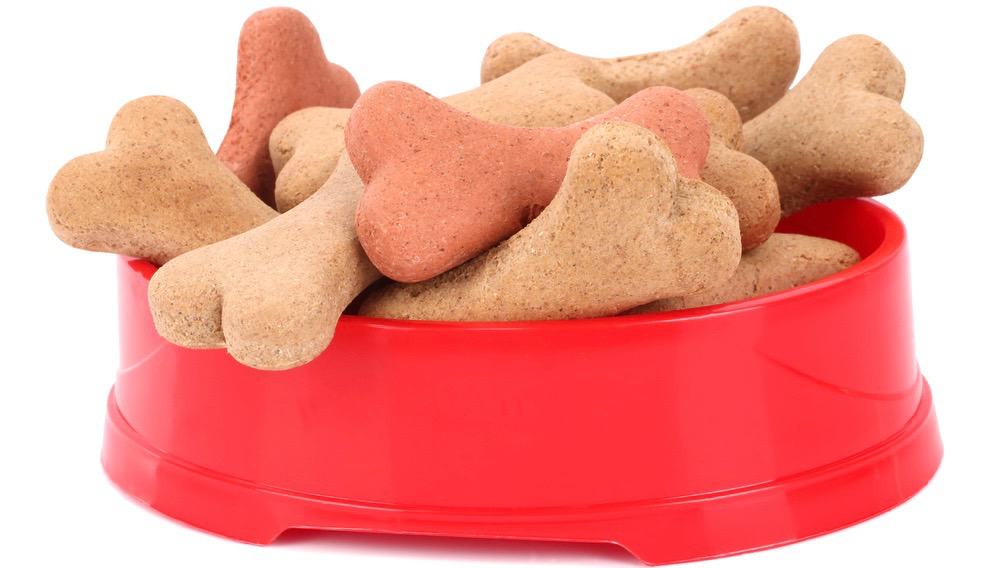 2-Month-Old Mastiff Puppy Weight
At this stage, a male Mastiff is anticipated to weigh approximately 29 pounds, while the female should weigh 24 pounds.
The amount of food should be raised as he is growing and requires additional calories, particularly if he is a bit more energetic than normal.
3-Month-Old Mastiff Puppy Weight
You can expect that your male Mastiff is anticipated to weigh approximately 45 pounds, while the female should weigh 39 pounds. He should be pleased with approximately 6 cups of food, per day.
4-Month-Old Mastiff Puppy Weight
At the 4-Month mark, a male Mastiff is anticipated to weigh approximately 60 pounds, while the female should weigh 50 pounds.
These are healthy weights. Mastiffs will begin to lose their puppy 'look' and rely on humans less.
How Much Do Mastiff Puppies Grow Each Week?
For mastiff puppies, you can expect the growth to differ quite a bit from puppy to puppy. This is because a number of factors determine development, no two puppies develop at the same rate.
Typical mastiff puppies have varying levels of physical activity, metabolism, and diet, which determine their growth. This makes it difficult to ascertain the amounts that grow each week. However, about 2 pounds per week is a safe estimation.
Switching From Puppy Food To Adult Food
Eventually, it will be time to switch your Mastiff from puppy food to adult food. Because mastiff dogs are giant breeds, they have a lot more growing to do. In fact, Mastiff dogs, are seen as full-grown, when they are 24 months old.
Make sure that the switch is a smooth one because abrupt changes can make your dog have an upset stomach as well as a host of other issues. Introduce some adult food at a particular feeding time during the day until you make the switch entirely.

Keep in mind that adult food needs to have less protein because puppies require more protein than adults do. The goal here is to make sure that your Mastiff puppy is lean and fit while staying away from conditions that are known to affect the breed.
What If My Mastiff Won't Eat?
If your Mastiff puppy refuses to eat, you should take this as a serious issue since this is how he gets his nutrition. You need to ensure that it is nothing too serious before you go to the vet.
Check his food to see that everything is okay with it, and give him a day to see if it passes. Sometimes overfed and dogs will refuse food.
Monitor your dog to see if you are overfeeding him, but if the condition continues, then you need to check with your veterinarian.
Can You Freefeed A Mastiff Puppy?
This has always been a topic of debate. However, we recommend that you stick to the set schedule that we have outlined because having set eating times allows your Mastiff puppy to regularize and have a certain amount of discipline.
This is especially important seeing that he is prone to bloating and overfeeding can lead to health problems.
For large breeds like the Mastiff, free-feeding is not recommended, especially because they may suffer from joint problems and overfeeding can exacerbate the condition through obesity.
Should You Feed A Mastiff Puppy Supplements?
This may benefit your Mastiff a great deal, especially if he is not getting the requisite amount of nutrients from his food.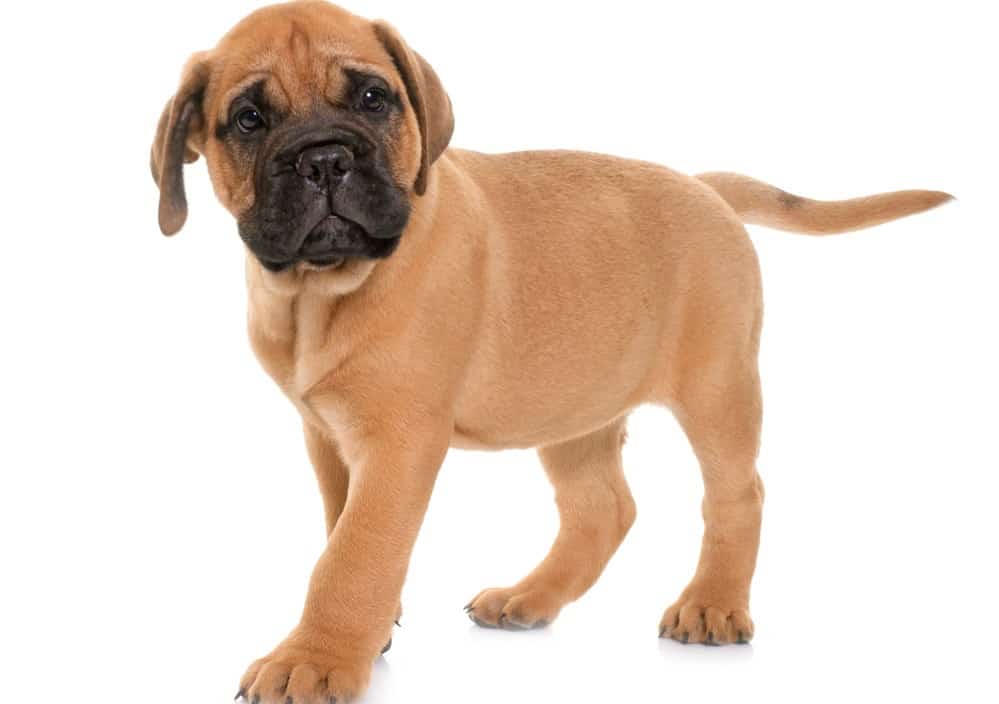 Vitamin C supplements can also help to prevent hip dysplasia, which is known to affect the breed. However, you should stay away from extra calcium as it may cause an electrolyte imbalance. Supplements should be always prescribed by the vet.
How Much Water Should A Mastiff Puppy Drink?
As a giant breed dog, your mastiff requires a lot of water. But look out for bloating, do not give him too much water in one go.
You can free feed water, but don't allow him to have more than 3 and 1/2 cups at one time. His larger body mass means that he should have more water available to drink than your average dog.
How Much Exercise Does A Mastiff Puppy Need A Day?
You can increase the amount of exercise that you give to your Mastiff as he grows, but make sure that you do not overdo it.
Remember that his joints are still growing, and his muscles and bones are still developing. He will also be naturally playful, so this counts as exercise as well. An hour of exercise per day is a good place to start.