When it comes to our pet dog(s), we always only want the best for them. Whether it is the toys that they play with or the collar that they wear, to their food and water bowls or their favorite cushion.
If you keep your dog in a crate – sometimes they like to sleep there, after all – then it is no surprise that you want to find a good bowl for their water and food.
This is because, more often than not, a dog will kick over their bowl and cause a lot of mess.
A bowl that attaches to the side of the crate is much neater, and can help to avoid spills completely – and that's because they won't be able to knock it over!
In this guide we shall take a look at 12 of the top attachable dog bowls for your crate. Also, we have put together a handy buyer's guide to help you focus on the areas to look for when buying a dog bowl.
So, let's get to it!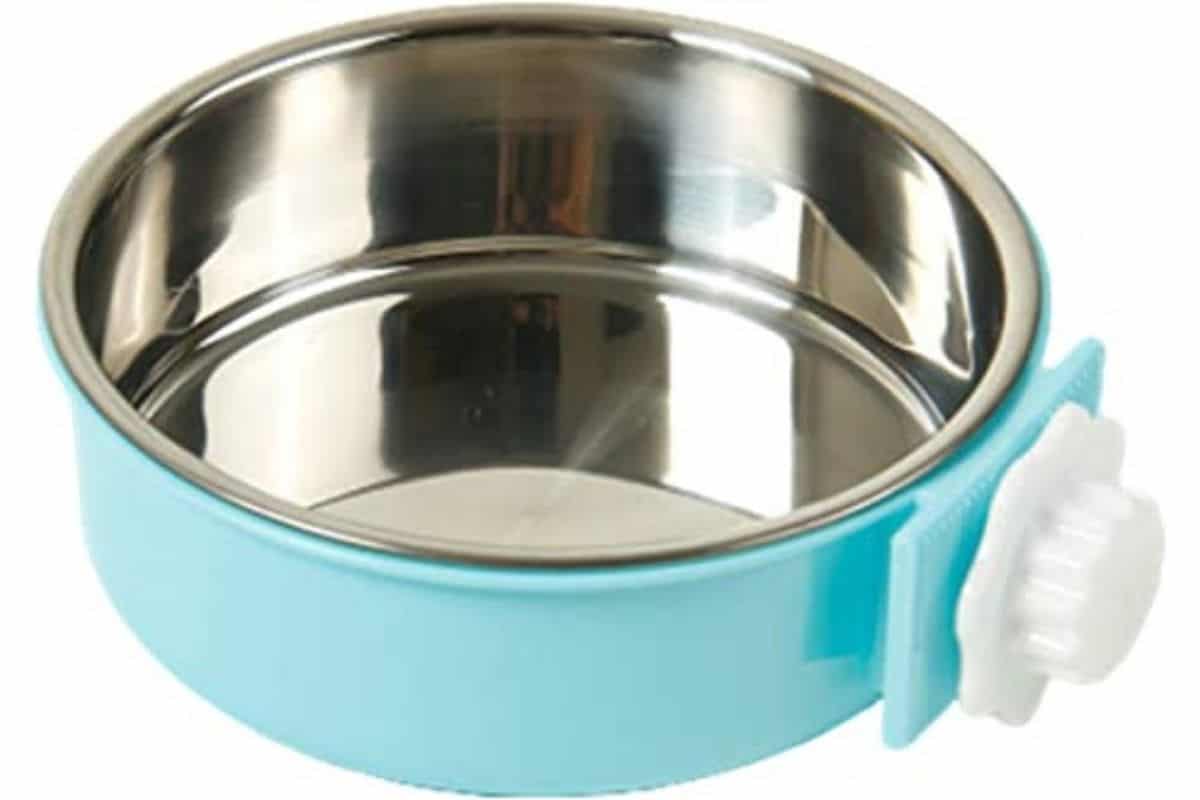 If you are looking for simplicity on a budget, then the THAIN stainless steel bowl is it. Using a 'big nut' type design, it is easy to screw onto the side of the crate.
The outer material is made of non-toxic plastic, and the removable bowl is made from stainless steel. This made it much easier to clean on a routine basis, whilst the plastic holder can be cleaned at least once a week.
Like with most of these bowls, they can be used with other animals too. However, there are only two colors to choose from: pink and blue. And the size selection is 'small' or 'big', though this should be enough.
Pros
Budget friendly and inexpensive
Simple design
Stainless steel bowl can be removed
Screw attachment to crate bars
Cons
Only two colors to choose from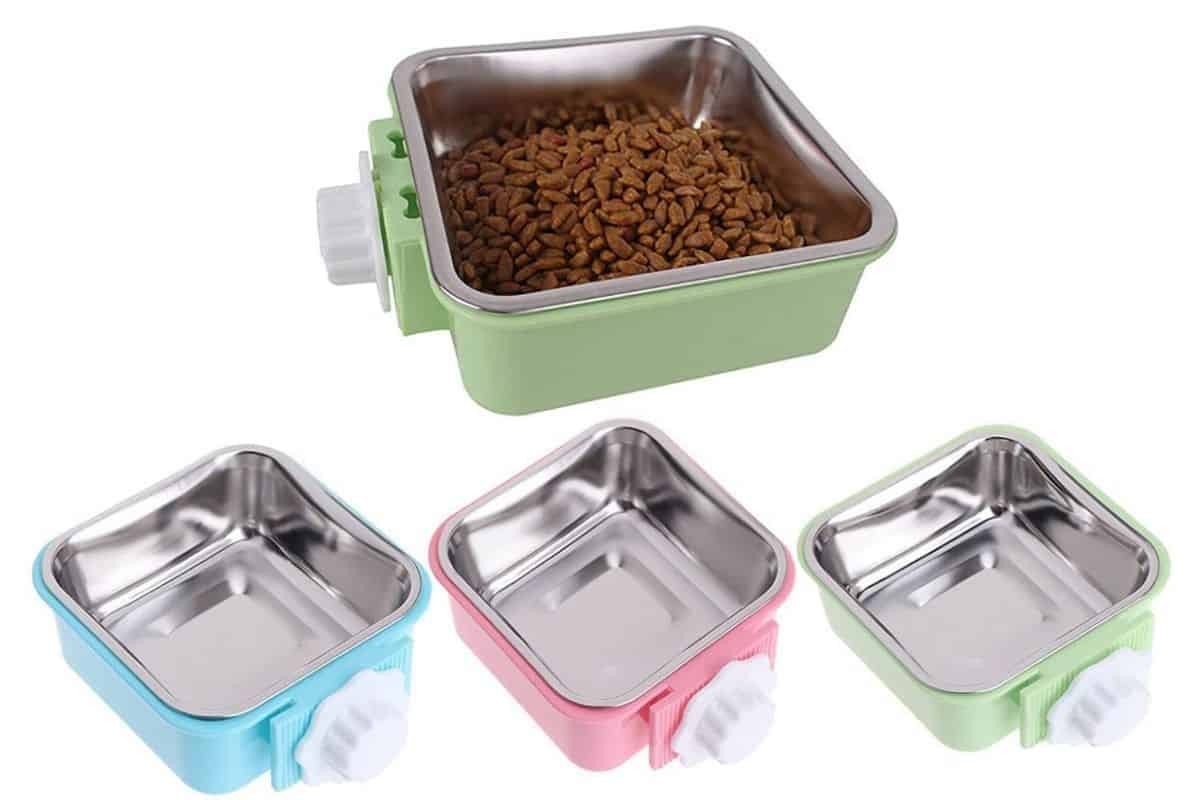 Not that the shape matters, but if you want a similar bowl to the above but in a square design, then the MayLove dog bowl is a good option.
It also includes a non-toxic plastic outer bowl that encases a removable stainless steel bowl. This makes it easier to clean, whilst adding a touch of color.
Speaking of color, it comes in green, pink and blue. It is great to have a bit of extra choice if you like to add color to your dog's comforts.
Whilst not too expensive, it also isn't on the budget end either. However, with its easy to lock mechanism and design, it's obvious to see why you'd pay just that little bit more.
Pros
Fun square shape
Removable stainless steel bowl
Easy to clean
Comes in 3 colors
Cons
Two items to clean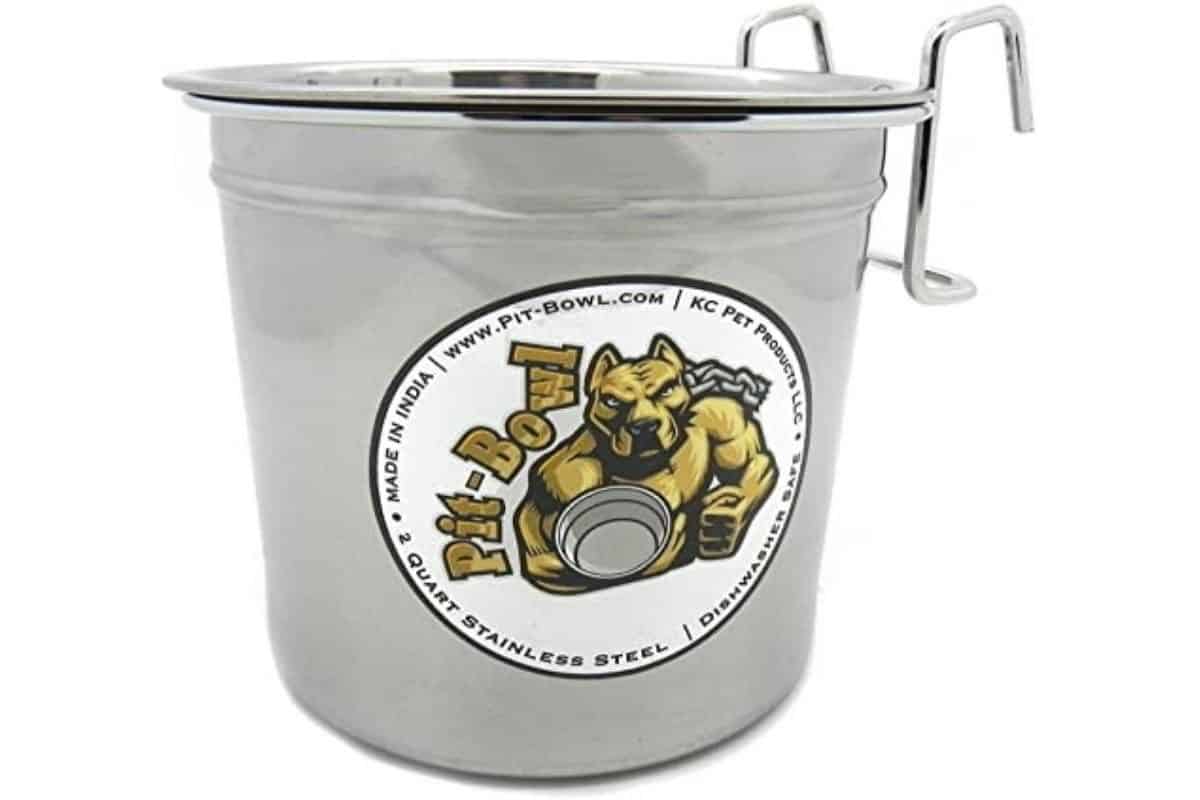 Despite it looking more like a bucket, this dog bowl is perfect for any bigger dog – after all, it has been based on a pit bull, and a muscular one at that.
The design comes about because the walls of the bowl have been made deeper to avoid any spillage. It also means that it can hold a lot more than a standard bowl.
The bowl itself is made up of a solid metal to avoid it being chewed, and the two hook design means it stays safely on the crate without it being knocked off.
Because of the size of the bowl, it isn't suitable for smaller dogs.
Pros
Tall design for bigger dogs
Design also prevents spilling and holds more
Two hook feature
Cons
Not suitable for smaller dogs
Pricier than a standard bowl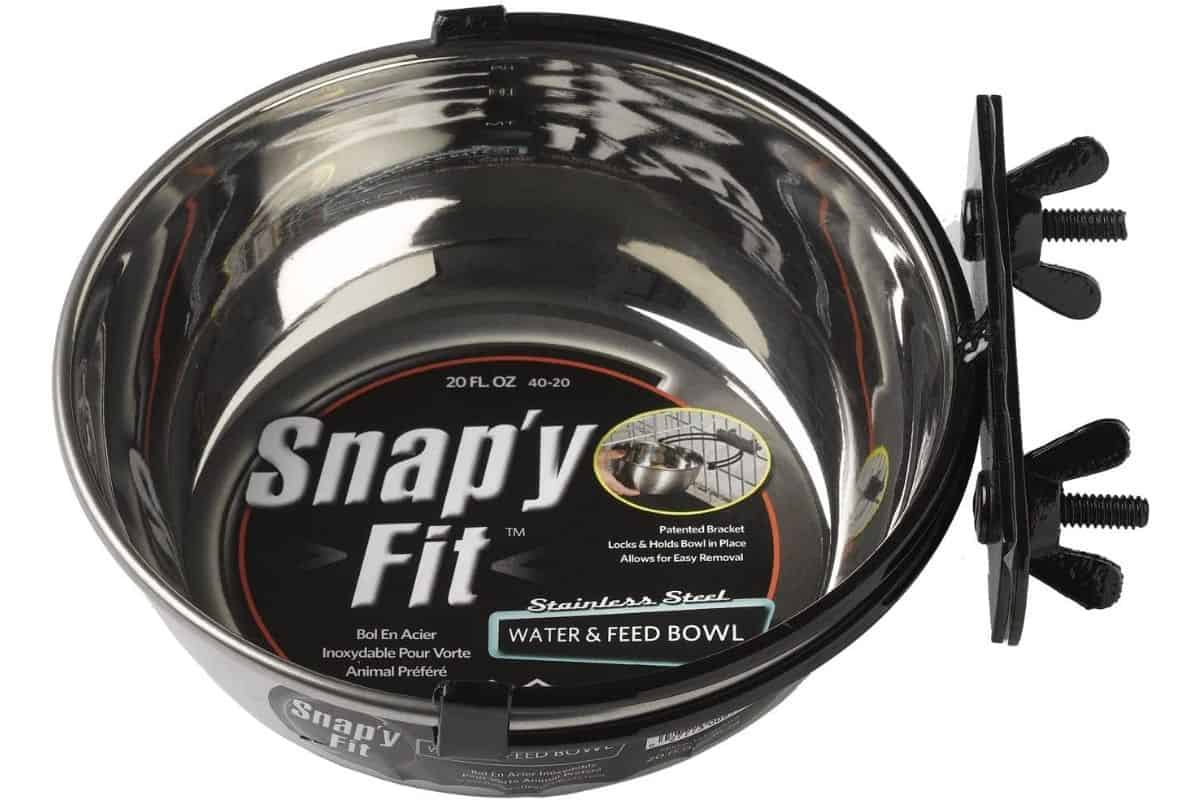 Made of stainless steel, this budget friendly dog bowl locks into place via a bracket which you attach to the crate using twisty screws. It means you can easily remove the bowl when needed, because it 'snaps' into place.
Unlike the bowls which have an outer plastic bowl, you won't need to clean the bracket. It is a lot more convenient and easy to use, though it does mean that it is a standard steel color, rather than colorful.
It is also available in a variety of sizes at an affordable price.
Pros
Attach and 'snap' bowl to removable bracket
Budget friendly
Easy to clean
Fits all wire mesh crates
Cons
No color choices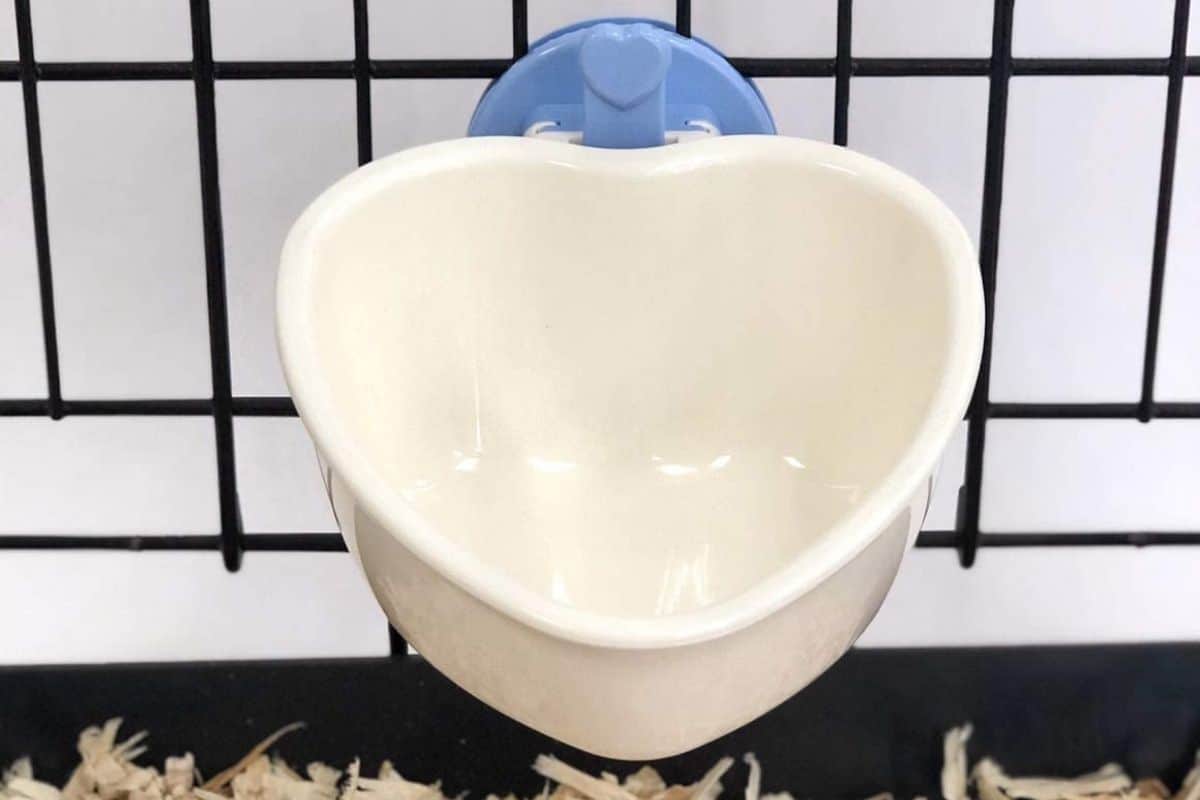 It is never a surprise that you might want something cute when it comes to buying items for your dog. If that's the case, then you will love this heart shaped dog bowl.
Whilst it is a little plain being the color white, it does still look adorable.
Speaking of cute, it is only suitable for small dogs as it doesn't hold a lot. It can also be used for other smaller pets too.
It uses a simple lock to attach it to wire mesh crates, and it can be put in the dishwasher too for easy cleaning.
Pros
Dishwasher safe
Cute heart shaped design
Simple lock
Cons
Only suitable for small dogs
Doesn't hold a lot of food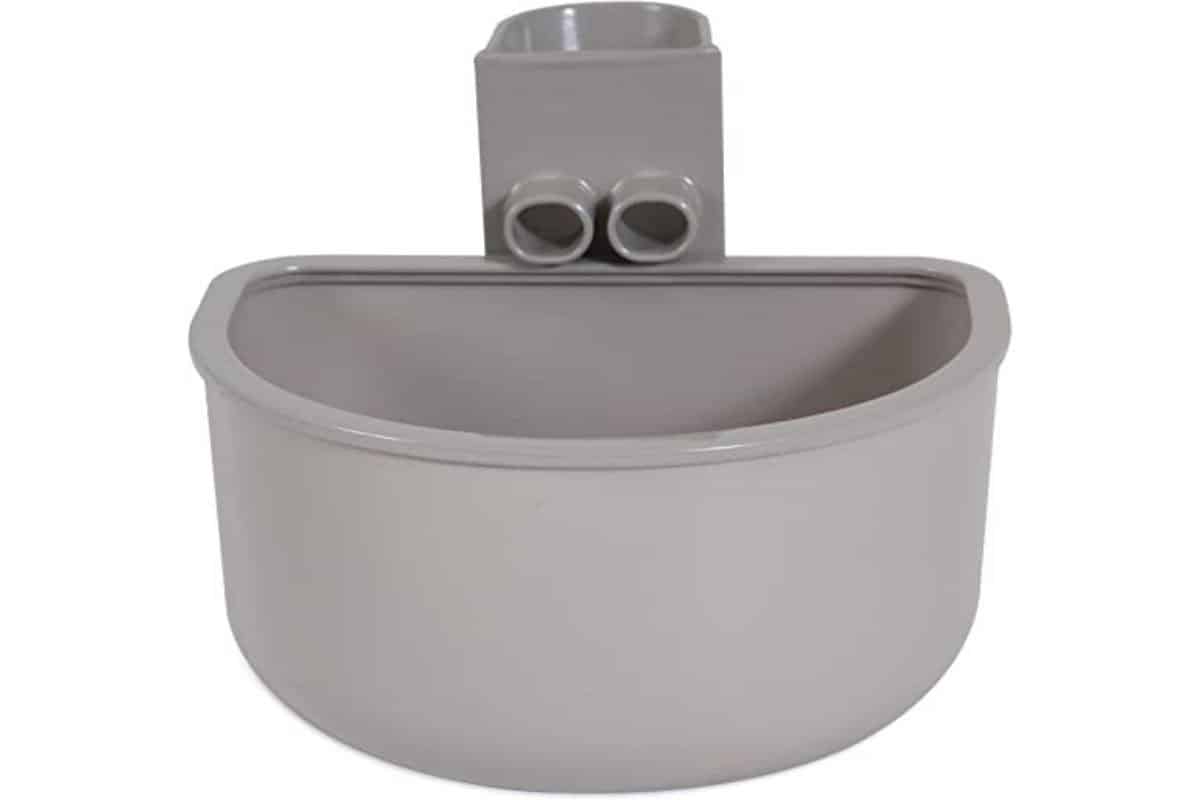 The Petmate Kennel bowl is for those who need something that can be filled with water from the outside, to avoid opening the cage. You can also use it to feed your dog with dry food by not using the funnel.
It is made from BPA free plastic, and comes in two sizes: large or small. There is also a rim that avoids spillage of water.
Not only do they make a variety of other products, Petmate have been creating products for over 50 years, so you can feel safe in the knowledge that they are a trusted brand.
However, if your dog likes to chew, like with all plastic things, this may not be a great option.
Pros
Includes a funnel to fill with water from the outside
Company has been going for over 50 years
Made of BPA free plastic – basically non-toxic
Cons
Not a good choice for dogs who like to chew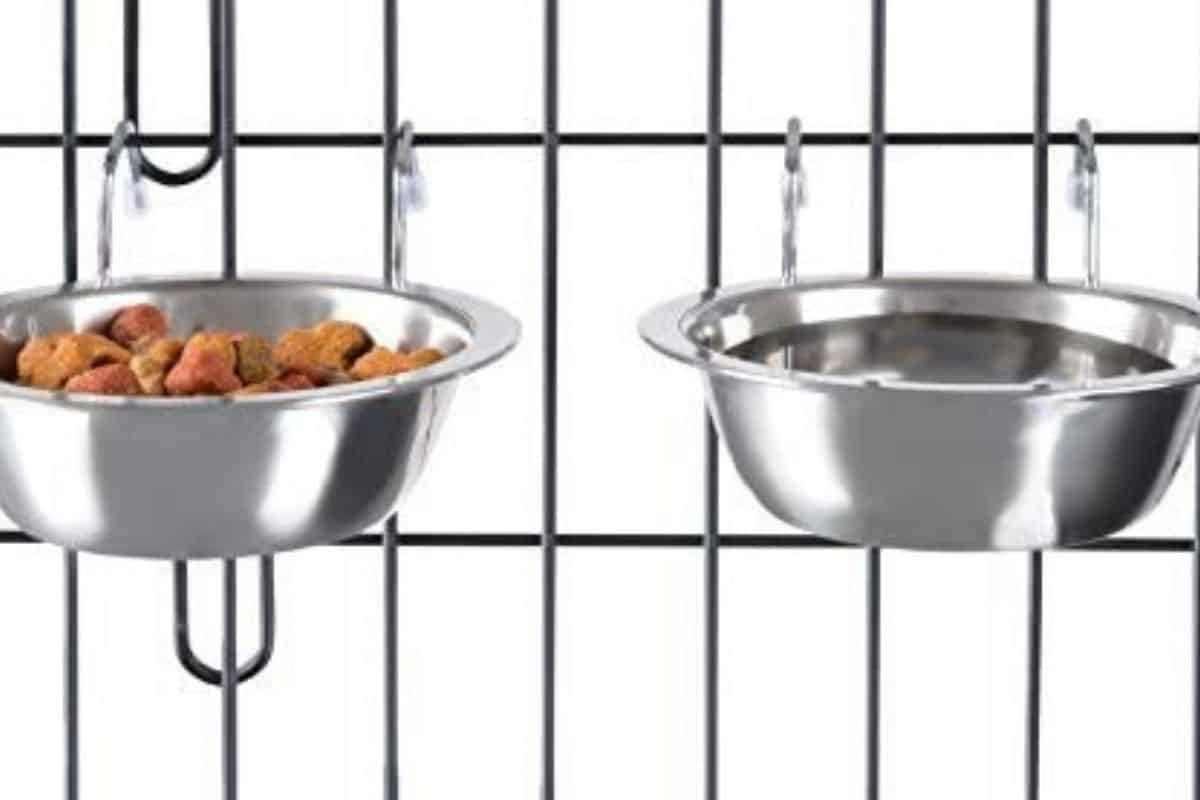 The PetMaker hanging bowls feature a hook to attach to the mesh wiring or crate, and are made out of stainless steel which is much better if your dog likes to chew. They won't be getting their teeth through this bowl!
The overhang edge of the bowl means that it shouldn't spill, or at least will help to avoid it from happening.
With its simple design, it is certainly value for money and inexpensive. It is also available in different sizes such as 8 oz, 20 oz and 48 ox, depending on the size of your dog.
However, some people haven't put the bowl on correctly meaning their dog has removed it. So just an FYI, you put the bowl under the wire and not over it.
Pros
Made out of stainless steel
Value for money
Simple design
Hooks onto create easy
Cons
Despite its simplicity, there is confusion on where to attach the bowl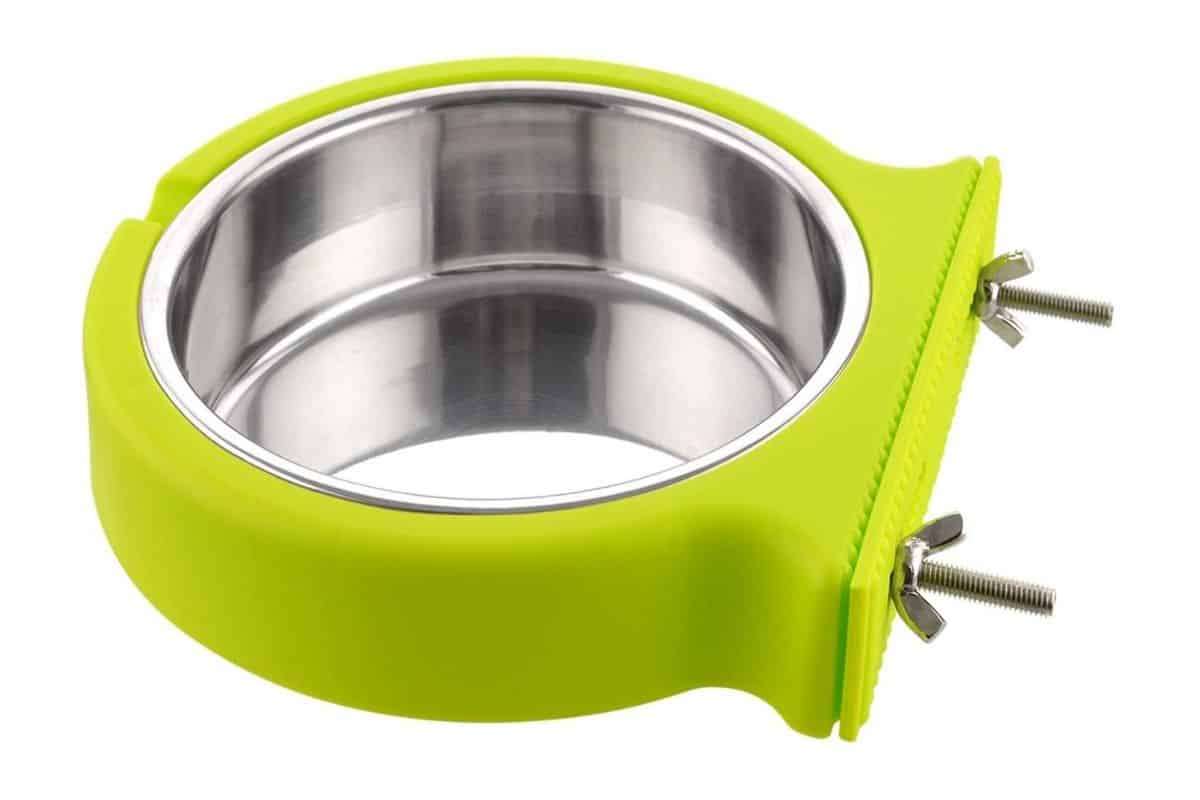 The Guardians dog bowl looks similar to the THAIN bowl, but their designs are different. They have two metal screws to attach the bowl for extra security, as well as several reinforcements in the outer bowl design to make it stronger.
The corrugated pattern on the side of the outer bowl also helps to avoid slipping and the bowl moving around. The stainless steel removable bowl itself has an anti-spillage rim.
You can buy this bowl in a number of colors, from the usual pink and blue, to green, red and purple.
However, the plastic outer bowl may not be suitable for dogs who like to chew!
Pros
Secure attachment to crate
Anti-spill rim on the bowl
The bowl's design avoids it slipping and moving
Cons
May not be suitable for dogs who chew plastic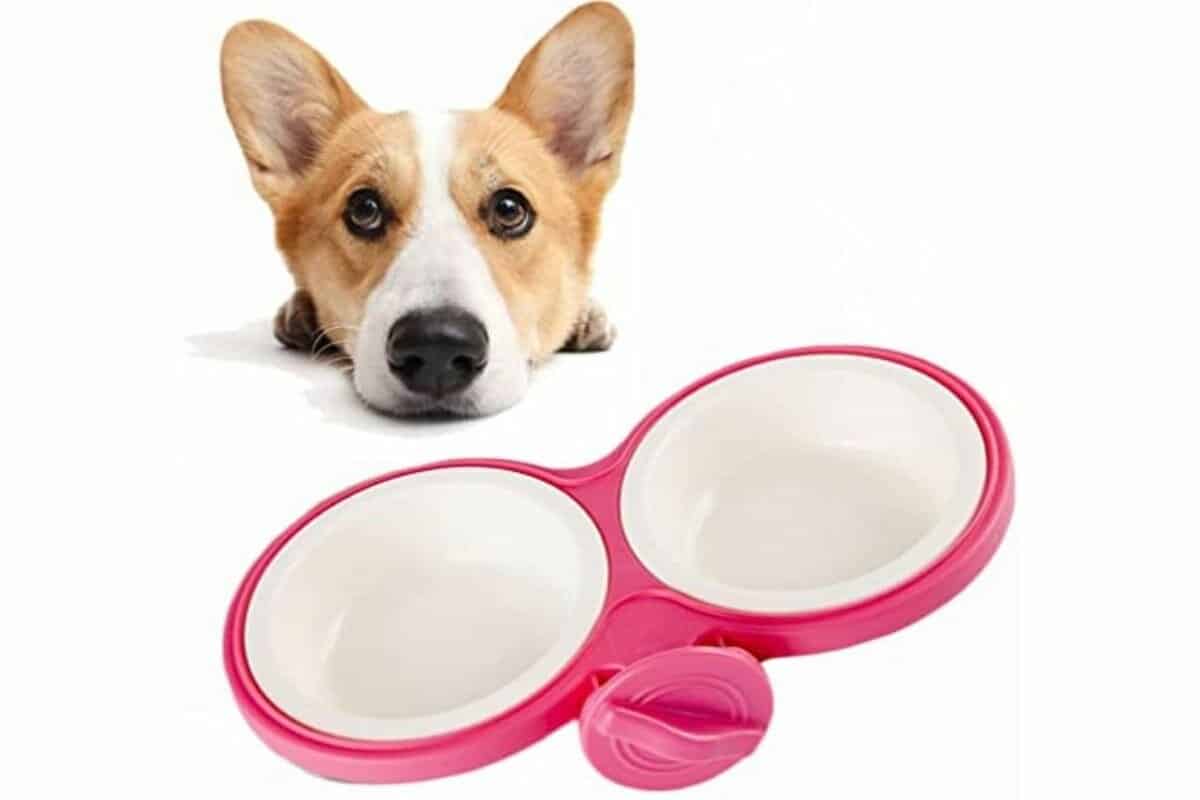 It's not unusual to want to have two bowls: one for dry food and one for water. The DotPet double bowl gives you that. Whilst there is one big lock to secure it to the crate, there are two removable bowls encased in plastic.
This makes it very handy to have both food and water – which makes a lot of sense. The colorways are simple and not varied, with just the usual pink and blue to choose from.
Due to it being removable, it is also super easy to clean. However, the bowls themselves are not deep, so will likely be more suitable for smaller dogs. Also, whilst sturdy, there is nothing to stop spills from happening.
Pros
Two bowls: one for dry food and one for water
Easy to clean
Simple to use and lock
Cons
Bowls are not deep so likely more suited towards a smaller dog
Nothing to stop spills from happening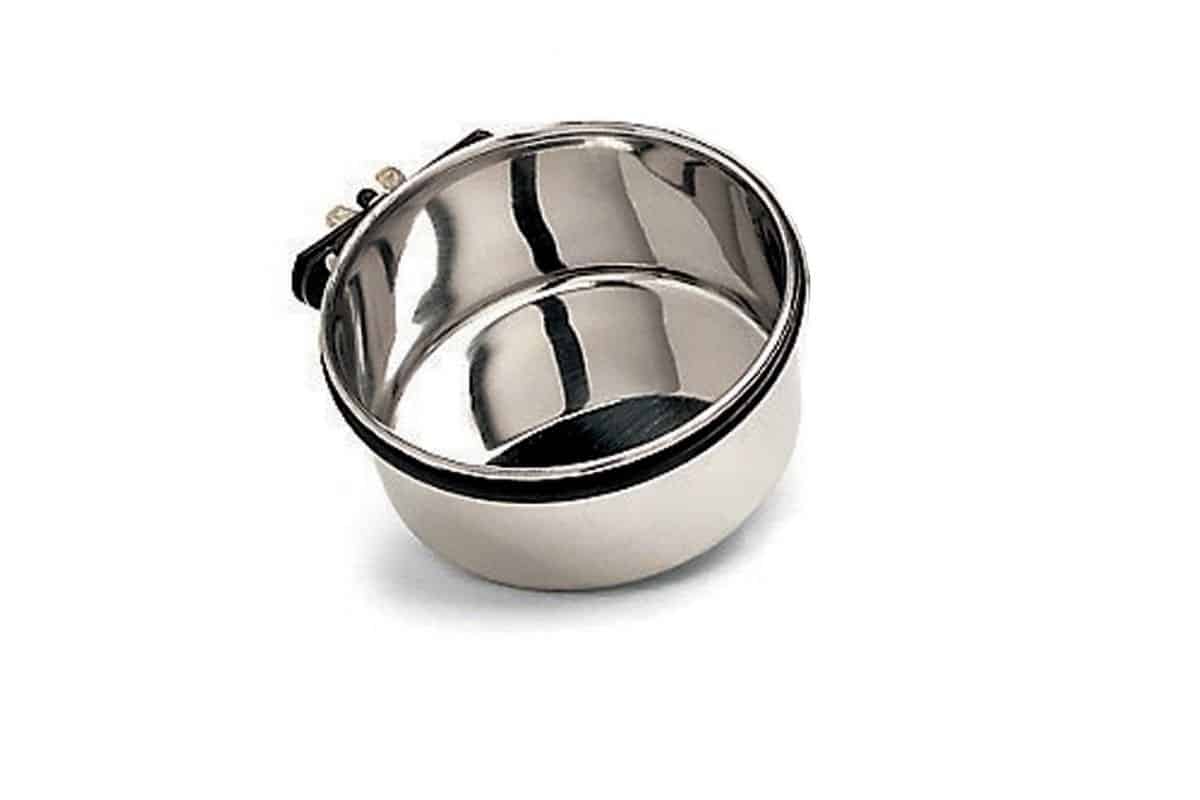 It is no surprise that people are thinking more about their purchases when it comes to an ethical standpoint. This stainless steel dog bowl is perfect for you then.
The easy to clean stainless steel dog bowl has a ridged design that helps to avoid spills from food and water. It also hooks onto the crate or mesh cage easily and safely. Plus, it is completely rust resistant.
If you would prefer, you can also clean it in the dishwasher as it is safe to do so. Whilst it is a budget friendly dog bowl, it is suitable for small dogs only.
Pros
Spill free design to avoid unwanted mess
Dishwasher safe
Made from stainless steel
Rust resistant
Cons
Suitable for small dogs only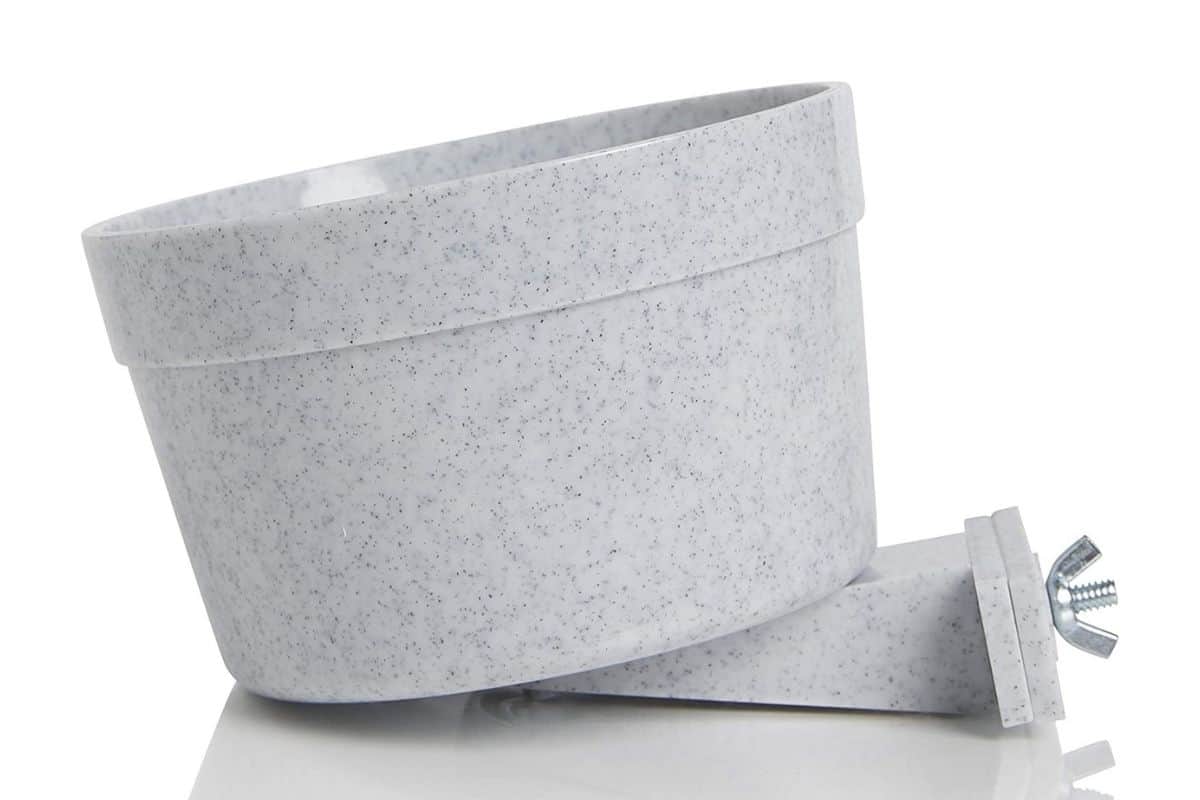 Whilst this might look like it is made out of granite, it isn't. Though it does make it look a little posher. It is in fact made from a strong polystyrene material, which is likely just a type of plastic.
It has a sturdy and easy attachment, so it is easy to install into the crate or cage. However, the bowl itself does not have a ridge to avoid spills. So, if your dog is messy, this probably isn't the one for you.
Although, the narrower design is supposed to help with overall spillage.
It is suitable for medium to large dogs, and comes in different colors such as black, blue and pink – though the latter looks like red.
It can be cleaned easily, as well as removed quickly with a twist off and on feature to make it super quick.
Pros
Great design
Looks like it is made from granite
Has a twist on and off feature to remove the bowl quickly
Cons
Not suitable for small dogs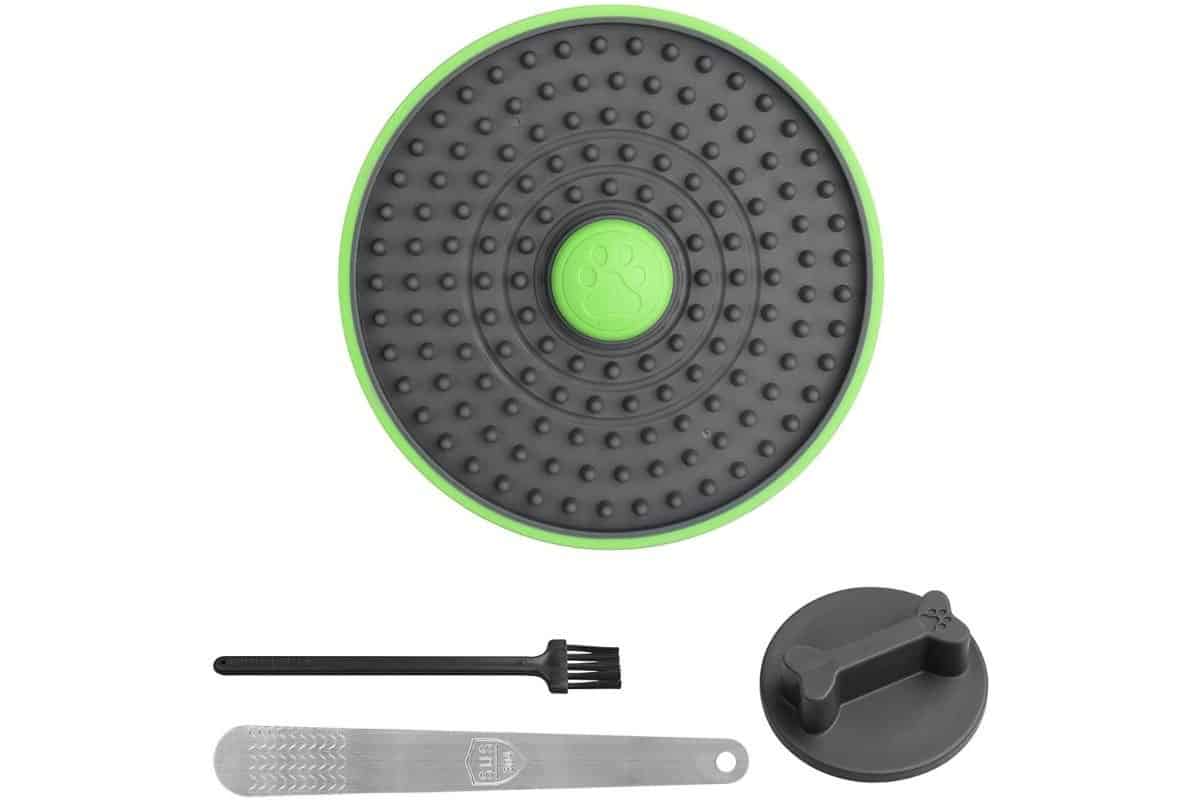 For something a little different, let's talk about a lick mat. It can be placed on the side of the crate or cage filled with your dog's favorite snacks, but it can also be used on the floor.
It is great for those dogs who eat too fast, or who suffer with anxiety. It basically helps them to slow down due to the bumps.
It can be cleaned easily either by hand or in the dishwasher. It also comes with a brush to use if washing it in the sink yourself.
It is made from a toxic-free food grade TRP-PP material, ensuring you that your dog will be safe when using it as something he or she will lick.
It can be connected to a crate easily and then tightened to make sure it is completely secure. Oh, and it also comes with a spoon as well to use to apply food.
Pros
Slow feeder to avoid your dog eating too fast
Can be attached securely on the side of a crate
Made from safe, non-toxic materials
Cons
Best for snacks, rather than full meals
The food needs to be able to stick due to it being on its side
Buyer's Guide
Now that you have taken a look at 12 of the best attachable dog bowls for your crate, let's take a look at some of the key areas when seeking out a bowl for your dog.
Size
Dog bowls, just like dogs, come in all shapes and sizes. Whilst you might like the look of a particular dog bowl, you will want to make sure that you have the right size for your dog.
If you have a bigger dog, then a small bowl will be just that – too small. So keep this in mind when you are buying a dog bowl.
Material
The material really matters, especially if your dog likes to chew. If your dog does enjoy chewing everything, then it is best to avoid something like plastic, otherwise you may find that it gets destroyed pretty soon.
Fortunately, you can buy dog bowls that are made out of steel. These are much better for dogs who chew everything.
Hopefully, they shouldn't be able to get their teeth through it, and if they do, it will take a much longer time to do so.
Attachment
Different dog bowls have a different way to attach them to the crate. Many of the plastic dog bowls feature a wing nut design that screws on securely and easily. This helps to stop the dog bowl from moving about.
Many stainless steel bowls hang over a metal bar on a crate or cage. Whilst this design is simple and easy and requires no skill to attach, it isn't a good option for hyperactive dogs who may push it up.
Doing so may cause the contents to spill, and the bowl to become loose. So keep that in mind when looking at the attachment.
Cleaning
Most dog bowls are dishwasher safe, but always check before you buy. You will want to clean the dog bowl regularly, so keep this in mind if you only have one dog bowl.
This is because a dishwasher takes time, so your dog will be without its bowl.
When this is the case, by two!
Frequently Asked Questions
How Do You Keep A Bowl Inside A Crate For A Dog?
A dog will need food and water. To have it available, use a bowl that can attach to the side of the crate to avoid it spilling.
Do Dogs Need Things In Their Crate?
Yes, your dog will need to be happy and very comfortable. This includes food and water, bedding and a toy.