American Bully Puppy Feeding Chart
American Bully is one of the dog breeds that need proper care and nutrition to maintain their physical health.
Therefore, as an owner, you should have an American Bully puppy feeding chart to help you understand how much to feed an American Bully puppy to ensure that they get that bulky muscular body as adults.
Choosing high-quality puppy food and an outstanding feeding plan will ensure that your puppy gets all the essential nutrients that they need for healthy growth and development.
This article will highlight some of the best puppy food for American Bullies, how much you should feed them according to age, their nutritional requirements, and many more.
How Much Should An American Bully Puppy Eat?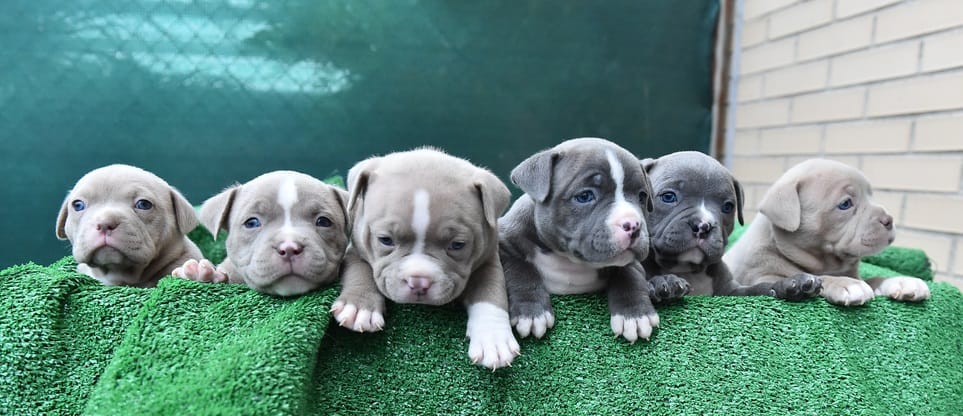 When your American Bully is in the puppy stage, they need a lot of attention as this phase defines the type of adult they will be in the future.
When your puppy is four weeks old, they are ready to transition from their mother's milk to solid food.
When they are between the ages of 8 and 12 weeks and stable enough, you need to feed them four times per day. Their food should be rich in minerals and vitamins and contain at least 30% protein to enable your puppy to bulk up.
They need at least 20% fat in their diet because their body is still learning to break down nutrients.
Between 12 weeks and 6 months, you can reduce mealtimes to three in a day and you can adjust the timings depending on your daily schedule.
American Bully Feeding Chart
Because of their wide body, American Bullies tend to gain weight quickly, therefore, you must provide them with small portions of food depending on their weight and age.
An American Bully feeding chart will help you in tracking the amount of food your puppy eats to ensure that they maintain a healthy weight.
To know the number of calories your puppy needs, multiply their RER (Resting Metabolic Requirement) by two.
RER= (puppy's weight in Kg)3/4 multiply by 70. For example, if your dog is 10kg their RER is 70(10)3/4 = 394. So, the total calories for your dog per day are 788 calories.
Below is a detailed American Bully puppy feeding chart:
2-Week-Old American Bully Puppy
At this age, the puppy is dependent on the mother's milk for nutrition as they are still with their mother.
If the mother is not able to produce enough milk, puppy formula should be given to them to ensure that they get all the necessary nutrients.
4-Week-Old American Bully Puppy
At this age, your puppy can now eat solid foods. You can introduce puppy food in small amounts and see if they are interested.
Make sure that the ratio is ¾ water and ¼ puppy food, as they cannot eat too much food because their stomach is small. They still drink their mother's milk at this age.
6-Week-Old American Bully Puppy
At this age, your puppy is ready to be weaned and transitioned to a puppy food diet. The process should be done gradually to avoid upsetting their stomach.
Slowly increase the ratio of food to water, until there is more food and less water. Once the puppy is used to the food, you can stop adding water and they can eat food only.
8-Week-Old American Bully Puppy
At 8 weeks, your puppy should be fully weaned as this is the time they move to their new home. They should be fed four times per day and if they do not finish their food, take the plate away so that you establish a feeding routine.
Give them ¾ to 1 cup of food per meal. As an owner, continue feeding them the food they were being given at the breeder's home.
10-Week-Old American Bully Puppy
At this age, your puppy needs 1 cup of food per meal and should be fed four times a day. Do not feed them more than they need to maintain a healthy weight.
12-Week-Old American Bully Puppy
At this age, 1 cup of food per meal is enough but you can now reduce the number of mealtimes to three. You can increase the amount of food depending on the activity level of your puppy.
Best Puppy Food For American Bully
1. ORIGEN Puppy Grain-Free Dry Puppy Food
Editor's Choice
ORIGEN Grain-Free Dry Food is the best food for your American Bully puppy because it provides them with enough nourishment that they need for growth and development.
Puppies do well when they are on a diet that is biologically appropriate for them. This diet should include fat and protein from various animal ingredients.
This dry puppy food features raw or fresh free-run turkey and chicken, sustainably farmed or wild-caught fish, and cage-free eggs.
Formulated with the most succulent and nutrient-dense parts of the prey, this puppy food is made with WholePrey animal ingredients including bone and organs, providing 85% animal ingredients that are high in quality.
This food is coated with wag-worthy raw flavor that dogs love and is freeze-dried.
Pros
Contain premium animal ingredients.
A great source of vitamins, proteins, and minerals.
Helps puppies struggling with weight and adjust to the food.
Helps with keeping the coat and skin shiny.
Cons
Some puppies experienced constipation.
2. Blue Buffalo Life Protection Dog Food
Runner's Up
Blue Buffalo Life Protection Formula was designed for the well-being and health of dogs.
This puppy food starts with real meat as the first ingredient and it also contains whole grains, garden fruit, and veggies as well as LifeSource Bits, which are a combination of nutrients that have been improved with a Super 7 package of ingredients rich in antioxidants.
This puppy food features protein-rich, delicious, deboned chicken and other ingredients that support healthy growth and development in the puppyhood stage.
It also contains phosphorus, calcium, essential vitamins, DHA, ARA, Omega 3 and 6, chelated minerals, and antioxidants.
Pros
Supports strong teeth and bones.
Puppy-sized kibble promotes the removal of tartar on teeth.
Promotes healthy muscle growth and brain and eye development.
Promotes healthy coat and skin.
Enhances the health of the immune system.
Cons
Some puppies experience loose stool.
3. Purina Beneful Healthy Puppy Dog Food
Start your American Bully puppy on the right part by feeding them the Purina Farm-Raised Chicken Dry food.
This high-protein puppy food contains great ingredients including real, farm-raised chicken and a blend of carrots and peas to provide wholesome goodness to support your growing puppy.
Purina Beneful features plenty of calcium, DHA, 29g protein, vitamins, and minerals.
The kibble is bite-size which is great for your puppy's mouth. Additionally, this puppy food is loaded with a crunchy texture and great taste that excites your puppy every mealtime.
Pros
Supports strong muscles that your puppy needs to play, jump, and explore the world.
Promotes strong teeth and bones.
Promotes healthy vision and brain development.
Cons
Not suitable if your puppy is a picky eater.
4. Rachael Ray Nutrish Bright Puppy Dog Food
Rachael Ray Puppy Food contains all the nutrients that your puppy needs.
This premium and delicious dry food contain chicken as the first ingredient, which is a great protein source for your American Bully puppy. It is formulated with fiber-filled brown rice and tasty peas.
This high-quality puppy food is also rich in omega-3 and omega-6 fatty acids and has minerals, vitamins, and taurine added to it to help your puppy grow well.
It does not contain any preservatives, artificial flavors, fillers, poultry by-products, or added wheat.
Pros
Supports lean mass muscle and healthy organs.
Supports healthy digestion and maintains energy levels.
Helps with the development of the brain and eyes.
Supports growing muscles.
Cons
Contains an unpleasant smell.
5. Taste Of The Wild Dog Food
Taste of the Wild Dry Puppy food provides a balanced diet intended to nourish your puppy.
This food is formulated with novel proteins such as bison and buffalo, as well as sweet potatoes and peas to provide highly digestible energy for your growing puppy.
This puppy food also features dried chicory root, real fruits, vegetables, and essential chelated minerals with amino acids for maximum absorption and complete, balanced nutrition.
Pros
Contains antioxidants and prebiotics for immune system health, healthy digestion, and overall wellness.
Ensures healthy skin and coat.
Supports healthy joints, bones, and lean muscles.
Cons
Caused constipation in some puppies.
Understanding American Bully Puppy Nutritional Needs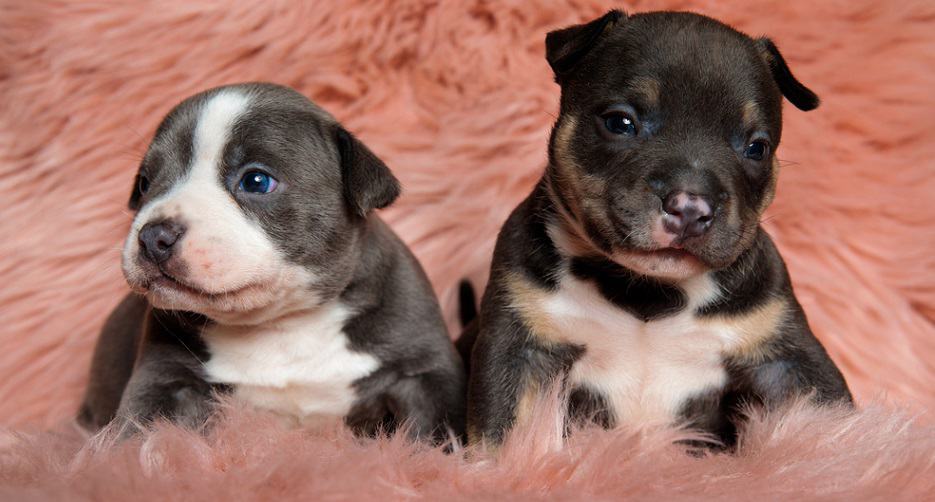 The following are the essential nutrients that your puppy needs:
Carbohydrates – this is a source of energy for the energetic American Bully puppies. They need to eat a meal with 30-70% carbohydrates. This includes oats, wheat, rice, or barley.

Vitamins

– Every dog needs vitamins. Vitamin E improves the puppy's immune system, while Vitamin A maintains healthy skin and hair. They are found in vegetables and fruits.
Proteins– proteins are made of amino acids that help strengthen the muscles and repair body functions. They include meat, fish, chicken, and more.
Minerals– Minerals help prevent deficiency and support specific body functions.
Fats are also essential because they improve food consumption, appetite, physical exertion, and the hair coat of a puppy.
Kibble Vs Wet Food For American Bully Puppies
Kibble or dry foods are good for puppies as it encourages the dog to chew their meal, therefore, helping in preventing tartar and periodontal diseases.
Dry food is also easy to pre-portion and won't get spoilt if left out as it can stay for a long. Also, it can be less expensive to buy.
Wet foods for puppies are also essential because they sometimes give benefits that dry foods don't have.
They have high moisture content, thus a good choice if your dog doesn't like drinking water. Wet foods are often more flavorful and aromatic, enticing a sick puppy or one whose appetite has reduced.
Wet food gives your puppy a feeling of being full and they are easy to chew.
How Much Do American Bully Puppies Grow Each Week
American bullies can become overweight due to their body characteristics. Therefore, always have a weighing scale to monitor your dog's weight.
It can be challenging to tell your puppy weight week by week, but the following can help you determine the correct weight of your pup:
At 4 weeks, your puppy can weigh between 4 to 9 pounds and at 8 weeks, they weigh between 8 to 23 pounds. At 12 weeks, they weigh about 15 to 45 pounds and at 4 months, their weight is around 20 to 65 pounds.
At the age of 6 months, your puppy will be between 28 to 102 pounds and at 8 months, they will grow to around 32 to 128 pounds.
Switching From Puppy Food To Adult Food
When you start switching to adult food from puppy food, you need to faze your puppy out slowly. Start a bowl with mostly puppy food and add a small amount of adult food such as 1/3.
Slowly keep increasing the amount of adult food as your puppy tolerates it.
If you find that your puppy reacts negatively to the meal, take more time before introducing the next ration of the food.
What If My American Bully Won't Eat?
Emphasize understanding why your dog stopped eating, and it will help you determine how to deal with the issue.
If your dog lost appetite and shortly goes back to normal and there is no sign of illness, then you probably have nothing to worry about. But if they have taken a few days and you don't see any improvement, get help from your vet.
Your vet may suggest a special diet that will boost your dog's immunity and give them extra nutrients to improve their recovery.
If your pup stopped eating due to behavioral issues, you can try to feed them at the same time every day to establish a routine.
You may also need to reduce the number of dog treats and people's food that you give them. Finally, you can try a different kind of food for them.
Can You Free Feed An American Bully Puppy?
Free feeding is not good for American Bully puppies because a feeding schedule works better. Stick to a feeding routine to help your puppy stay healthy and prevent overweight.
A feeding schedule for your American Bully puppy helps with their house training and managing their weight, unlike free feeding.
Free feeding is easy and convenient, but your dog can gain unnecessary weight because they have constant access to food. Therefore, find a feeding guide that works well for you and your puppy.
American Bully Puppy Supplements
You can add supplements to your puppy to help them develop muscles and improve their health conditions.
The American Bully supplements contain proteins, vitamins, and nutrients that will help your puppy develop muscle mass and grow. However, speak to your vet before your dog supplements.
How Much Water Should An American Bully Puppy Drink?
Your puppy will need to drink about ½ to 2 ounces of water per pound of their weight which is the normal amount for a healthy puppy, however, it varies.
Some factors can influence your dog to drink more water: dehydration, medication, illnesses, and a dry diet.
Therefore, if you know your puppy's normal thirst, it will help you judge every situation. You have an advantage if you keep a record of your puppy's diet because you can tell if there is a problem.
If you find that your puppy's drinking habits have changed, visit the veterinarian.