Maltipoo Breeders – Maltipoo Puppies For Sale
If you are on the hunt for a Maltipoo puppy, then you will need to look to the top Maltipoo breeders out there.
With so many different presences online, offering up puppies, it is incredibly difficult to tell who is for real and what is a scam.
A combination of a miniature poodle and a Maltese, when it comes to adopting a Maltipoo, you will want to be certain that the puppy that you are adopting is indeed a real, purebred Maltipoo.
With these adorable and sweet-natured pups, you will certainly want to be sure that the puppy that you are getting is what you are looking for.
The Maltipoo manages to combine the intelligence that you will get from a poodle with the attitude of a Maltese, creating a perfect addition to any home.
We have done our research and compiled the ultimate list of the best breeders out there. Here is what we have found out.
10 Best Maltipoo Breeders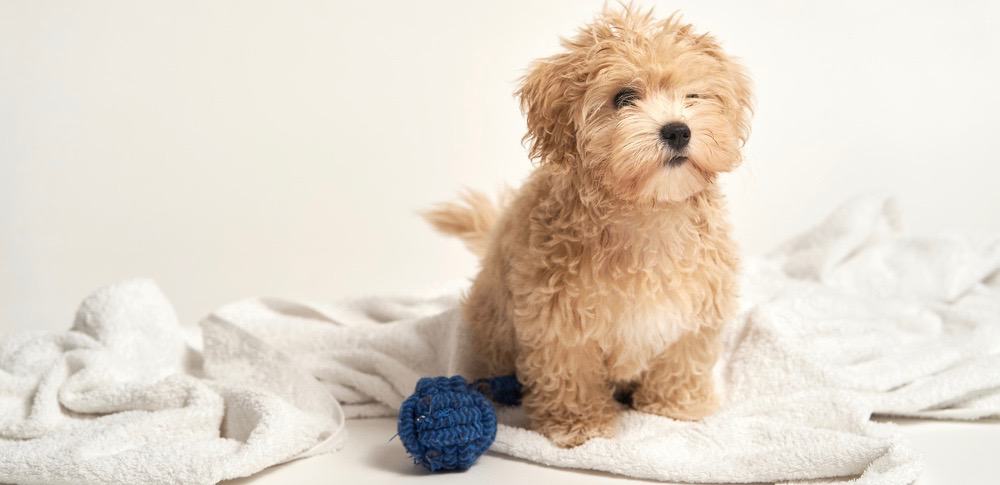 #1. Bear Creek Maltipoo
The Bear Creek Maltipoo breeder was established in April 2007 and is run by a married couple, Risa and David Krantz.
The ultimate goal of Bear Creek Maltipoo is to breed genetically healthy and tough puppies. They are socialized early and kept in a loving home as they begin to grow.
Health-wise, the puppies are regularly checked over by veterinarians to make sure that the dogs are as healthy as possible before they are adopted out.
Part of this attention goes to health testing with Paw Print Genetics to confirm DNA and to test for potential diseases within the breeds. This is to add some proof of health to the families that wind up adopting their puppies.
The dogs are also vaccinated prior to adoption and provided with dental care. You can feel assured that the puppies have been well taken care of before they are given to their forever homes.
They will come with a microchip as well as their registration, giving you what you will need to have a good start with your puppy.
Additionally, the breeders have a health guarantee that if your puppy is not healthy, they will allow you to switch for another puppy.
The health guarantee requires you to have your puppy checked by a veterinarian within three days of adoption. After this, there is there no guarantee.
Information and Details
Name: Bear Creek Maltipoo
Address: Umpire, Arkansas, P.O. Box 52
Phone: 870-584-8844
Email: bearcreekmaltipoo@yahoo.com
Website: https://bearcreekmaltipoo.com/
#2. Maltipoo Furbabies
Another Maltipoo breeder to consider is the Maltipoo Furbabies, located in the Chicago area. They offer shipping to any major airport with a shipping fee of $350.
There is a lot involved with the shipment process, but it could be worth it in order to get your perfect puppy.
Maltipoo Furbabies has been running for over 17 years. They work to breed companions for perfect families.
All of the puppies are kept inside of the home with the family and treated as part of the family before being matched with the perfect family.
This breeder uses carefully chosen lines that are a good combination of good health and great temperament. Their highest priority is the pup's health, but having dogs that are sweet and easy-going is a focus of theirs.
Their Maltipoo puppies come in three different sizes. They have teacup or tiny Maltipoos, tiny toy Maltipoos, and toy-sized Maltipoos.
With so much experience under their belts, you can feel assured that the breeder has handled this breed enough to understand what size the pups will wind up being in the end.
Regardless, none of them will ever be large dogs.
They also have a health guarantee, but your puppy needs to be checked out by a veterinarian within 48 hours of bringing him home, so make sure to schedule that ahead of time.
Information and Details
Name: Maltipoo Furbabies
Address: Chicago, Illinois
Phone: 773-379-6910
Email: Info@MaltipooFurBabies.com
Website: https://www.maltipoofurbabies.com/
#3. Sherry's Maltipoos
Situated in Fitzgerald, Georgia, Sherry's Maltipoos concentrate on breeder first-generation Maltipoos from champion bloodlines.
They are focused on the quality of the breed. They provide Maltipoos in a variety of colors, including brown, bronze, white, beige, phantom, silver, cream, and grey.
During the whelping process, the puppies and mothers are kept indoors to ensure that they receive all of the care that they really deserve.
They do receive all of the initial veterinary attention that puppies need, including vaccinations. The puppies all also have their dew claws removed before being adopted out.
They also are adopted out having been crate trained and will have been started on the potty training process, though that young age of a puppy is unlikely to be able to be fully housebroken quiet yet.
You will receive the forms for certification, as well as medical records from the veterinarian, deworming, and a health guarantee that the puppy you are getting is healthy.
The non-refundable deposit to hold one of their puppies is $200 and can be paid with a card. The remaining fee for the puppy is due upon delivery and needs to be paid in cash.
Generally, the puppies run between $1,200 and $1,500, but you will need to contact them directly to see what the difference in pricing is as well as what their current availability is.
Information and Details
Name: Sherry's Maltipoos
Address: Fitzgerald, Georgia
Phone: 229-457-4658
Email: sherrysmaltipoos@windstream.net
Website: https://www.sherrysmaltipoos.com/

#4. Pocketpoos
Pocketpoos is located in Cookeville, Tennessee. They have been breeding Maltipoos for over 20 years now, focusing on the smallest types of Maltipoos that are out there.
Their puppies usually run between 4 and 6 pounds when they are adults, so they really are pocket-sized puppies.
The breeder does not cage in their puppies but instead allows them to roam as they would prefer, giving them total, safe access to the breeding facility as they would like.
These puppies run about $1,200, which seems to be one of the more reasonable prices out there. They do deliver puppies locally, but in general, you will need to go to get the puppy yourself in order to bring the puppy home.
They do provide a health guarantee that states that your puppy was in good health when you adopted him. There will also be a medical chart, detailing all of the medical treatment that the puppy has received up until the point of adoption, including vaccinations.
The guarantee also states that the puppy is free of genetic conditions, up until a year of age. Any genetic conditions should show up within the first 9 months of life.
The breeder is careful about matching the perfect puppy to its new home, so they will screen potential adopters before releasing the puppies.
Information and Details
Name: Pocketpoos
Phone: 931-349-5310
Email: Pocketpoos2@gmail.com
Website: https://www.pocketpoos.com/
#5. Polos Maltipoos
Polos Maltipoos has an interesting backstory. They initially focused on breeding guard dogs, such as German Shepherds, but eventually fell in love with the sweet nature of the Maltipoo.
Their website does not state where they are located, but it does appear that they are within the United States.
They adopt out their puppies when they are 8 weeks old. The puppies that you will get have already been vaccinated and dewormed.
A vet will do a check again before the dog is adopted out to make sure that nothing has popped up before the dogs go home.
The breeder is a dog behaviorist, concentrating on how dogs should behave. For that reason, the puppies have already had some amount of training before they are sent home.
They are sent home with their medical records, a blanket, dog food, a toy, and some new dog information to help with the transition of bringing a puppy home.
Because the breeder is also a dog trainer, you will receive some dog training advice when you adopt one of their dogs. They even provide lifetime training tips to ensure that your dog has a positive start to life.
Adopters are well-screened before being granted access to one of the puppies and there is a non-refundable deposit required when approved. The puppies can be delivered by plane or car if need be.
Information and Details
Name: Polos Maltipoos
Phone: 541-993-6595
Email: whitdovepaloma@gmail.com
Website: https://polosmaltipoos.com/
#6. Country Acres Puppies
Located in Fairbury, Illinois, Country Acres Puppies works as a family business, ensuring that all of their litters are bred in a safe and loving environment. Dogs respond well to a nurturing situation, right from the start, so it does give them the perfect start to life.
This breeder does not solely focus on Maltipoo puppies but also breeds Maltese, Yorkies, and Red Toy Poodles. They also work with designer breeds such as the Morkie, Morkiepoo, and even Mini Goldendoodle puppies.
So, they may not have a Maltipoo available when you are looking for one, but do have a lot of puppies going on.
­­What makes this breeder a little different than some of the others is that they do have staff and function as a full business operation.
There is less of a homemade, family feel to the enterprise, giving off more of a professional feel. With a combination of experts on the team, their dogs are carefully bred and seriously cared for before they are adopted out.
If you would like to have one of their puppies delivered to you somewhere else, they do use a Flight Nanny service to transport puppies to their appropriate homes.
The estimated cost of their puppies is somewhere around $1,500 and then a puppy handler is $40 an hour during the transport of the puppy.
Information and Details
Name: Country Acres Puppies
Address: 4216 N 2500 E Rd, Fairbury, IL 61739
Phone: 815-419-5245
Email:countryacrespups@gmail.com
Website: https://www.countryacrespuppies.com/maltipoo-puppies

#7. Florida Toy Poodles
As the name shows, this Maltipoo breeder is located in Lakeland, Florida. This breeder has been in business for over 13 years and has been shown to be trustworthy and a reputable breeder.
They work with Maltipoos, Poodles, and Shihpoos designer breeders.
This breeder cares deeply about where their puppies are going, so before you can even be considered as an adopter, they need to have a 30-minute in-person meeting with you.
That way, they can screen whether their puppies are a good fit for what you are looking for. There are possible exceptions to this, but you would need to speak to them directly to see if any are a possibility for you.
The breeder does genetic testing on the poodle line because that is the most likely place to pick up issues. If the line has already been shown to be clear, they will still do testing on the eyes.
Even if a puppy does not have a congenital disease, he could still be a carrier, so the breeder does pay close attention to that.
Their deposits are non-refundable unless a puppy has become unavailable or something else has happened that was unexpected. Payment-wise, they will take cash or money order, but nothing else.
They do not take electronic payments or personal checks. They only fly puppies to Michigan, so it wouldn't be good to depend on that as an option.
Information and Details
Name: Florida Toy Poodles
Phone: 616-212-1776
Email: floridapoodles@gmail.com
Website: https://www.floridatoypoodles.com/
#8. I Heart Teacups
Situated in California, I Heart Teacups is another Maltipoo dog breeder. Their focus is on Teacup and Micro Mini dogs of several different breeds, including Teacup Yorkies, Teacup Morkies, Teacup Malteses, Teacup Shorkies, Teacup Pomeranian, and, of course, Teacup Maltipoos.
Their prices do seem a little bit higher than some of the other breeders that we have looked at, but they do focus specifically on teacup Maltipoo, which is an even more specific type of this designer dog breed.
They are also located in Los Angeles, which does have a higher cost on many things.
The deposits fee to hold a puppy ranges from $500 to $3,000, depending on the puppy that you are trying to get and the length of time they will have to hold onto the puppy.
The deposit is non-refundable. Additionally, puppies sold in California are subject to a 9.85% sales tax on the total price of the puppy.
They do accept PayPal, Chase Quickpay, wire, or bank transfers if the puppy is being shipped. For local pickups, they will not take PayPal.
They offer local pick up in the Los Angeles area. For other locations in the United States and Canada, they do use a nanny service to deliver the puppies.
They do say they can also serve international locations, but that will likely depend on the country that you are in.
Information and Details
Name: I Heart Teacups
Address: Los Angeles, California
Phone: 424-645-7877, 805-613-7868
Email: iheartteacups@gmail.com
Website: http://www.iheartteacups.com/
#9. Judy's Pups
This Maltipoo breeder works with a few different breeds as well and is located in the San Francisco Bay Area of California in a town called San Ramon.
Their puppies include purebred Maltese and Shih-Tzus while their mixed breeds are the Maltipoo, Malti-ships, Morkies, Shih-Poos, and Shorkies. They focus on these small, sweet breeds.
The puppies are given all of the room that they need to romp around at this breeder, never being raised in a kennel.
They look for homes that will provide them with that kind of freedom as well as love, so you can expect to be asked a lot of questions prior to adoption.
Their puppies will all come with a current Health Check Certificate as well as up-to-date vaccinations and deworming medications provided by a licensed veterinarian to keep the puppies healthy.
They work with the puppies on potty training as well, but it is unlikely that the puppies will be housebroken by the time that you adopt them, given that they will be so young.
They are well-socialized, however, and know-how to behave in a family environment. They are given a lot of love and affection at a young age and will expect you to continue to provide them with that level of warmth and love as the pups continue to grow up.
Information and Details
Name: Judy's Pups
Address: San Ramon, California
Phone: 925-216-1799
Email: judyopups@gmail.com
Website: https://www.judyspups.com/
#10. Maltipoo Red
Maltipoo Red is a Maltipoo breeder located in California. They focus on the red-coated Maltipoo puppies. The puppies from this Maltipoo breeder are raised completely like members of the family.
They will expect any new owners to provide the same amount of love and care for them so they will be looking at how you interact with the puppy before agreeing to allow you to adopt it.
The puppies are given a nice, healthy start to life as all of their dogs have medical plans and 70 percent of their diet is made there.
They feed their mother dogs 100% homemade foods as well, consisting of antibiotic-free beef, chicken, and vegetables.
Additionally, they add digestive enzymes and NuVet vitamin supplements to all of the dog's meals, which will help them process their food better.
The goal is to keep the pups disease-free. They are monitored regularly by a vet as well, so their health is given much consideration.
They guarantee that their pups will be healthy for 12 months from the date of sale against any kind of death from a genetic condition. If this happen, they do require proof from two vets that it was the case.
They do require a $500 non-refundable deposit and they will require full payment at least 5 business days before they will allow the puppy to be shipped or picked up in person.
Information and Details
Name: Maltipoo Red
Address: Gana Spencer, Encino, California, P.O. Box 16721
Phone: 310-303-9145
Email: bundleofjoy@maltipoored.com
Website: https://www.maltipoored.com/
Final Words
Deciding to adopt a Maltipoo puppy is an exciting time. Thankfully, as you have seen already, there are a lot of great breeders out there who are less focused on making money and more focused on raising adjusted and healthy puppies and then matching them to the best owners possible.
Naturally, it will be easier for you to find a breeder closest to you, but, as we mentioned, there are many services out there that will allow you to have a dog shipped to you. This could be worth it if there are not any reputable breeders out there.