American Bulldog Breeders – American Bulldog Puppies For Sale
For many, owning an American Bulldog puppy is a dream but can be challenging as there are many American Bulldog breeders in the market to choose from.
You must research a breeder thoroughly before purchasing a puppy from them to ensure that they are reputable and that the puppy is healthy and does not have any medical conditions that will affect them once they are home with you.
Ideally, you should visit the breeder and ask them questions about their previous experiences, the lineage of the dog's parents, as well as see the living conditions of the puppy.
Additionally, you need to know the type of vaccination your puppy will have before you take them, their take-home kit, and the policies involving a refund, deposit, certifications, registration papers, and health guarantee.
This article will provide you with a list of the 10 best American Bulldog breeders including their descriptions and contact information.
10 Best American Bulldog Breeders

#1. Grand Future American Bulldog Kennel
Established in the year 2000, Grand Future Kennel is an American Bulldog breeder that is based in Los Angeles, California, and Las Vegas, Nevada.
They specialize in Bully-type also known as Johnson American Bulldogs and sometimes produce fantastic hybrid- and standard-type American Bulldogs.
Their purebred American Bulldogs have been certified and trained successfully in obedience and defense.
They breed for balanced and functional temperament to allow the American Bulldog to be a companion and a family member while having the intelligence and drive to perform desired functions.
Typically, they produce Large American Bulldogs, where females range from 90 to 120 pounds while males range from 100 to 130 pounds as adults.
Grand Future Kennel is registered with American Bulldog Federation and Federation Cynologique Internationale.
They breed their dogs by following breed standards that are stricter than the current breed standards under the U.S-based registries.
Dogs with full black masks, kinked tails, blue eyes, coat colors other than white/red, white/brindle, or white, dogs missing more than three teeth, and those that do not have skin pigmentation are not bred or shown in a conformation show in this kennel.
Their breeding expertise enables them to produce beautiful, healthy, intelligent, and strong American Bulldog puppies.
They offer a contractual health guarantee against genetic health conditions such as elbow and hip dysplasia, cataracts, Canine Cruciate Ligament ruptures, ectropion, entropion, thyroid, kidneys, heart, neurological disorders, and epilepsy.
Grand Future American Bulldog Kennels have always worked to diligently improve the line of their dogs. They have produced over 600 dogs in seven generations and have enough data and history to enable them to make significant conclusions about the American Bulldog.
They guide prospective owners about picking puppies based on activity level, personality, phenotype, temperament, and more. If you are not able to go and pick up your puppy from them, they can ship them to you.
Information and Details
Name: Grand Future American Bulldog Kennels
Phone: 626 487-5523
Email: [email protected]
Website: Grand Future American Bulldog Kennels
#2. We Love American Bulldogs
Established in 1997, this private breeder produces 100% purebred American Bulldogs that are registered by the ABRA, ABA, and NKC.
Their Bulldogs are bred to be gentle and social family dogs, and they do not breed for high prey. If you want, you can train them to be hunters.
The bloodlines of their American Bulldogs are strong and healthy. Their puppies are de-wormed, vaccinated, potty trained, socialized, and microchipped by the time they join their new home.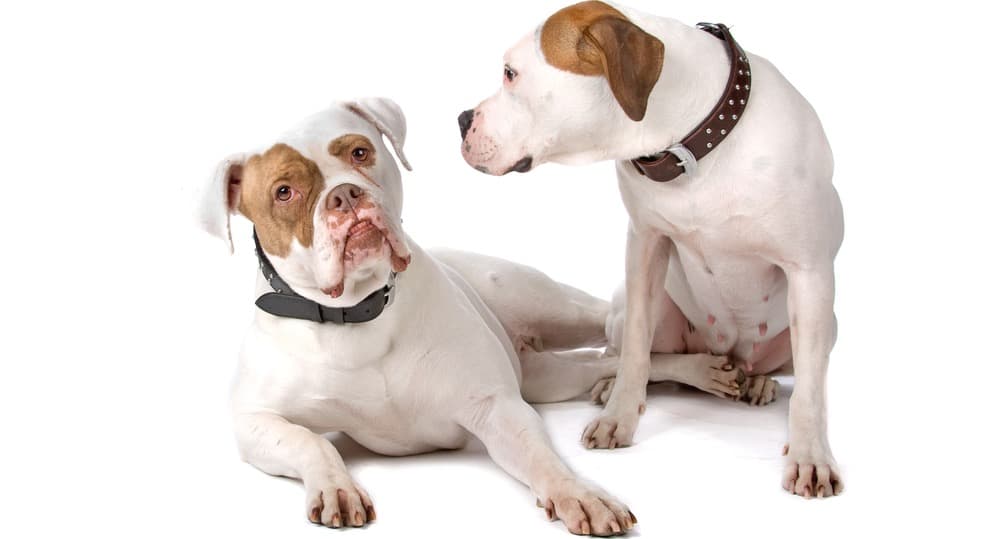 Their Bulldogs are never created or kenneled. The owners consider their puppies family pets and allow them to roam the land and house freely. They breed loving puppies for families to enjoy.
They ship their puppies all over the US as they have flight nannies that will fly the puppies to the client's closest airport. They require puppy questionnaires and interviews before considering a family as a home for their puppies.
Information and Details
Name: We Love American Bulldogs
Phone: 916 813-5370
Email: [email protected]
Website: We Love American Bulldogs
#3. Candy's American Bulldog Kennel
Located south of Pittsburgh, Pennsylvania, Candy's American Bulldog Kennel is a family-owned breeder that takes pride in its Bulldogs.
Their first American Bulldog, Diesel, is the fourth generation of 'Chance' from the movie 'Homeward Bound'.
Since they live in the countryside, their Bulldogs have plenty of room to play and run. their dogs love to play ball, swim in the creek in their front yard, play in the snow during winter, and lay in the sun.
Their American Bulldogs are treated like kids and each one of them is their family pet. Puppies for Candy's American Bulldog Kennel are up to date on their shots as per age.
They are wormed every two weeks until they transition to their new home at the age of eight weeks.
All their puppies go home with a welcome pack containing Purina Pro Plan Large Breed puppy food. Their American Bulldog puppies are registered by NKC and come with a 6-month health guarantee. They teach their puppies as early as six weeks old on obedience and potty training.
Candy's American Bulldog Kennel is always there for their puppy families if they have any concerns or questions. They are registered with NKC and the State of Pennsylvania.
Information and Details
Name: Candy's American Bulldog Kennel
Phone: 724 451-8122 or 724 710-4392
Email: [email protected]
Website: Candy's American Bulldog Kennel
#4. World Renowned American Bulldog
They are an American Bulldog breeding program that is driven by quality and located in Temecula, Southern California.
Their program is based on a 5-acre property which provides their Bulldogs enough room to stretch their paws and run.
Their goal is to breed American Bulldogs that are large, broad-chested, thick-boned, sloppy-faced, with huge heads.
To accomplish these features, they have imported the best Bulldogs from all over the world. Hence, their Bulldogs have massive bone, muscle, rear ends, and large jaws.
They focus on producing puppies that will grow to be more than 100 pounds by the time they reach two years old. Their Bulldogs are not to look either lean or fat, as they are bred to be massive with muscle, visually impressive, and lean enough to show.
Their motivation behind this breeding program is their huge love for the American Bulldog. Their decisions are not influenced by the possibility of making money, but they focus on producing the best puppies the American Bulldog has to offer.
Their program is designed to breed extremely huge and powerful American Bulldogs as well as focusing on their agility and movement.
Information and Details
Name: World Renowned American Bulldog
Phone: 909 714-3932
Email: [email protected]
Website: World Renowned American Bulldog
#5. Walker's Classic American Bulldogs
Established in 2001, this breeder focuses on producing happy, friendly, driven American Bulldogs that have confidence and assertiveness. They socialize and train their Bulldogs so that they are exceedingly loyal and outgoing.
Their Bulldogs are active and accomplish tasks and are not the best apartment dogs as they require space to move around.
However, they thrive in an inner-city environment as long you provide them with daily walks, proper exercise, runs, hikes, and plenty of fresh air so that they remain healthy in their body and mind.
Since American Bulldogs are dominant dogs, this breeder expects their clients to be experienced dog handlers with calm confidence and leadership so that they can let the dog know who is in charge.
Walker's has been breeding using the Johnson line American Bulldogs to ensure that they produce puppies with strong drive and ever-keeled temperament. Their American Bulldogs are great family dogs with a love and loyalty for children.
Information and Details
Name: Walker's Classic American Bulldogs
Phone: 706 266-0365
Email: [email protected]
Website: Walker's Classic American Bulldogs

#6. Rosebull Kennel American Bulldogs
This is a Canadian American Bulldog Kennel that considers itself as a top-tier ethical breeder. Their Bulldogs are born and raised in an ample environment with conditioning, high-quality exercise, supplements, nutrition, affection, and discipline.
They pride themselves in producing healthy puppies that are properly socialized and ready to be taken to the world.
They provide health guarantees to the buyers and are DNA tested, x-rayed, and are never inbred. They screen their dogs for 175 genetic diseases markers.
Rosebull gives you full support regardless of your dog's age. They have been training, conditioning, socializing, and supporting their puppy families since 2001.
They will help get you through the second most critical period of puppy development of the age of 8-16 weeks. They will get you through every step of the way.
Their breed stock is tested, ABRA registered and has not more than 5 dogs in their breeding program at a time. Their females bear from 2 years of age to 6 years.
People are allowed to meet both the parents and puppies. The breeder set a solid foundation for their puppies within the first 8 weeks of their puppies.
The personality is matched with the adopting family based on their situation like age, kids, or no kids, if they have other kids, and based on the experiences of the family.
Information and Details
Name: Rosebull Kennel American Bulldogs
Phone: 905-379-4489
Website: Rosebull Kennel American Bulldogs
#7. Boss American Bulldogs
Boss American Bulldogs pride itself on producing quality and not quantity. This is a small kennel situated outside of Fayetteville town in Ohio which is about one hour east of Cincinnati.
Their goal is to produce the perfect American Bulldog and a family companion. It is an NKC licensed kennel, and all the dogs are NKC registered.
This kennel thinks that the Johnson-Type or "Hybrid" which is also referred to as the Hybrid/Bully benefits from the greatest of both types.
They prefer the larger Hybrid/Bully dogs with impressive heads, clean breathing, good bones, balanced temperaments, and great structure.
Their dogs come from the best ancestry in the American Bulldog breed. The champion bloodlines include Venus Man-trap, Dailey's Mustang' Pete, Boyd's Hi-Jumpin Mikie, Ren-Scot's Bob Marley, Rip'n Woody, Ren-Scot's Candy Man, and King Caleb of Dailey.
These breeds are the well-known American Bulldogs that have passed their great traits to their offspring. The offspring of these bloodlines are the foundation of this kennel's breeding program.
Their dogs are raised in their home and outside, with constant interactions with their grandchildren, children, and even friends.
Their bulldogs are healthy, awesome-tempered, happy, and spoiled. They participate in weight pulling and conformation shows.
They believe that the American Bulldog breed is incredibly large and very active dogs that need to socialize and be obedience trained at a tender age. American Bulldogs are protective of their family and are loyal. They want to be loved and give love.
Information and Details
Name: Boss American Bulldogs
Email: Cathy@BossAmericanBulldogs
Phone: (513) 441-5847
Website: Boss American Bulldogs
#8. Bybee's American Bulldog Kennel
This is a small kennel situated in Southern California, which is about one hour from LA. The Owners are Randee Bybee and Alison Bybee. They prefer not calling themselves a kennel but instead bulldog enthusiasts who happen to have more pets than an average person.
They got their first American Bulldog that motivated them to breed American Bulldogs. The owners have become so involved in the breed that they go to judge shows and overseas among other important participation concerning the American Bulldog breed.
Their first bloodlines included Suregrip line Rip N. Woody and Freddie Kreuger. They have these dogs on their breeding program. They favor large hybrids with impressive heads, balanced temperaments, and good bone.
They focus on the old-school bulldogs and like their dogs to be how they were when they first started. They never breed the hyped-up dogs and will never produce the blue or black bulldogs.
They take pride in breeding their dogs and put in the program. They enjoy producing their own, seeing the generations, and improving.
The kennel enjoys showing their dogs and produced many ABA Grand Champions, ABRA Champions, IBC Champions, standard, and bull types.
They produce a litter to improve the traits they have by keeping the top pick puppy or two. It is not a large kennel because they want the puppies to have enough time with them in and out of the house.
All their puppies are born and raised in their home and are their family members breeding well-socialized dogs.
Information and Details
Name: Bybee's American Bulldog Kennel
Phone: 951-361-2634
Email: [email protected]
Website: Bybee's American Bulldog Kennel
Address: Riverside, California, 92504.

#9. Roper American Bulldog
Established in 2009, this kennel started with a passion after Stephanie Gregson worked with Jack Russells.
She has developed an interest in the American Bulldogs that she enjoys with her kids, going hunting with them and as their family guardians as well as training them in a high level of obedience and protection.
She wants to co-own the puppies from the Roper program while they are in another family setting.
They breed healthy-bodied and stable-minded dogs with a drive to be loyal and to perform. This kennel guarantees them lifetime support and honesty as a friend and breeder to ensure that the American Bulldog gets to live a healthy life.
Their mission is to produce a stable bulldog that can go from natural guarding and family companion to excelling in multiple working venues with health traits and sound structure.
Information and Details
Name: Roper American Bulldog
Phone: 519-535-2997
Email: [email protected]
Website: Roper American Bulldog
#10. Bull Pull Kennels
This kennel was established in Baltimore, Maryland, and is currently in Indiana, New Jersey, Virginia, Pennsylvania, Connecticut, Michigan, North and South Carolina, California, and Texas. The primary contacts of the kennel are Shawn and Kati Coles in Maryland.
The Bull Pull kennels involve the collaboration of multiple individuals and families that share love and passion for the American bulldog.
The collaborated parties agreed to hold the highest ethical standard in and out of the world of the dogs. These include proper immunization, health checks as well as keeping their dogs in a loving family environment. They advise every involved individual to have a job other than dog sales.
This multi-family kennel shares its love for the American bulldog by placing many of its dogs in friends or family homes to provide the topmost level of care to every dog in the program.
They produce all sound American Bulldogs. They show quality dogs that have temperaments even when tempered to be fantastic companions and great family pets.
This kennel prides itself on being honest and providing the exact information about their dogs with no exaggerated pictures, weight, or measurements.
Information and Details
Name: Bull Pull Kennels
Phone: 410-382-3144
Email: [email protected]
Website: Bull Pull Kennels
Final Words
Finding the perfect American Bulldog can be difficult. Fortunately, several kennels are high in quality and registered as American Bulldog breeders for you to choose a puppy from.
Use the contact information provided above and get in touch with a breeder near you. Most of the breeders ship their puppies all over the world, so you do not have to worry if you are not near them.
Getting an American Bulldog puppy from a reputable breeder will ensure that they are healthy, well socialized, and trained to live harmoniously with you.
Ensure that you have enough space for your new puppy before they get home because American Bulldogs require plenty of space to be happy and healthy.