Olde English Bulldogge vs English Bulldog – Breed Comparison
Are you looking for a comparison guide between the Olde English Bulldogge vs English Bulldog? These breeds of dogs share plenty of similarities especially their appearance, but they are not the same.
The Olde English Bulldogge is a crossbreed of the English Bulldog, the American Bulldog, the American Pitbull Terrier, and the Bull Mastiff, while the English Bulldog is a purebred dog.
Both dogs are friendly, gentle, and make wonderful family companions. The Olde English Bulldogge is taller and heavier than the English Bulldog.
This article will provide you with more information about their differences in terms of origin, training, exercise, temperament, appearance, costs, and health issues.
Olde English Bulldogge vs English Bulldog: History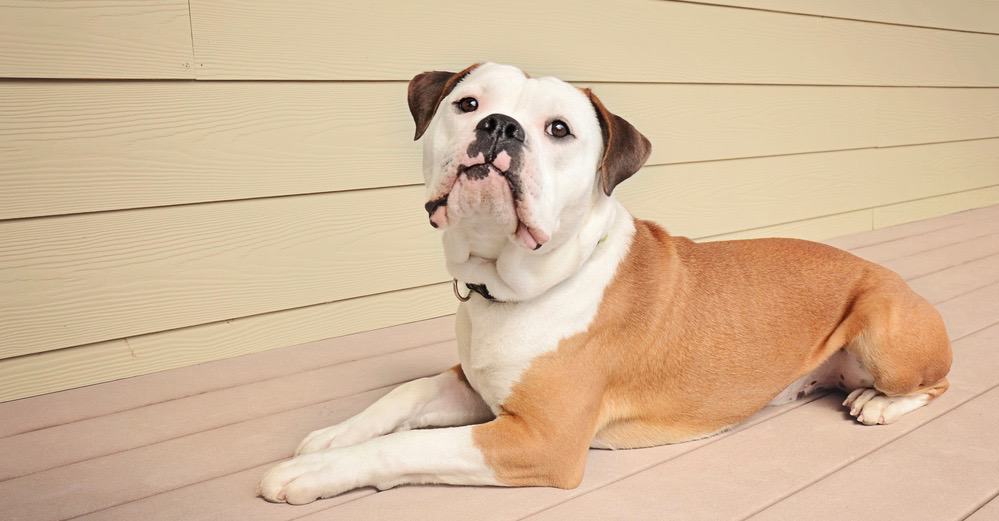 Olde English Bulldogge
The Olde English Bulldogge is a cross between a purebred English Bulldog, American Pitbull Terrier, American Bulldog, and a Bullmastiff designed in the United States by David Leavitt in 1971.
The creation and origin of this breed are unique because the purpose was not to create a new breed of dog from the start but to re-create a Bulldog that was used for baiting sports in England around the 17th and 18th centuries.
David Leavitt's goal was to create a dog that has the looks and appearance of the Bulldog from the 18th century combined with the personality of the modern English Bulldog.
He also wanted to ensure that the new breed does not suffer from breathing problems and is healthy to perform tasks of the initial Bulldog but also maintain their identity.
Unfortunately, the Olde English Bulldogge is not recognized by the American Kennel Club because crossbreeds can be unpredictable in terms of characteristics to comply with the specific breed standards.
English Bulldog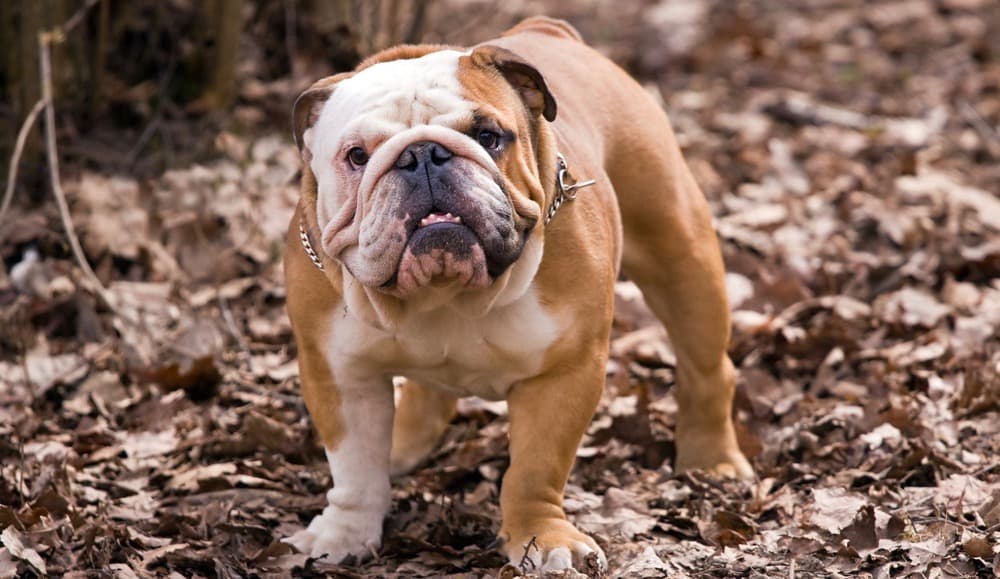 The English Bulldog is a purebred that was popularized in the 1950s and originated from England. The current generation of English Bulldogs may be gentle and loving, but their ancestors had cruel behaviors.
Since they were highly tempered, English Bulldogs were used for Bull baiting because of their muscular bodies and massive heads.
Bull baiting made them more ferocious, tempered, muscular and enabled them to develop persistence and stamina. The ancient English Bulldogs were heavier and taller.
In 1835, bull baiting became illegal in England and people took the English Bulldog home and began petting them. Gradually, this breed lost their physical strength and temper.
The present generation of English Bulldogs is not strong or good fighters like their ancestors. They are known for their laziness and calm temperament.
According to the American Kennel Club, the English Bulldog is the fifth most popular purebred dog in the United States.
Olde English Bulldogge vs English Bulldog: Appearance & Size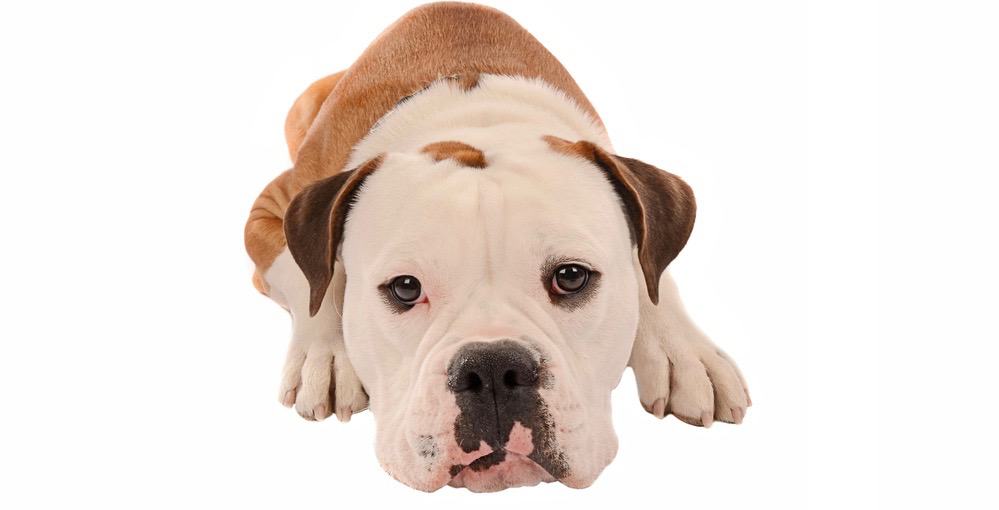 Olde English Bulldogge
The Olde English Bulldogge is a medium-sized dog that shows great agility and athleticism. They are compact and stocky with moderate muscle and bone mass.
They are agile and proportionate in size and shape. Their bodies are well-balanced and square, and the length of their legs matches their body size.
The height of the males is around 18 and 20 inches while that of females is around 17 and 19 inches. The weight of the male Olde English Bulldogge is between 65 and 85 pounds while that of their female counterpart is between 50 and 70 pounds.
They have a thick and short coat, and any color is acceptable.
Their head is proportional to their bodies, and it appears boxed or round with wrinkles surrounding the muzzle and forehead.
Their muzzle is box-shaped and broad with wrinkles. The eyes are wide-set and medium-sized and both eyes should have the same color.
Rose ears are preferred and sometimes drop ears are allowed if they are small. The neck is medium in length and muscular, and the shoulders have definition and muscles. The chest is deep, wide, and blends well into the well sprung rib cage.
The back of an Olde English Bulldogge is wide and proportioned to their overall size. The front legs are straight and widespread while the back legs have some angulation and are muscular. Both the back and front feet are tight and high in the pasterns.
The tail reaches the hock and is medium in length. The Olde English Bulldogge moves in a balanced and smooth way.
English Bulldog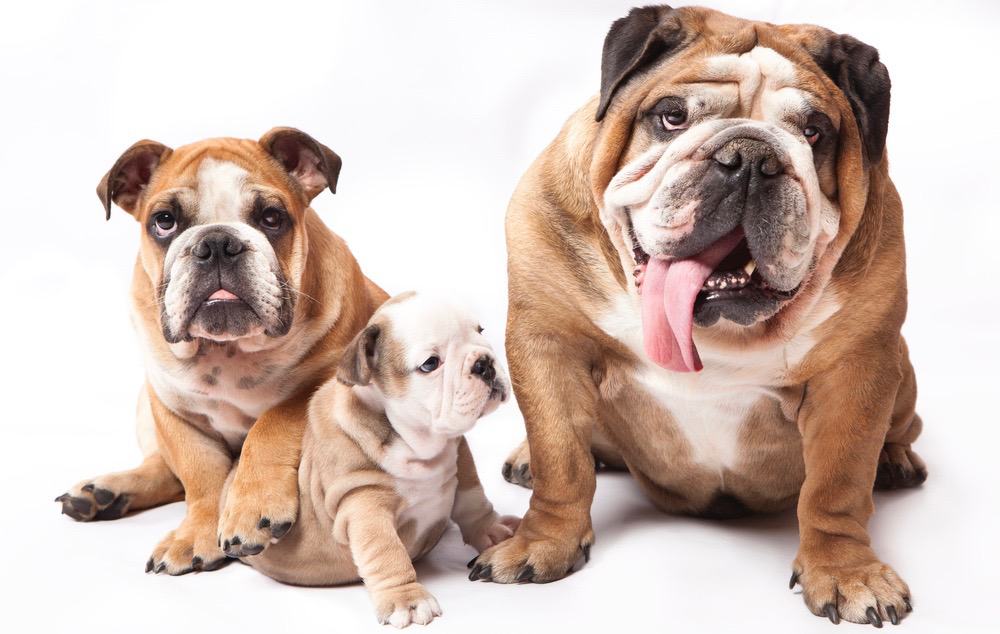 The English Bulldog is a grounded and short medium-sized dog. They make great apartment dogs because of their relatively smaller size. They possess a glossy and smooth single coat with short hair, and they come with several coat colors.
Are you wondering how big your English Bulldog will get? Most of them attain the height of around 12 and 15 inches, with the female weighing around 50 pounds while the male weighing about 55 pounds.
The main characteristic of their face is the thick folds of skin and wrinkles. They have wide-set eyes, hanging or protruding cheeks, and a short muzzle.
They have strong and massive jaws, and you can also find sagging skin under the neck.
They have a broad skull with the eyes sitting low on the face with the nose tipped back. Their lips hang low around the mouth while the jaw is undershot making the bottom teeth protrude over the upper teeth.
Their body is deep and broad with stocky limbs and curled tail.
Olde English Bulldogge vs English Bulldog: Temperament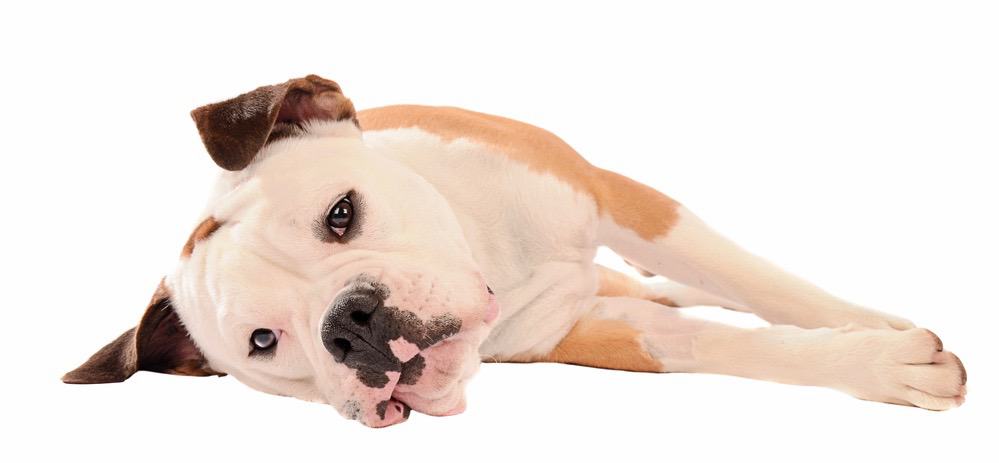 Olde English Bulldogge
The Olde English Bulldogge is known for being capable, protective, determined, and fearless. They are also described as friendly, docile, and affectionate.
They are not aggressive and always want to be on their owner's side enjoying belly rubs and ear scratches.
They make great family pets because they are eager to please and guarantee to put a smile on the face of family members.
The Olde English Bulldogge can have a high prey drive unless socialized on time, therefore, they should not be kept with small pets and be kept on a leash when walking in an unsecured surrounding.
Apart from being confident and alert, this breed also has the drive and agility to perform in several work roles.
They love their family and are not afraid to protect them from anyone or anything that can be threatening, making great watchdogs. They will ensure that their family is happy and safe.
English Bulldog
The present generation of English Bulldogs is not highly aggressive or tempered compared to their ancestors. Most of them are gentle and calm, even though aggression varies greatly among individual breeds.
Despite their hard looks, they are kind and friendly. They have come far from the high-tempered characteristic of their ancestors.
They make excellent family dogs as they get along with children and other pets. They form great bonds with their owners and other members of the family because they are very loyal and protective.
Their temperament varies depending on the individual socialization, training as well as hereditary. They are courageous and strong but can be very lazy.
Despite their low-tempered nature, English Bulldogs can be known to be aggressive and stubborn. They have food aggression as well as strong territorial instincts.
Olde English Bulldogge vs English Bulldog: Training & Exercise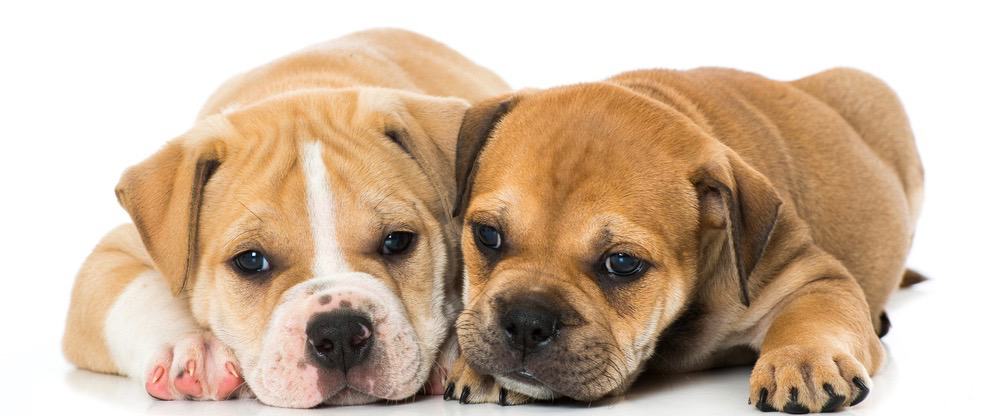 Olde English Bulldogge
The Olde English Bulldogge is easy to train because of their smart nature. Since they can be independent, it is important that you show you are the leader of the pack during training.
You need to be confident, firm, and positive in your approach when training but do not be harsh.
Training techniques that are aversive not only damage your relationship with the dog but can be counterproductive. Instead, use reward-based training that uses treats and praises as motivation.
It is important to start training your Olde English Bulldogge as early as possible and start with essentials such as basic commands, housebreaking, socialization, and teaching them to walk on a leash.
This breed is athletic, strong, and agile, and while playtime and training can release their energy in positive ways, light to moderate exercise should be enough.
Since they are sensitive to temperature changes, you should avoid exercising them in hot or cold temperatures. These dogs enjoy walking or running around the backyard off-leash.
They also like to chew a lot, so buy them plenty of chew toys to keep them mentally stimulated to avoid boredom.
English Bulldog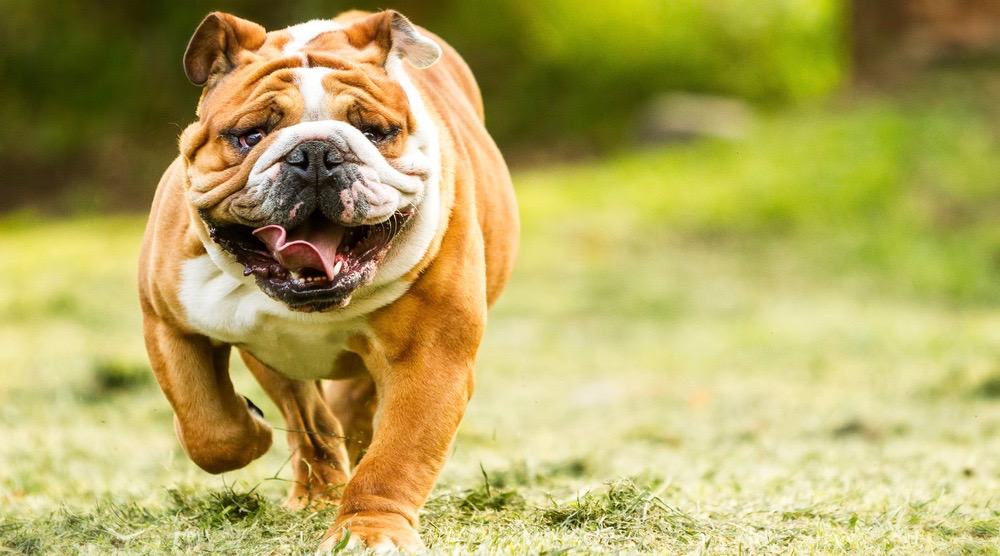 These dogs are strong-willed and ready to learn. They cannot cope with plenty of physical activity, but it is important to keep their mind engaged and busy.
Socialization with different animals, people, and locations will help your English Bulldog carry their inner confidence on into adulthood.
Ensure that your dog becomes familiar with other pets they meet and have positive experiences with other dogs. Some English Bulldogs can be wary of other dogs because of their fighting heritage.
When it comes to exercise, some dogs are active than others. Although they would want to play or go for a walk each day, most of them are not able to cope with anything above lo-level exercise. This depends on the severity of their respiratory issues.
This breed should not be exercised in hot weather and they well in cool climates.
Olde English Bulldogge vs English Bulldog: Health Problems
Olde English Bulldogge
Like most hybrid breeds, the Olde English Bulldogge can be susceptible to health issues common to their parent breeds.
However, there is no guarantee that your dog will inherit the health conditions and there is no way of predicting the long-term health of your dog.
The best thing you can do is to get your dog from a reputable breeder who can provide you with the health history of the parents. Then work with the vet and keep an eye on any signs of illnesses to ensure that you are on top of your dog's health.
Hybrid breeds such as Olde English Bulldogge are known to be healthy and hardy. They are only susceptible to a couple of health issues such as hip dysplasia and bloat.
Ensure that you maintain a regular check-up with the vet so that any potential health conditions can be diagnosed and treated as early as possible.
English Bulldog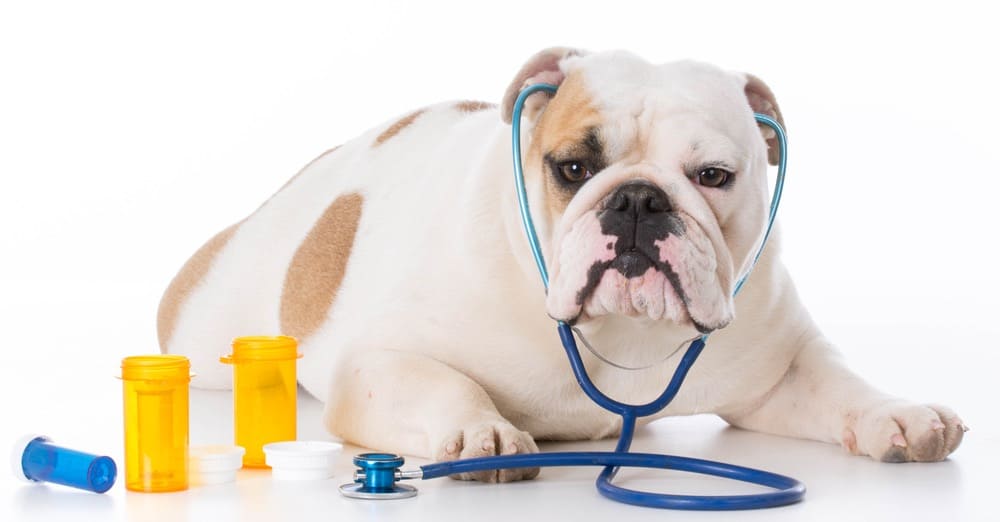 Sadly, the health of an English Bulldog is very poor. They are known as brachycephalic dogs because their facial bones are shortened radically.
This shape comes with its share of problems including breathing problems, eye problems, and dental issues. They also suffer from hip problems, back problems, cardiac, and whelping problems as a result of their body structure.
The English Bulldog also experiences cooling problems because of their short muzzle. This means that they lose less heat than they should when they exercise or when the weather warms up, resulting in the body overheating.
English Bulldog vs Olde English Bulldogge FAQ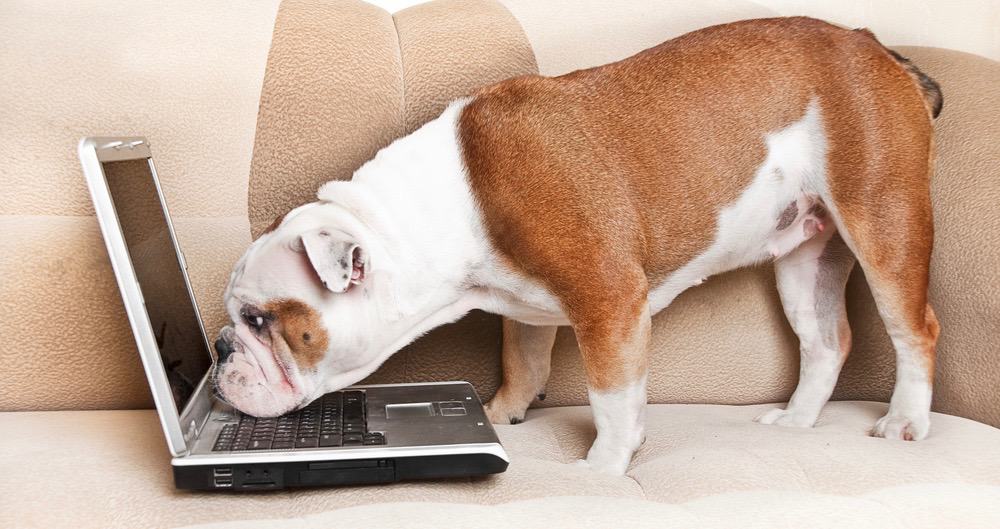 The following are the most common questions asked about the English Bulldog and the Olde English Bulldogge:
Are Old English Bulldog and Olde English Bulldogge the Same Dog?
No, the Old English Bulldog and the Olde English Bulldogge are not the same dogs, but they are related. The Olde English Bulldog was created in the 1970s by American breeders to re-create the initial Old English Bulldog.
The Old English Bulldog was used from the 1100s to the 19th century for Bull baiting when it was made illegal. The Olde English Bulldogge has similar characteristics to the Old English bulldog but is healthier and less aggressive.
Are Olde English Bulldogges or English Bulldogs Dangerous?
The Olde English Bulldogges have a low chance of biting someone while the English Bulldog has an average chance of biting someone.
The Old English Bulldogges are very territorial and protective of their owners and have an average prey drive while the English Bulldog is not very territorial and has a low to average prey drive.
Which Breed Is More Intelligent?
Based on the intelligent rank in terms of obedience, the English Bulldogs have the lowest degree of obedience intelligence while the Olde English Bulldogge has an average obedience intelligence.
Being a hybrid, the Olde English Bulldogge is slightly more intelligent than the English Bulldog.
English Bulldog vs Olde English Bulldogge Cost
The Olde English Bulldogge is more expensive than the English Bulldog because it is a hybrid.
On average, the cost of owning an English Bulldog range between $1500 to $4500 while the Olde English Bulldogge costs between $2000 and $3000.
These prices depend on the reputation of the breeder, location, lineage of the puppy, training, and socialization efforts.
Which Breed Has a Longer Lifespan
The Olde English Bulldogge lives longer than the English Bulldog because it was created and designed to have fewer health issues.
On average, the Old English Bulldog has a lifespan of between 11 and 14 years while the English Bulldog has a lifespan of between 8 and 12 years.
Final Words
Both the Olde English Bulldog and the English Bulldog are loving pets of the bulldog type and have a sweet and great character. The Olde English Bulldog was created as a solution to the health problems that the English Bulldog has.
Your choice between the two breeds will depend on your situation and preference. The Olde English Bulldogge is more expensive because they are rare, and you need a special breeder to get a puppy.
Even though their initial cost is expensive, their medical care, in the long run, is likely to be less expensive.
Ultimately, the English Bulldog can also be your option if there are no Olde English Bulldogges in your area or cannot afford them.
Hopefully, this article has given you information on the comparison between the Olde English Bulldogge and the English Bulldog, so that you can make an informed decision when adding a pet to your family.