Best Food For Husky Puppy
Huskies are among the most beautiful dog breeds with the biggest personalities. They have a lot of energy, and on top of that, they can be very fussy eaters.
When you adopt a Husky puppy, you will want only the best for your new family member, including providing the best food for a Husky puppy. When looking at dog food for your puppy, it is important to know what to look for.
This means knowing what the nutritional needs are for Husky puppies, how much food you should feed your puppy, and what issues you should keep an eye open for.
A Husky needs a high-protein diet because protein is essential for healthy skin and coat. It is also good for muscle development and tissue repair and is a good source of energy. Some of the best protein sources include chicken, beef, turkey, lamb, duck, and fish.
If your Husky dislikes a particular dog food, he will refuse to eat it. Siberian Huskies can also gain weight rather quickly and find it very difficult to shed that weight.
Husky Puppy Nutritional Needs

While dogs have some general needs, the nutritional needs of a Husky puppy will be different than other breeds.
Huskies are well known for their energy level and close appearance to the wolf. For that reason, they really need a meat-based diet that does not have much in the way of grains or fillers.
Protein: At the bare minimum, your Husky needs to have a diet that is 22% protein. Proteins should come from human-grade meat sources such as chicken, lamb, beef, or salmon.
Fat: Looking at fat, your Husky's diet should be about 8% fat. They will also get this from the meats within their foods and will do better with lean meats rather than fatty meats.
Carbs: Carbs should be a minimal part of the Husky's diet. Carbs do not do anything to help them and can hinder them if they have the common condition of hypothyroidism.
Fiber: While fibers are often contained in wheat, you can also get fiber from legumes. Having some of the food contain fiber will help with digestive health.
Omega: Omegas generally come from foods like salmon and will help with immune systems and brain development.
The amount of calories your Husky needs will vary depending on his activity level.
Best Siberian Husky Puppy Food
This post contains affiliate links, and I will be compensated if you make a purchase after clicking on my links.
1. Nutro Natural Choice Puppy Dog Food – Editor's Choice
Our top choice for the best puppy food for huskies is the Nutro Natural Choice Large Dog Breed Puppy formula. This food is made especially for large breeds, which means that it is high in protein, but low in added fats.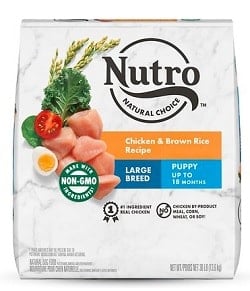 It also has glucosamine and chondroitin in it, both of which are essential for good bone development and will help your puppy as he continues to grow. The calcium and phosphorus ingredients will also help with bone strength, keeping your puppy on track to a long and healthy life.
Additionally, since huskies really should not have much in the way of grains and fillers, this food does not contain any. Even when it comes to the meats within the food, you will see that it doesn't even have animal by-product meals instead of human-grade meats.
This is a chicken-flavored food, but the chicken in it is not a by-product. This food also does not have corn, wheat, or soy, all of which are common allergens for huskies.
Even if your puppy does not have an allergy to these ingredients, they are often problematic for the dog breed, so having food that does not contain them will prevent potential problems. With a Husky's sensitive digestion, it is always better to be safe than sorry.
Pros:
Made with non-GMO ingredients
No chicken by-product meal
No corn, wheat, or soy
Made for large breeds
Lots of calcium for bone support
Cons:

2. Purina Pro Plan Puppy Dog Food – Runner-Up
Our second choice for the best food for a Husky puppy is the Purina Pro Plan Puppy Large Breed formula.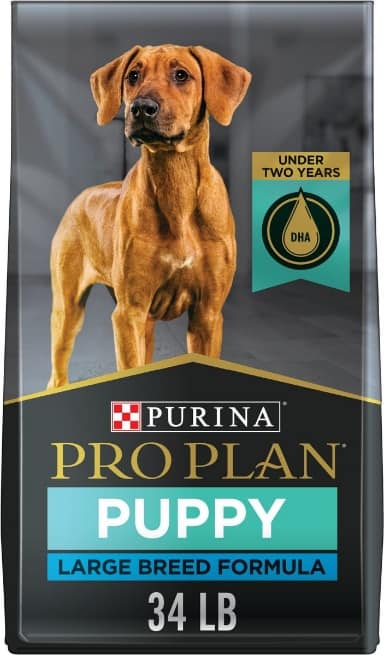 Like the Nutro food, the Purina Pro Plan was developed with large breeds in mind, ensuring that your dog gets the best nutrition possible to have a long and healthy life.
The Purina Pro Plan food is full of protein, which is really important for a Husky to have. In fact, the first ingredient listed in the food is chicken.
It is also real chicken, not some by-product made out of the parts of a chicken that even humans wouldn't eat. Instead, it is a healthy protein to help give your puppy a long and healthy life.
Additionally, this food has a lot of Omega acids from fish oils. These help with brain development and help your dog's coat stay sleek and healthy.
The kibble is made to be full of flavor, so if you have a picky Husky who is less than happy about his kibble, this food might work out nicely for you.
Pros:
High-protein
Rich in DHA and antioxidants
Chicken is the first ingredient
Delicious and enticing flavor
Includes calcium for strong bones and teeth
Cons:

3. Purina Pro Plan Puppy Sensitive Skin & Stomach – For Sensitive Stomach
Since it is too common for huskies to have sensitive digestion, it would make sense that many Husky owners would want to go with a food that they know will be easy on the tummy.
If you are looking for a large breed puppy food that is healthy but is not going to break the bank, we suggest the Purina One SmartBlend Large Breed Puppy formula.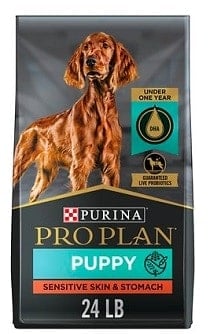 Our preferred food for Husky puppies with sensitive stomachs is the Purina Pro Plan Puppy Sensitive Skin and Stomach formula.
The food is made with totally balanced nutrition, but it does not have any common digestive irritants like corn, wheat, or soy.
Many dogs also have chicken allergies, so you should be relieved to see that the food does not have chicken but uses salmon as the primary protein.
Additionally, the food is rich in omega-6 fatty acids. These come directly from the salmon within the food, so you know the source was also healthy.
Omega fatty acids and the DHA will help your pup's brain grow and develop as you need it to.
The omega fatty acids also help with immune support and will help with skin issues. The best feature of the food is that it was made for dogs with sensitive stomachs, so you can feel secure that your dog is getting what he needs.
Pros:
Made with attention to pups with sensitivities
No corn, wheat, or soy
100% balanced nutrition
Salmon is the first ingredient
Omega-6 fatty acids
Cons:
Not specific to large breed puppies

Diamonds Naturals is made in the US by a family-owned company. They use only high-quality ingredients from trusted sources for this Husky dog food. The animal protein used is cage-free chicken and is listed as the number one ingredient, making it a solid choice for the best Siberian Husky puppy food.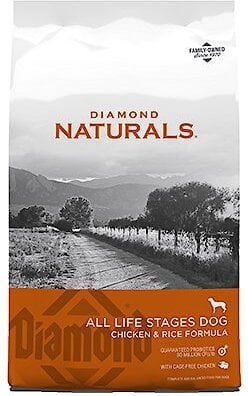 This dog food is suitable for all of your Husky's life stages. It supplies your pup with the energy he needs to build muscle. It is comprised of 26% protein and 16% fat. It also contains omega fatty acids for healthy skin and coat. It is a good source of vitamins and minerals your dog gets from superfoods like blueberries and oranges.
Each serving of this puppy food also includes species-specific K9 strain proprietary probiotics, prebiotics, and antioxidants to support a healthy digestive system, immune system, and overall wellness.
Diamonds Natural is made without corn or wheat and does not contain artificial ingredients, flavors, or colors.
Pros
Chicken is the number one ingredient
Contains no artificial flavors or colors
Species-specific food for overall health and wellness
Complete and balanced holistic diet
Promotes healthy skin and coat
Cons

Another great dog food for Husky puppies is Hill's Science Diet Large Breed Puppy formula. This is another dog food that has been made with large breeds in mind, ensuring that your dog is getting what he needs to grow into the large healthy dog he wants and needs to be.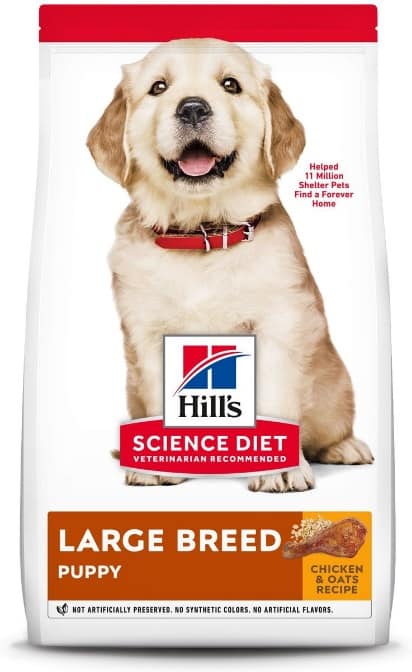 The primary ingredient in the Science Diet blend is chicken. Since the food is full of protein, you know that the protein comes from the chicken directly, which is what most large breed puppies need to help their development.
While the food has grains, where many other foods do not, it does not have any artificial ingredients, colors, flavors, or preservatives, so the food you are getting is made from only the best quality you can hope for from your dog's food.
It has whole-grain wheat and whole-grain oats, rich in healthy fiber.
The food also has what large breed puppies need for nutrition, including Vitamins E and C, as well as a full amount of antioxidants, which are so important for your puppy's immune system.
It also provides the right amount of calories for higher energy puppies, which is what you can expect from a Husky. 
Pros:
Rich in protein
Made from quality ingredients
No artificial colors, flavors, or preservatives
Full of Antioxidants and Vitamins E and C
Complete and balanced nutrition
Cons:

Another good grain-free option for your Husky puppy is the Taste of the Wild High Prairie Puppy Formula.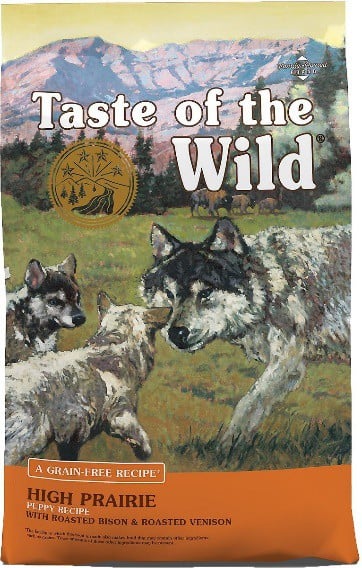 This Wild dry dog food is a high-protein food made to help with muscle development and ensure that puppies that will burn a lot of calories have the protein they need to stay healthy.
The primary protein source for this food is roasted bison and venison. Some dog owners prefer this because it is closer to what wolves and huskies were originally fed in generations past.
That means it is less likely to cause a lot of trouble in your puppy's digestive tract and more likely to supply him with the energy needed to stay busy. In fact, the food is 28% protein, higher than most of the other foods that you will find out there.
The food is also made in the USA, rather than China, like many other dog food brands. That means the food has been tested more locally and with more oversight than other dog foods.
The food also has no artificial flavors and colors, so what you are getting from the food is real, and the ingredients are there to help your puppy turn into the healthy dog you want him to be.
Pros:
Bison and venison are primary meat sources
No grains
28% protein
Made in the USA
No artificial flavors or colors
Cons:
Not all dogs are very thrilled by the taste of this food

The next puppy food we recommend for your Husky puppy is the Blue Buffalo Life Protection Puppy Formula.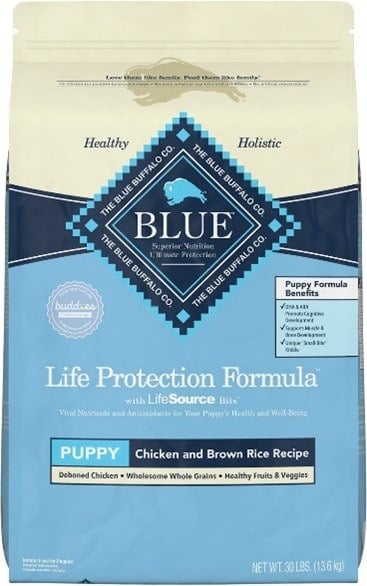 Much like its wet version, this food is made with only quality ingredients and will have everything your puppy needs to become a healthy adult. The only downside we can see with this food is that it is not specific to large breed dogs, so it will work for any dog breeds out there.
That might not be bad, but it means that the protein balance is not made with the consideration that the dog will turn into a large adult. Regardless, the food contains important nutrients, such as omega-3 and omega-6 fatty acids. These will help your puppy have a good immune system and will also help with his coat.
Additionally, the food has both DHA and ARA, which helps with brain and eye development, setting your pup up for a healthy life. The food does not contain any of the common allergens, such as corn, wheat, or soy. It also does not have any by-product meals. Instead, it is rich in real meats that help make the food taste incredibly delicious for even the pickiest pups out there.
Pros:
No corn, wheat, or soy
Rich in omega-3 and omega-6 fatty acids
No by-product meals
Both DHA and ARA for healthy brain development
Full of calcium and phosphorus for bone growth
Cons:
Not made specifically for large breed puppies

The first five ingredients listed for this Merrick Healthy Grains puppy food are deboned chicken, chicken meal, brown rice, barley, and oatmeal. It is the ideal food for a Husky puppy's growth.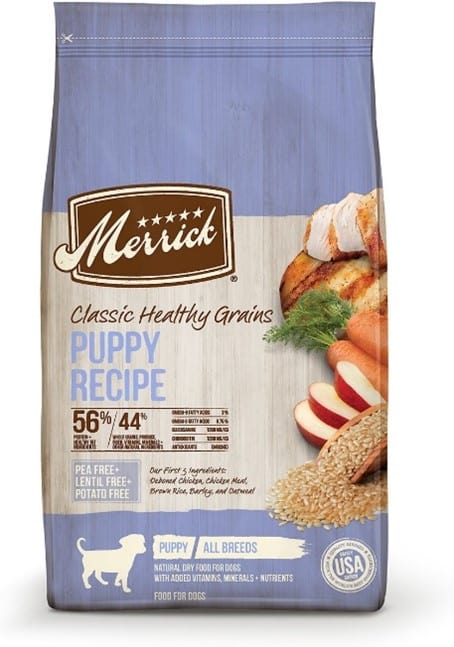 This best Siberian Husky puppy food has been formulated with high omega fatty acid levels, DHA, glucosamine, and chondroitin. It also contains essential vitamins, minerals, and ancient grains, including quinoa, which help with healthy digestion.
It does not contain any potatoes, peas, or lentils but offers support for healthy skin, a shiny coat and supports hip and joint functions. It has high-quality protein, a fiber-rich blend of brown rice, oatmeal, and quinoa, and has been formulated to be a suitable option for dogs of all ages and every breed size.
Merrick Classic Healthy Grains puppy recipe has 31% protein, 18% fat, and 43% carbs. This provides a fat-to-protein ratio of approximately 57%. It is a fully balanced formula for your puppy.
Pros
Contains no corn, wheat, soy, or peas
Vitamins and minerals good for digestive health
Animal protein comes from fresh deboned chicken
Fully balanced formula
Reasonably priced
Cons
Some dogs don't like the taste
Food pieces are on the larger side and may be harder to eat for smaller mouths

If you are looking for a canned food option for your Husky, look no further than this Blue Buffalo Homestyle Recipe canned dog food. It is a pate-style dog food made with high-quality protein from real chicken.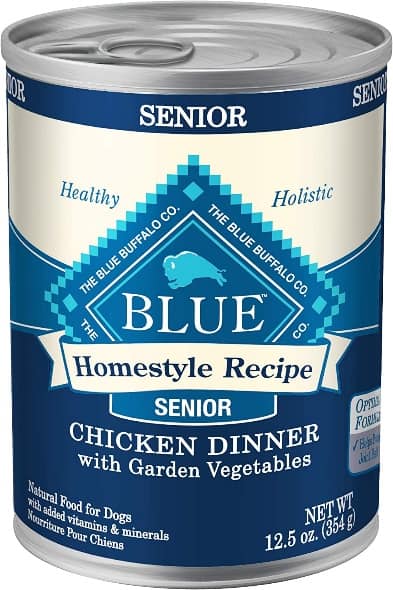 You can feed this to your Husky puppy as a delicious treat, mixed into their favorite dry food, or fed as a meal on its own. It is made with the finest natural ingredients and is enhanced with essential vitamins and minerals your Husky needs to support healthy muscle maintenance.
This canned dog food doesn't contain any by-product meals, corn, wheat, soy, artificial flavors, or preservatives. Real meat is the first ingredient, and it is formulated for dogs of any life stage or breed size.
Each can contains tender chunks of meat and garden vegetables doused with a delicious gravy your dog will love. This recipe was inspired by family favorite meals and is something you will feel good feeding your Husky.
Pros
First ingredients listed are whole, natural ingredients
Contains zinc amino acid chelate
Made without wheat
A rich protein and fat source
Multiple vitamins and minerals
Cons
Contains carrageenan, which is considered a controversial ingredient. It is used as a thickening agent but can be linked to some health issues
Husky Puppy Feeding Schedule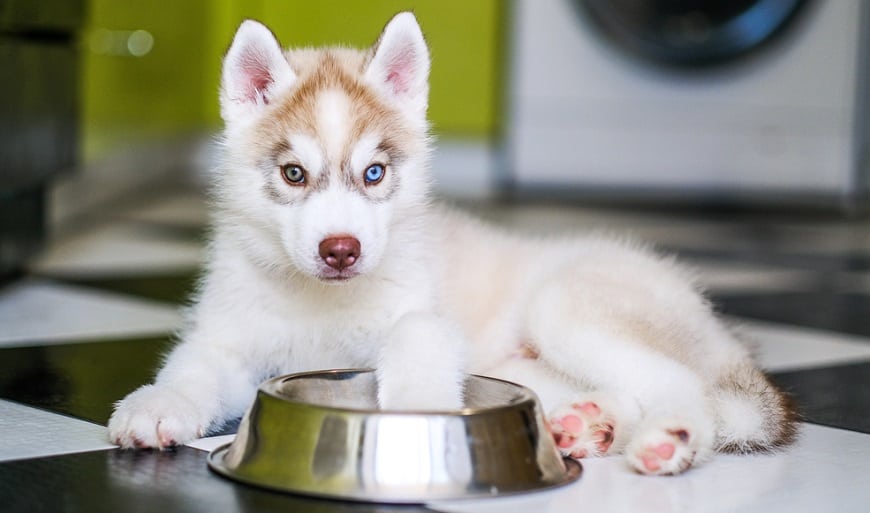 Puppies should not be introduced to puppy food until they are at least 4 weeks old. Before this point, they will be with their mother still and reliant on her milk. At 4 weeks, you can see if the puppy is interested in the food, but many puppies are not yet.
By 6 weeks, you should be offering your puppy at most ¾ cup total daily, with small amounts divided into 5 meals. Not all huskies will even want that much, but some might.
When your puppy is 8 weeks old, you should aim to feed your puppy 3 times a day and continue to do so until he is about 6 months old.
The amount you feed him will depend on your dog's size, but it will likely be somewhere between 1 and 1 ½ cups of food a day, moving to 2 cups a day as he grows. At 6 months old, you can reduce his meals to just twice a day.
Wet Food vs Dry Dog Food For Husky Puppies
Wet and dry food have their benefits for dogs, so it is easy to wonder which is the right choice for your Husky puppy. Wet canned food is easier to eat and has a better flavor than dry food does.
Picky dogs are far more likely to eat wet food than dry food. Regardless, unless there is an underlying medical condition, feeding your Husky puppy wet food alone is not a good idea.
Dry food is less fatty, the kibble will help to keep their teeth clean, and it is less expensive overall, making it the better choice for huskies.
What About Homemade Dog Food?
A commercial dry or wet diet is less expensive than making your own homemade dog food. It is also easier to store and often has more nutritional value than raw foods like beef, lamb, fish, fruits, and vegetables.
However, if you still want to offer your Husky homemade dog food, consider a turkey, rice, and veggie mix. You can also feed your Husky bananas, blueberries, broccoli, carrots, cooked boneless lean meat, onion-free gravy, plain boiled rice, and plain, unprocessed oatmeal.
What To Do If My Husky Puppy Doesn't Want To Eat
There are a few different reasons that your Husky might not want to eat his food. To begin with, how long have you had your puppy? If you just adopted him, he might be getting used to his surroundings and less comfortable eating at first.
Likewise, if you are switching out the food you feed him, he might be less willing to eat his food at first. Give him time to adjust.
If your puppy was eating food but suddenly isn't interested in eating anymore, then it is time to call the vet. Your vet can verify that there isn't anything concerning going on.
What To Do If My Husky Has A Sensitive Stomach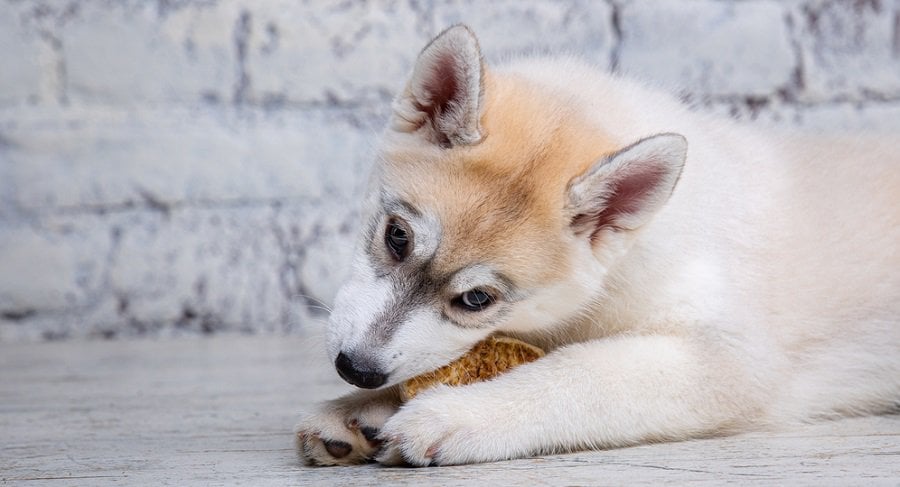 Sensitive stomachs are common in huskies. For that reason, you will need to be more careful when choosing puppy food and know what to look for if something is wrong.
Huskies were originally bred to be sled dogs to transport cargo over long distances. They would do this in intense weather with very little food; the food they ate was most raw meat, bones, and other animal parts.
Be careful of grains and common allergens with huskies. Chicken, soy, wheat, and corn are all potentially difficult on your Husky's stomach. If your pup seems to have digestive issues, look at what is in his food that might be causing trouble.
Can You Free Feed A Husky Puppy?
While some breeds can be free-fed, huskies are not one of them. Free feeding is where you give your pup his daily allotment of food at the beginning of the day and allow him to eat the food gradually as he sees fit throughout the day.
This will work with small, young puppies but not large breeds.
Instead, you will need to measure meals for your puppy throughout the day. If you give him everything at once, he will eat it all at once and be ravenous for the rest of the day.
Switching From Husky Puppy Food To Adult Food
When your Husky is about a year old, it will be time to switch him from puppy food to adult food. He should be nearly grown by this point, and keeping him on high-calorie food after he has reached his adult size will only put him at risk of obesity.
Huskies that are obese have a tough time losing the extra weight.
To change out his food, begin by adding 25% adult food and removing 25% puppy food. Move the food to 50% adult and 50% puppy in a couple of days. Continue to do this over a week until all the food is adult food.
Final Words
While there are a lot of great puppy foods out there, it is important that you choose a food that will ensure that your puppy becomes the healthy adult that you want him to be.
Our number one choice for the best dog food for Husky is the Nutro Natural Choice Large Breed Puppy Formula. This food is full of all the nutrition that a large breed dog will need to be healthy.
If your Husky puppy has sensitivities, you will be better off with food that considers that, such as the Purina Pro Plan Puppy Sensitive Skin and Stomach formula. Whichever food you choose, make sure it is the best for your Husky puppy.