How Much To Feed A Rhodesian Ridgeback Puppy? Rhodesian Ridgeback Feeding Chart
The health of your Rhodesian Ridgeback puppy depends on a nutritionally balanced diet and appropriate amounts of exercise.
Knowing how much to feed a Rhodesian Ridgeback puppy is crucial when determining the potential growth of your puppy.
The amount of food that your puppy needs depend on certain factors including age, activity level, and size.
This article will provide you more information on how you can feed your Rhodesian Ridgeback puppy and as well as the general nutritional needs.
How Much Should A Rhodesian Ridgeback Puppy Eat?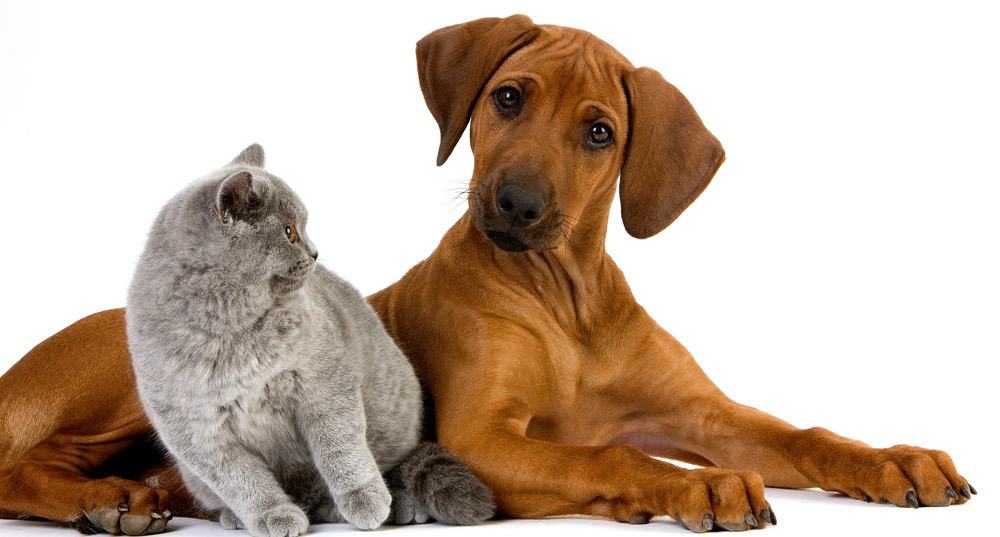 The amount that you feed your Rhodesian Ridgeback puppy depends on a variety of factors including age, amount of exercise, and size of your Rhodesian Ridgeback puppy.
The Rhodesian Ridgeback has a high risk of developing gastric dilatation-volvulus, therefore, they should not be given food once a day. Instead, they should be given multiple servings throughout the day to avoid bloating.
Puppies between 8 and 12 weeks should have four meals in a day, while between 3 and 6 months old this should change to three meals a day. Puppies between 6 months and 1 year old should be fed twice a day.
Rhodesian Ridgeback Puppy Feeding Chart
The priorities of feeding your Rhodesian Ridgeback puppy will change throughout their lifespan. Your puppy needs a steady flow of energy to support their growth and lots of protein to help in muscle development.
When your puppy reaches 6 months, the amount that you are feeding them reduces because more food can cause an increase in weight which leads to musculoskeletal problems in the future.
The best way to know exactly how much your puppy requires is by multiplying their RER (Resting Energy Requirement) by 2.
RER is calculated by multiplying 70 by the weight of the puppy in kilograms to the power of 0.75. For example, if your puppy's weight is 12kg, their RER will be 70(12g)0.75 = 450. Therefore, their daily caloric intake will be around 900 calories.
The following is Rhodesian Ridgeback puppy feeding chart:
2-Week-Old Rhodesian Ridgeback Puppy
At two weeks old, the eyes of your puppy would have opened, and they start noticing their surroundings. At this age, your puppy depends fully on their mother's milk for nutrition.
If the litter is large, watch out to ensure that all the puppies are getting enough milk. If not, the puppies should be supplemented with formula.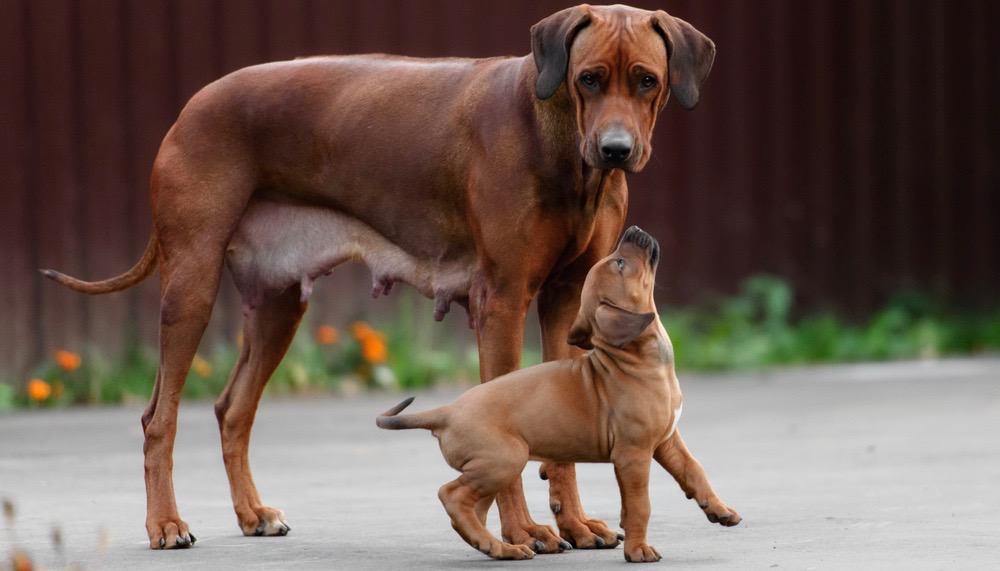 4-Week-Old Rhodesian Ridgeback Puppy
At four weeks, the puppy is still depending on the mother's milk, but you can introduce some solid foods. Make a mixture of ¾ water and ¼ puppy food.
Give this food to the puppy to see whether they are interested but give them time if they are not.
6-Week-Old Rhodesian Ridgeback Puppy
At six weeks, your puppy should be more interested in the food mixture. If they are eating well and excited by the mixture with no stomach problems, you can reduce the amount of water and increase the food quantity.
The mother will still be nursing them as well.
8-Week-Old Rhodesian Ridgeback Puppy
This is a big week for most puppies as they can now be moved to new homes and separated from their littermates and their mother.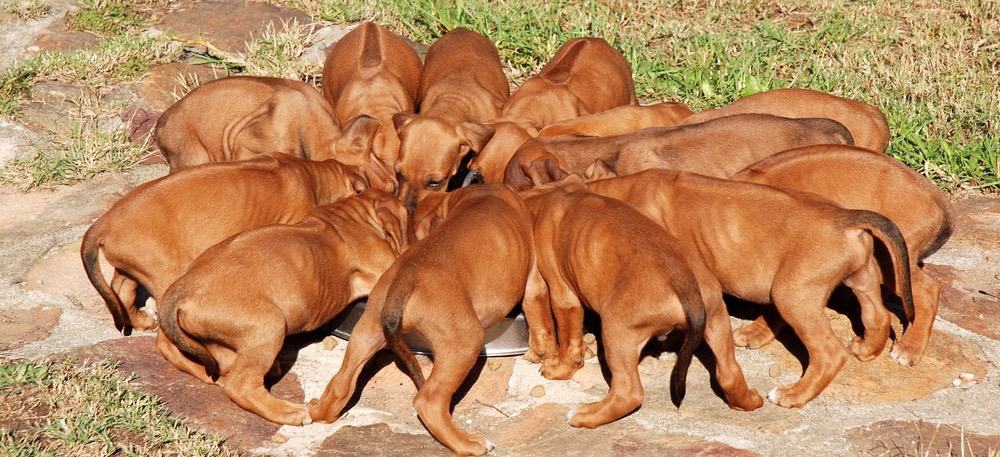 At 8 weeks, your puppy should be weaned by now and eating puppy food fully. They should be eating ½ cup each meal four times a day.
10-Week-Old Rhodesian Ridgeback Puppy
At ten weeks, you will notice that your puppy has a lot of energy. Your puppy will be growing in a short time and need plenty of calories. Continue feeding them ½ cup of food four times a day.
12-Week-Old Rhodesian Ridgeback Puppy
At twelve weeks, your Rhodesian Ridgeback puppy should be a vicarious eater full of energy and mischief. At this age, you can feed them three to four times between ½ and 1 cup of food per meal depending on their appetite.
Best Puppy Food For Rhodesian Ridgebacks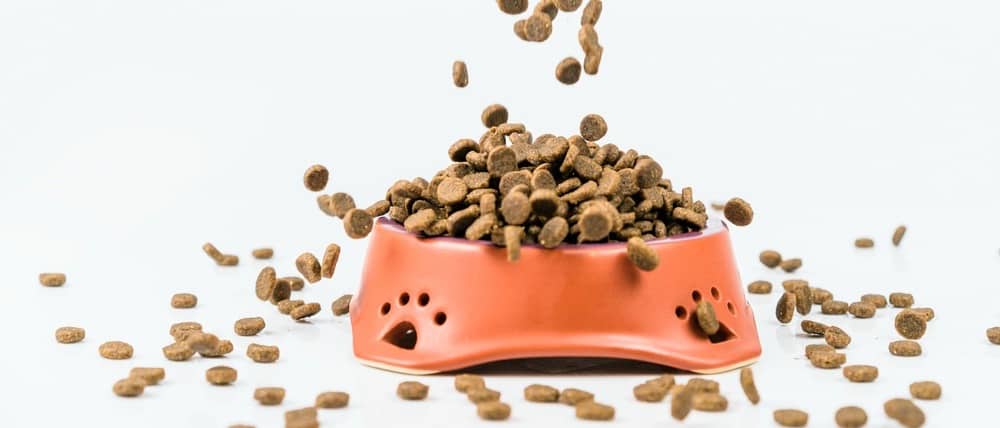 Editor's Choice
#1. Eukanuba Large Breed Puppy Dog Food
For your Rhodesian Ridgeback puppy to grow and become a strong and large dog, they need appropriate nutrition to support their growing, active bodies.
Eukanuba dry food offers balanced and complete nutrition to fuel your puppy's developing mind and body.
This large breed puppy food is formulated with premium anima proteins, optimized calcium, and phosphorus, DHA, and optimal levels of carbohydrates and fats to help your puppy grow.
It also has prebiotics, fiber, and vitamin E to help your puppy get started on a path of health and happiness.
Pros
Supports bone health and strong muscles.
Supports healthy development of the brain.
Helps digestion.
Develops the immune system.
Cons
Kibbles are harder for some puppies.
Runner-Up
#2. Nutro Natural Choice Puppy Lamb & Brown Rice Dog Food
The Nutro Natural Dry Dog Food is formulated with the needs of large breeds such as Rhodesian Ridgeback in mind. Lamb is the first ingredient of this recipe providing a great source of protein.
This dry dog food has omega-3 fatty acids, chondroitin, glucosamine, and essential antioxidants to support the general well-being of your puppy.
The Nutro Natural dog food is non-GMO and made with no corn, chicken by-product meal, soy, or wheat.
Pros
Quality protein to aid in muscle development.
Supports eye and brain development.
Supports healthy joints.
Supports a healthy immune system.
Cons
Cause loose stool in some puppies.
#3. Purina Pro Plan Puppy Dog Food
Help your Rhodesian Ridgeback puppy grow strong and big with the Purina Pro Plan Dry Dog Food. This dog food is specifically designed for puppies who will be more than 50 pounds when they mature.
Purina Pro provides all the necessary nutrients your puppy needs in the puppy stage where most growth and development processes occur.
The first ingredient of this formula is chicken to provide the proteins your puppy needs. This food also contains DHA from fish rich in omega and live probiotics.
Pros
Supports vision and brain development.
Supports immune health.
Supports digestive health.
Delicious flavor and crunchy kibble.
Cons
Delays in delivery for some packages.

#4. Purina ONE SmartBlend Puppy Dog Food
The Purina ONE SmartBlend is formulated specifically for large breeds like Rhodesian Ridgeback with no fillers and whole ingredients.
The first ingredient of this formula is chicken to provide the healthy source of protein that your puppy needs.
Highly digestible ingredients such as rice are added to this dry food to make it easy for your puppy's delicate stomach. It is also blended with antioxidants such as zinc, selenium, and Vitamin A and E.
Each serving of this crunchy puppy kibble and protein-rich morsels helps your puppy stay in great shape and maintain a healthy body condition.
The added minerals, vitamins, and nutrients provide your puppy with 100% balanced and complete nutrition.
Pros
Supports the growing muscles as they play and race.
Supports the growth of healthy joints.
Promotes healthy coat and skin.
Supports healthy vision and brain development.
Helps digestion for sensitive stomachs.
Cons
Some batches have molds and are spoilt.
#5. Blue Buffalo Wilderness Puppy Dog Food
Start your Rhodesian Ridgeback puppy diet on a healthy path with the Blue Buffalo Dry food to help support their active and growing life. With delicious chicken as the first ingredient, your puppy gets the protein they need.
This recipe also has DHA and ARA fatty acids as well as a blend of vitamins, antioxidants, minerals selected by animal nutritionists and holistic veterinarians to support healthy oxidative balance and life stage requirements.
Pros
Promotes strong muscles.
Supports renal health and cognitive development.
Supports a healthy immune system.
No wheat, corn, soy, poultry by-product meals, artificial flavors, or preservatives.
Cons
Cause diarrhea in some puppies.
Understanding Rhodesian Ridgeback Puppy Nutritional Needs
The Rhodesian Ridgeback is naturally muscular and lean; therefore, they need more protein to maintain their ideal body weight.
Since the Rhodesian Ridgeback is an active dog, they need more fat than other large breeds. The protein and fat should be sourced from animals to make sure they are digestible.
Vegetables, whole grains, and legumes provide the carbohydrates your puppy needs. Rhodesian Ridgeback puppies need at least 22% of protein and 8% of fat in their diet.
Also, look for a recipe that has between 3% and 5% fiber with digestible carbohydrates.
Kibble vs Raw Food For Rhodesian Ridgeback Puppies
Feeding your Rhodesian Ridgeback puppy dry kibble is convenient, affordable, and helps better the dental health of your puppy by removing any debris.
Dry kibble does not require any refrigeration as they do not go bad when the bag is left in the open.
Raw food is another option for feeding your puppy. If you choose this method, you should be safe to avoid causing any health issues to your puppy. You can buy raw food from the shelf or make the food at home.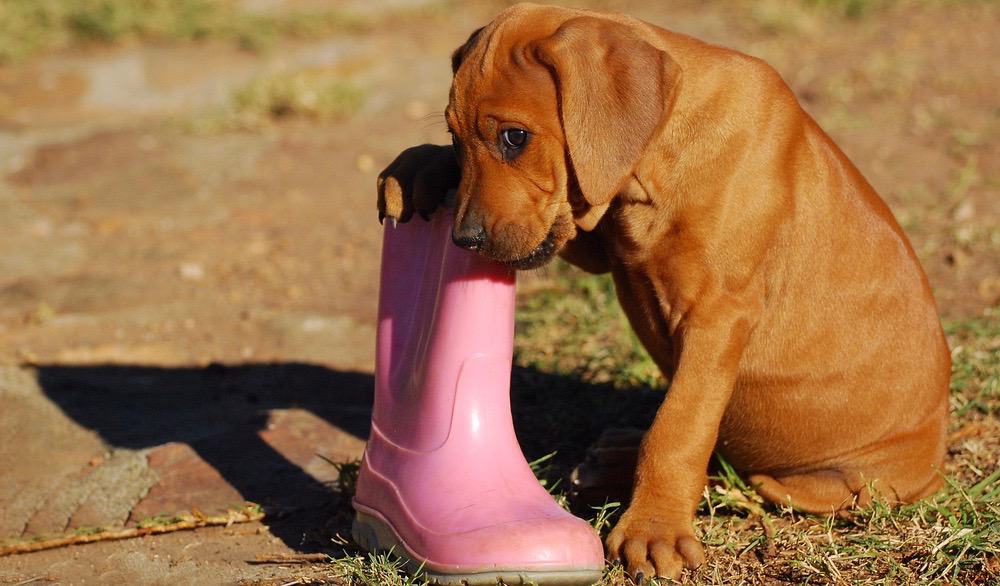 If you make the food at home ensure that you use fresh meat, protect your puppy's teeth from bones, and feed your puppy different meats.
The best raw food to feed your puppy includes chicken necks, backs, feet, and wings, eggs, oily fish, white fish, and pig trotters.
Whether you choose to feed your puppy kibble or raw food, consult with your vet to give you guidelines.
2-Month-Old Rhodesian Ridgeback

Puppy Weight
At 2 months your Rhodesian Ridgeback puppy weighs around 10 pounds. At this age, the puppy can be separated from the mother and moved to a new home.
However, the food that was fed at the breeder's should be maintained to avoid upsetting the stomach.
You can introduce solid foods to their diet. You can start housetraining them on obedience and socialization.
3-Month-Old Rhodesian Ridgeback

Puppy Weight
At 3 months your Rhodesian Ridgeback puppy weighs between 28 and 31 pounds. This is the right age to begin exercising them. However, avoid over-exercising their growing joints as it may cause health issues in the future.
This is also the time to discuss with your vet the vaccinations and any de-worming that your puppy needs.
4-Month-Old Rhodesian Ridgeback

Puppy Weight
A Rhodesian Ridgeback puppy weighs between 37.5 and 39.5 pounds at the age of 4 months. At this age, your puppy's teeth are growing, and they will want to sharpen them. Therefore, it is essential to invest in chew toys.
If you are worried that your puppy is not in the right weight category at this stage, talk to your vet to find ways to get your puppy to a healthy and ideal weight.
How Much Do Rhodesian Ridgeback Puppies Grow Each Week?
The growth of a Rhodesian Ridgeback puppy depends on certain factors including genetics, nutrition, physical activity, and health. It can be difficult to know exactly how much a Rhodesian Ridgeback puppy grows weekly.
However, there is a rapid growth for the first 8 months and then the growth slowly increases until around the age of 14 months where it flattens. Providing your puppy with a balanced diet and enough exercise will ensure that they have healthy growth.
Switching From Puppy Food To Adult Food
When your Rhodesian Ridgeback puppy reaches the age of 9 months, it is time to switch to adult food.
When your puppy becomes an adult dog, they do not need the extra nutrients they needed for growth, and they require a new set of nutrients to maintain a healthy and happy lifestyle.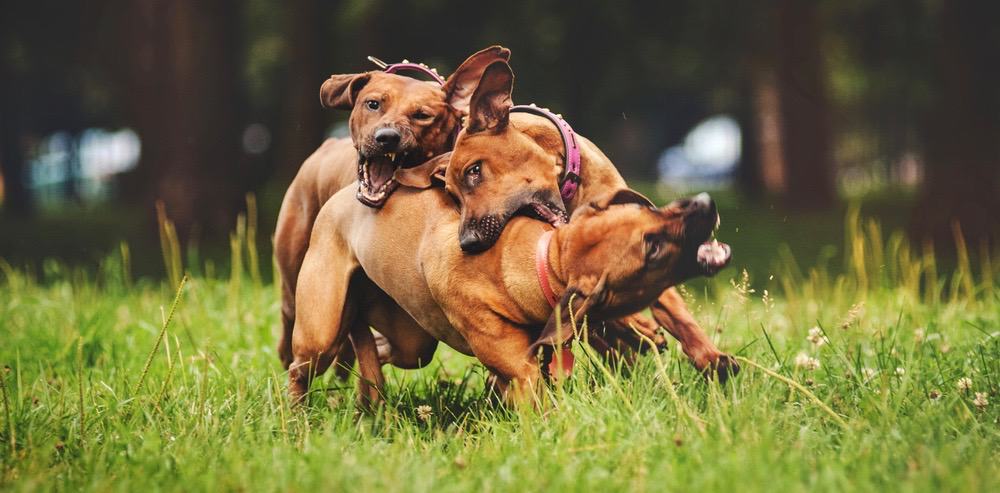 The transition should be done over 7 to 10 days to avoid stomach upsets. Gradually add less puppy food and more adult food to your puppy's food until the change is complete.
Remember that every puppy has different needs, therefore, give your puppy enough food to maintain their ideal body condition.
What If My Rhodesian Ridgeback Won't Eat?
Your Rhodesian Ridgeback puppy loss of appetite may be sudden or happen gradually over time. There are several reasons why your puppy is not eating including:
Picky eater
Stress and anxiety
High temperatures
Teething
Digestive issues
The first thing to do when you notice that your puppy is not eating their food is to take them to the vet for a medical check-up. This is because there could be underlying problems causing the loss of appetite.
However, if your puppy is healthy, consider changing their food but do it slowly. Also, make the food enticing by adding a food topper, some wet food, or fish oil supplement.
Can You Freefeed A Rhodesian Ridgeback Puppy?
Free feeding is a method where your Rhodesian Ridgeback puppy has constant access to food. This method allows your puppy to eat when they are hungry and not be pressured to eat when they are not. It allows the puppy to determine the amount of food they want.
This system of feeding is easy and convenient especially for busy households where the puppy might miss a meal.
However, this method makes it hard for the puppy to be trained and some puppies may not know when to stop eating leading to obesity.
Free feeding works best if you are feeding your puppy dry kibble but may not work for wet foods because they spoil quickly if left in the open for a long time.
Should You Feed A Rhodesian Ridgeback Puppy Supplements?
An appropriate diet will provide all the necessary vitamins and minerals that your Rhodesian Ridgeback puppy needs to minimize the severity and mitigate breed-related health issues.
Dietary supplementation acts as a complement to your puppy's diet especially if you are feeding them raw foods and will take their nutrition to the next level.
Adding supplements will fuel, bolster, and nourish your puppy as well as fine-tune their nutritional intake.
Ensure that the supplements you are feeding your puppy are natural and do not have any synthetic ingredients or chemicals. Consult with your vet to recommend the best supplements for your Rhodesian Ridgeback puppy.
How Much Water Should A Rhodesian Ridgeback Puppy Drink?
Your Rhodesian Ridgeback puppy needs constant access to fresh and clean water. Offer your puppy water in a larger bowl than their food bowl and ensure that it is filled continuously. A constant water supply will keep them hydrated all day.
Most owners think that they should limit the supply of water during the day when they are at work to avoid accidents, but less water can cause bladder and kidney problems in your puppy.
If you are not home, find someone else to give your puppy the water during the day.