Saint Bernard's are among the largest, but gentlest dogs worldwide. If you own or are looking to own a happy, fluffy, and big Saint Bernard dog, you may be intrigued to know about the St. Bernard growth chart.
Saint Bernard hail from the Great St. Bernard Hospice in the 1700s but the name became well known for the dog in the 19th century. Nicknamed, 'Saint', their strength and power have been historically used to rescue people who got lost in the Swiss Alps.
This article discusses the Saint Bernard growth chart and other important information to learn about this gentle giant including what to expect throughout their stages of life and the common health problems that may affect them.
When Do Saint Bernards Stop Growing?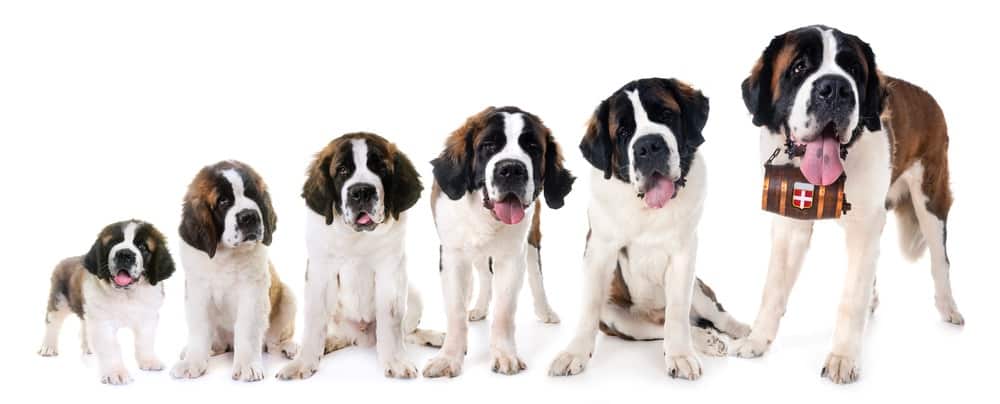 Have you been wondering when do Saint Bernards stop growing? Saint Bernards grow fully in two years. However, you may find some do not fully mature until they are four years of age while others reaching their adult stages by the age of two years.
It is not clear as to why this happens, but genetics play a crucial role here. Females reach their maturity before their male counterparts. Since they are classified under large breeds of dogs; their adult heights range from 26-30 inches and between 120-180 pounds in weight.
Saint Bernard males are larger than females and always gravitate towards the higher end of the height and weight range.
The maximum standard size of a male Saint Bernard ranges from 140-180 pounds with the height at the shoulders between 28-30 inches.
Females will weigh between 120-140 pounds with their shoulder's height being around 26 to 28 inches.
Saint Bernard Weight Chart
Understanding the Saint Bernard weight chart is a crucial aspect if you are learning about this breed and wanting to measure your Saint Bernard's weight progress.
A female Saint Bernard at three months should weigh around 37 to 48 pounds. At six months, the female approximately doubles their weight to average around 69 to 88 pounds.
A female Saint Bernard gets to a weight of 100 to 130 pounds at one year. By 24 months, most female Saints have stopped growing and can weigh a maximum of 140 pounds.
A male Saint Bernard at three months weighs between 48 to 55 pounds. By the sixth month, they weigh between 88 to 100 pounds. They grow to about 136 and 165 pounds by the age of one year. Particularly large male Saints can exceed 180 pounds by the age of 24 months.
Saint Bernard Puppy Weight Chart
| Age | Weight Range (lb) | Weight Range (kg) |
| --- | --- | --- |
| 3 months | 48 - 55 lbs | 23 - 26 kg |
| 4 months | 64 - 73 lbs | 29 - 33 kg |
| 6 months | 88 - 100 lbs | 39 - 46 kg |
| 8 months | 110 - 125 lbs | 50 - 57 kg |
| 10 months | 128 - 143 lbs | 58 - 65 kg |
| 12 months | 136 - 165 lbs | 60 - 73 kg |
| 15 months | 148 - 172 lbs | 67 - 78 kg |
| 18 months | 152 - 181 lbs | 69 - 82 kg |
| 20 months | 156 - 185 lbs | 71 - 84 kg |
| 24 months | 161 - 189 lbs | 73 - 86 kg |
Saint Bernard Growth Chart – What to Expect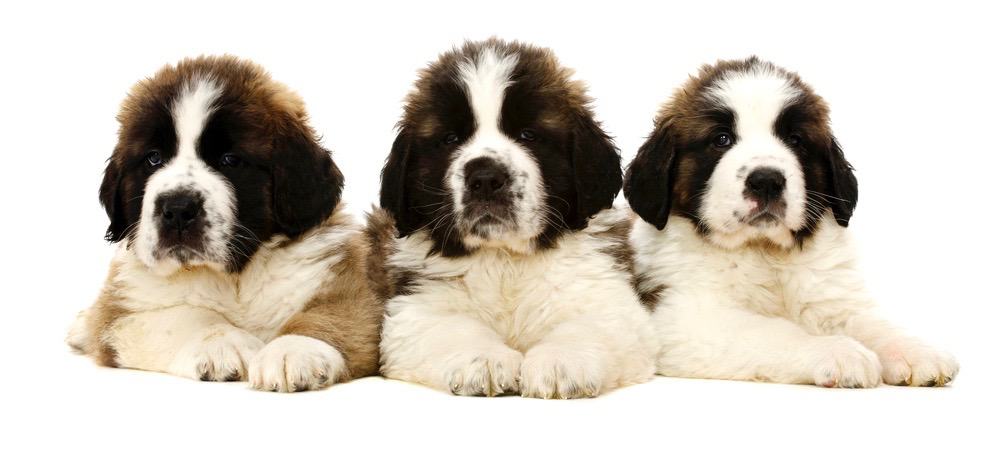 Birth – 2 weeks
Saint Bernard's weigh about 1.5 pounds during birth but tend to grow very first. Their eyes open at about ten days, they start noticing the world around them and are curious about sounds and sights. During these early weeks, they depend fully on their mother.
3 weeks – 12 weeks
When the puppies get to the third week, they begin the socialization stage. This stage is critical for your Saint Bernard's mental maturity because they learn how to interact well with everyone in the surrounding.
It is good to introduce them to many new situations, people, and sounds as this will improve the puppy's comfort in various situations.
4 months – 9 months
At four months, Saint Bernard's weigh about 50 pounds. At this stage, Saint Bernard is in a juvenile stage where they are curious about everything. Their bodies might look like a fully grown dog, but their mind still functions like a puppy.
They also have short attention spans: therefore, they need patience and training to keep them mentally stimulated. By the sixth month, the pup will develop adult teeth and does a lot of chewing.
At the 8 months, the puppy now has a full set of adult teeth and starts to grow more confident and independent. Most male Saint Bernard will become fertile at this age.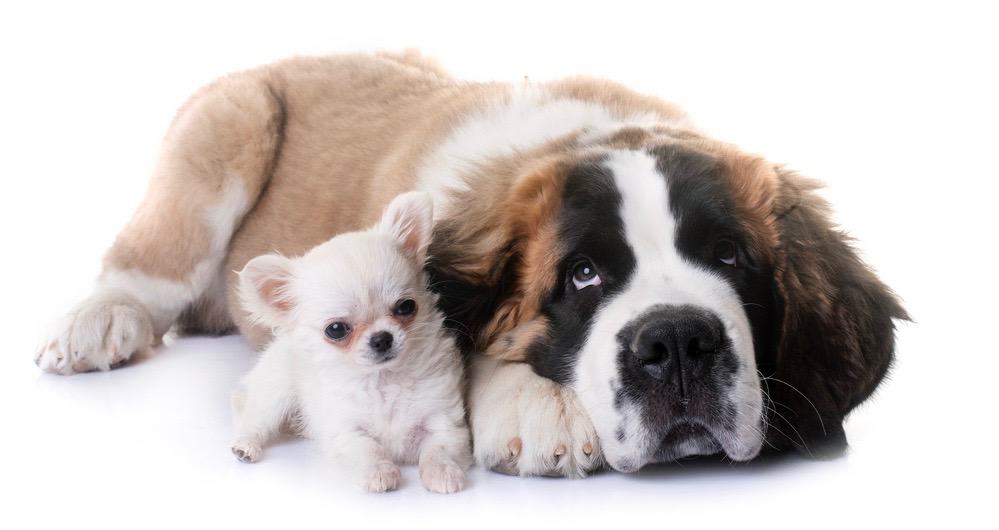 10 months – 18 months
Around this period your dog will become sexually active unless you have them neutered or spayed. Female Saint Bernard's get to full maturity by 10 to 15 months, while males may take a longer time.
Adults
During this stage, your dog finally becomes respectful, dignified, and calm. You will be able to relax and know that this is your reward for patience.
Adult Saint Bernard stays in the puppy stage for at least 3 to 4 years. Therefore, enhanced training is good: train them at an early stage to be able to control them.
Saint Bernard Height Chart
An adult male Saint Bernard's height is roughly 28 to 30 inches, while an adult female Saint Bernard has a height of about 26 to 28 inches. However, the height could be smaller depending on a range of factors that influence their size at maturity.
Factors That Affect Saint Bernard Puppy Growth
Genetics
A factor to consider in determining if your Saint Bernard's growth is on track is it's genetics. Although size can be inherited irregularly because it is not guaranteed that large parents will produce puppies that will grow large, it is still useful to find out from breeders the dimensions of your Saint Bernard's parents and other relatives.
Sometimes size is inherited in odd ways in dogs, for example, tall grandparent genes might skip a generation.
Nutrition
Saint Bernard's do well on high-quality dog meals that are ideally formulated for large dogs whether they are home-prepared with veterinarian supervision or commercially made. Every diet should fit the dog's age whether they are puppies, adults, or seniors.
Some dogs become overweight fast, therefore, check on their weight level and calorie consumption. Treats are good for training but too much of it can cause obesity.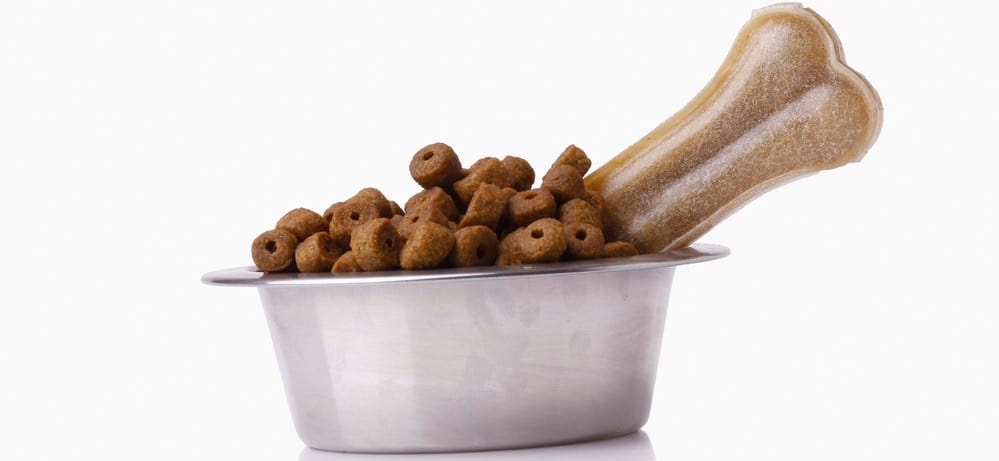 Also, learn which human foods are safe for dogs. Always provide clean water to the dog to ensure good hydration without risking any water-born diseases entering their system.
Bloating is one of the life-threatening conditions that Saint Bernard's experience. This condition causes the stomach to distend and twist. The cause of this condition is not understood, but experts advise that giving small meals throughout the day and avoiding exercises around mealtime can reduce the chances of bloating.
A regular visit to the vet eases any concern about your dog's diet or weight.
Physical Activity and Health
Saint Bernard's need regular and moderate exercises. Half an hour play session or one long walk is enough to keep a Saint Bernard healthy and happy.
You should keep Saint Bernard's active by taking long hikes, going on camping trips, letting them pull young children in a cart, or even drafting and carting. This is because Saint Bernard's love doing activities with their owner.
Breeds with large and deep chests can easily develop bloating. Therefore, you need to learn the signs to look for and actions to take when this occurs.
Hip dysplasia and eye diseases are other conditions common in the Saint Bernard dog. It is recommended that you do the following tests: hip evaluation, elbow evaluation, cardiac exam, or ophthalmologist evaluation.
How Long Are Saint Bernards Pregnant?
If you are eagerly waiting for the birth of a reserved puppy or are new to breeding, the wait can seem eternal. Dog's gestation period is shorter than that of human beings, but you want to know exactly how long your Saint Bernard is going to be pregnant.
Saint Bernard's gestation period is about 63 days. It is almost impossible to know when your dog conceives but paying attention to pregnancy signs will guide you.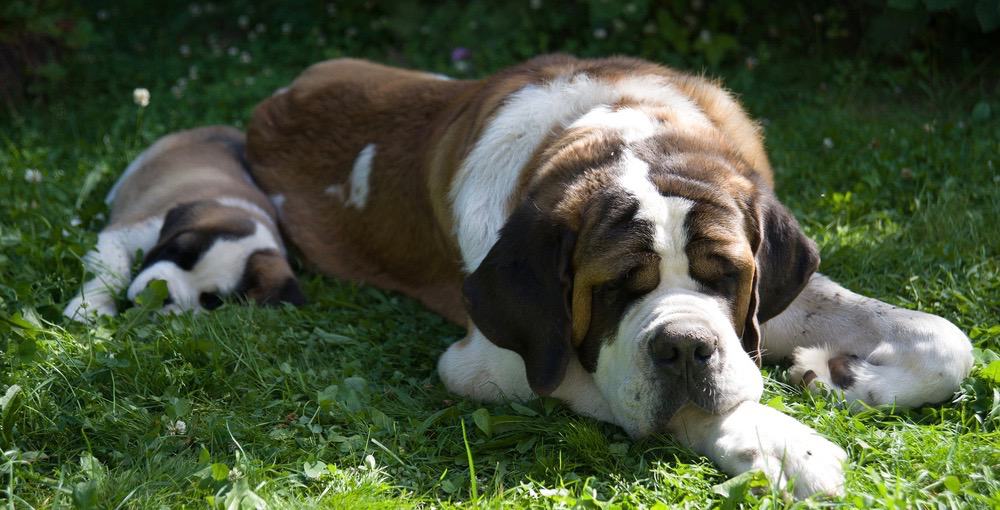 During the early stages of pregnancy, your Saint Bernard will act more loving or want to be cuddled more. Sometimes they can be lazier and more relaxed. You can also notice that their belly increases at six weeks of pregnancy.
During the last week of gestation, you can see her restlessness. 63 days is an average gestation period for all dogs but large dogs like Saint Bernard can go up to five days more before whelping.
How Many Puppies Do Saint Bernards Have?
Do not be surprised when your Saint Bernard gives birth to twice the average size litter. Saint Bernard's has an average of six puppies.
However, they have been known to give birth to 14 puppies. The number of puppies that Saint Bernard has depends on certain factors including age.
Younger Saint Bernard's will have a smaller litter and the number will increase as they grow, but the number decreases when they are older.
What If My Saint Bernard Is Not The Right Weight?
When your dog is not the right weight, they are either overweight or underweight. Common problems of obesity in dogs include heart diseases, breathing difficulty, joint and back problems, and a shorter lifespan.
Therefore, for proper weight, it is important to give your Saint Bernard a healthy diet. Avoid feeding your dog food with too many carbs because they get stored in the body as fats.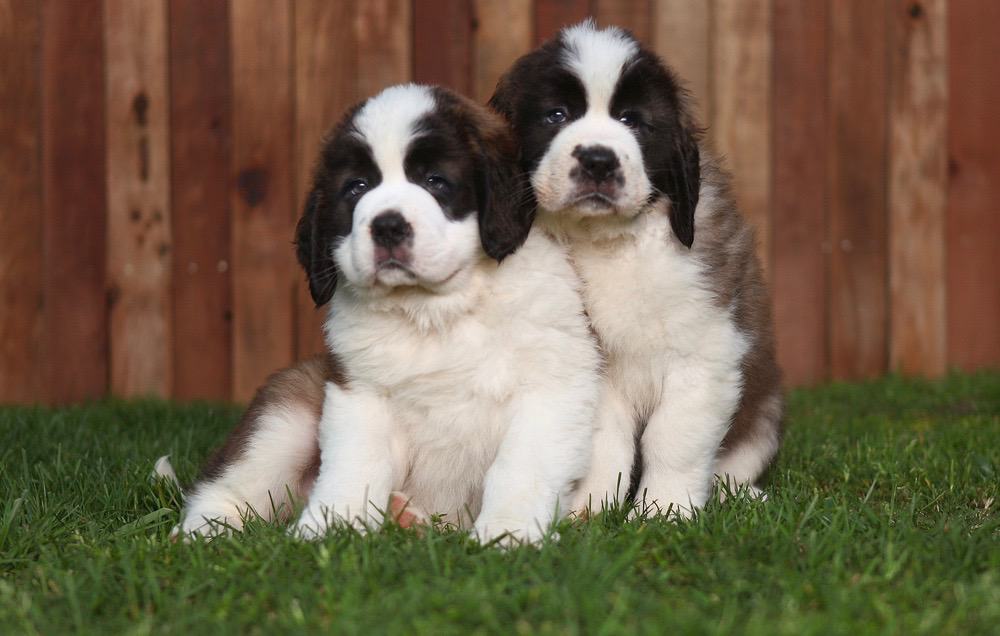 Provide Saint Bernard's food rich in fiber and maintain a balanced diet. Always schedule your dog's meal times to keep them from being hungry out of meal hours. This will help maintain their metabolism and utilization of their meals.
When you set regular mealtimes, it will discourage them from scavenging around the house. Most importantly, consult with your veterinarian to get correct guidance on how to help your Saint Bernard lose or gain weight.
How Much Does It Cost To Own A Saint Bernard?
Purchasing a Saint Bernard costs about $1500. Their patient and calm temperament make them ideal as show dogs or for families. The main reason why Saint Bernard's are so expensive is because of their life expectancy which ranges between 8 to 10 years.
The grooming fee is about $65 per month, and they have a potential healthcare cost of about $8600 across their lifetime. You need to consider other costs such as food, bedding, toys, and training before deciding on getting a Saint Bernard.
Saint Bernards Genetics And Common Health Problems
Saint Bernard has several points of concern that can affect their wellbeing. These concerns include unsound movement and weak back legs, incorrect dentition and bite, abnormal eyelids, and excessive facial skin loss. The following are health problems that can affect Saint Bernard's:
HD or Hip Dysplasia – it is a condition that happens when there is abnormal development of the hip. It often leads to joint problems later in life. This condition is transmitted genetically but environmental factors can also influence its development.
Elbow dysplasia – this is the abnormalities of the elbow development that can lead to osteoarthritis.
Osteosarcoma– dog breeds that are large like Saint Bernard are susceptible to bone cancer such as osteosarcoma. It is thought to be a genetic condition.
Other conditions that can affect Saint Bernard are dilated cardiomyopathy, polyneuropathy, eye disorders, and epilepsy.
Final Thoughts
Hopefully, this article has given you all the essential information you need to know about the Saint Bernard size chart.
Although there are challenges and added costs when caring for a big dog such as ensuring good exercise and nutrition for healthy growth, nothing beats having such a gentle beast beside you. Saint Bernard's are patient, gentle, and make fantastic pillows.
The most important thing to consider is ensuring your Saint Bernard's diet is appropriate for a big dog breed and good for their growth stages. Saint Bernard's grow big extremely fast and when their diet is not healthy, they can develop lifetime health issues.