How Much To Feed A Blue Heeler Puppy? 4 Week – 6 Week – 8 Week Old Australian Cattle Dog Puppies
Are you one of those people who would like to know how much to feed a Blue Heeler puppy? Then you should definitely read on!
Australian cattle dogs, also called Blue Heelers are beautiful medium-sized dogs that would make the perfect addition to your family.
As a responsible dog owner, it is incumbent upon you to provide proper nutrition as your dog develops. And following our Blue Heeler feeding chart can help you with that!
This would entail giving them the correct amount of food as well as the right foods for their particular needs throughout their life.
Blue Heelers are known for their intelligence and high activity levels, so their nutritional needs may be different from that of other breeds. Because of this, dog owners must pay special attention to the food that is given to this breed for proper health.
A diet that is high in quality nutrition is best for Australian Cattle dogs, who were developed to be herders. They are very happy when they get to spend time with their owners or helping out in some activity. We've compiled a thorough guide to help you with your Blue Heeler.
How Much Should A Blue Heeler Puppy Eat?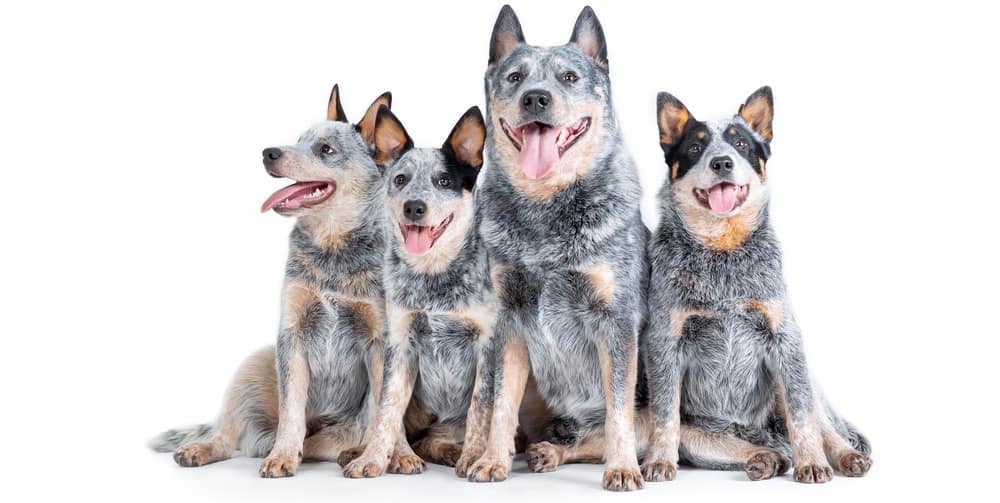 If you are totally clueless about what you should give your Australian Cattle Dog, then a good place to start is from the package of his commercial puppy chow.
Even though this is most likely written in fine print, you can look up the amounts of food recommended based on your puppy's age and weight.
Remember to refer to the package as a guide and not something that is entirely accurate, because not all dogs are created equal.
Even within the same breed, puppies may have different weights based on activity levels, nutrition, and simple genetics. This is why further consideration is necessary when it comes to feeding your Blue Heeler.
Remember to look at the package carefully for not just the amount of food but how many times per day you should be giving your dog this amount.
Also, consider that treats and food are given within training sessions, so this would encompass the total amount he should be fed as well.
The amount of food you give your Australian Cattle Dog will change as he grows older or as his level of activity fluctuates.
Typically, your dog would have greater nutritional needs as he grows older. But in cases when he is less active, he would need a bit less food.
Blue Heeler Puppy Feeding Chart
To arrive at the amount of food that should be given to your Blue Heeler, in particular, it may be necessary to calculate his RER, which stands for his Resting Energy Requirements.
Your dog's RER may be calculated through a simple process of the multiplication of his body weight measured in kilograms and raised to the power all of ¾.
To use the RER method, you would need to weigh your puppy as he grows in order to perform the calculation, which should be seen as just an estimation. With any guide, you should constantly monitor your puppy to ensure that he is in proper health throughout the process.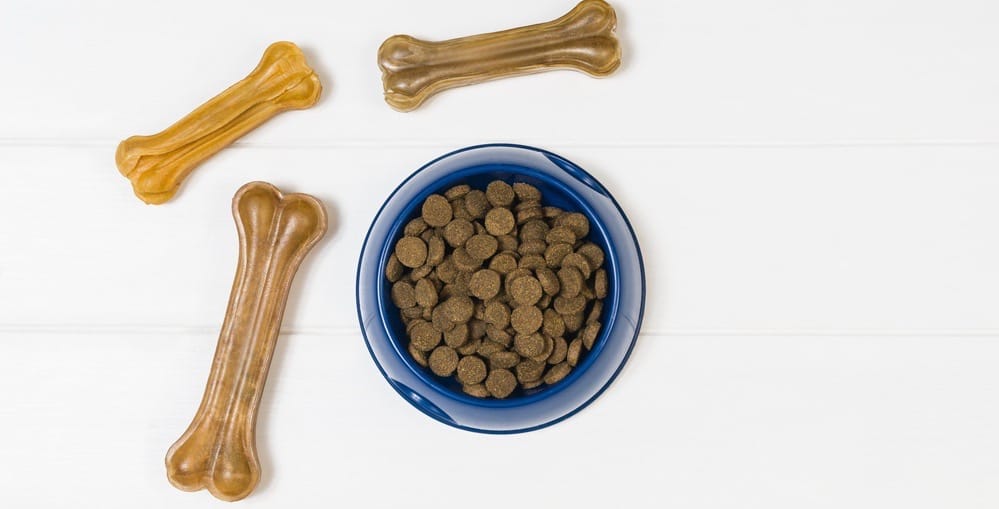 You should make the decision about whether you will be feeding him dry or wet food, (we will discuss this in more detail later).
But keep in mind that overfeeding your puppy in one sitting can be detrimental to his health. The exact quantities that they should be fed will vary based on the type of food he is given.
As a general rule of thumb, you should give your 8-week Blue Heeler feedings of 4 portions per day. You will decrease this amount for your 12-week puppy and feed him only three portions.
By the time he gets to 6 months, you can feed him twice daily. In all instances, you should check with your vet to make sure that everything is okay.
2-Week-Old Blue Heeler Puppy
There is not much that you can do at this stage when it comes to feeding. This is because at 2 weeks old, your Australian cattle dog puppy will need his mother's nourishment more than you.
The nutrition and warmth that is needed at this time will come primarily from the mother and littermates.
That said, it is not uncommon for some pups to be rejected by the mom, and in most cases it's would be the youngest puppy. If this occurs, you are then responsible for the needs of the abandoned puppy.
To do this, you would need to substitute his mother's warmth by using a heating pad and placing it under a blanket, so that his core temperature will be kept warm.
You should set this heating pad to a medium setting because you would not like it to get too warm as this would harm the puppy who is already in a sensitive state.
You would also need to feed him a canine milk replacer via a bottle, or if your blue heeler is too young to be fed through a bottle, you can use a tube.
4-Week-Old Blue Heeler Puppy
Expect that your blue heeler puppy will undergo a number of developmental changes at this time. Typically, he will be weaning at 4 weeks old as he begins to adopt a solid diet from his previous fluid one.
As a dog owner, you should ensure that this switch as seamless as possible, as it may be difficult for a young puppy. You can do this by making sure by the food he has given is not too hard, but more watery, or the consistency of a thick soup. This will give your puppy time to learn how to chew.
You need to decide whether this will be store-bought food, but it should a bit less than ¼ cup four times per day. Keep in mind that he may sometimes feed on his mother's milk on occasion.
He will get the hang of chewing soon, and you can gradually reduce the amount of liquid that is placed in the food.
You can then begin to introduce harder foods, but make sure that the brand is consistent, as it could cause an upset stomach to drastically switch the type of food you give him.
6-Week-Old Blue Heeler Puppy
Your little blue heeler will be accustomed to solid food at this time, and there will be little to no need for time spent nursing with his mother.
You should increase his feeding rations as he should be a bit more active as he will look to explore his surroundings.
He should receive a total of 1 cup of food per day, but it should be given to him across four meals Throughout the day. You can try ¼ cup four times per day and see how this schedule works for him.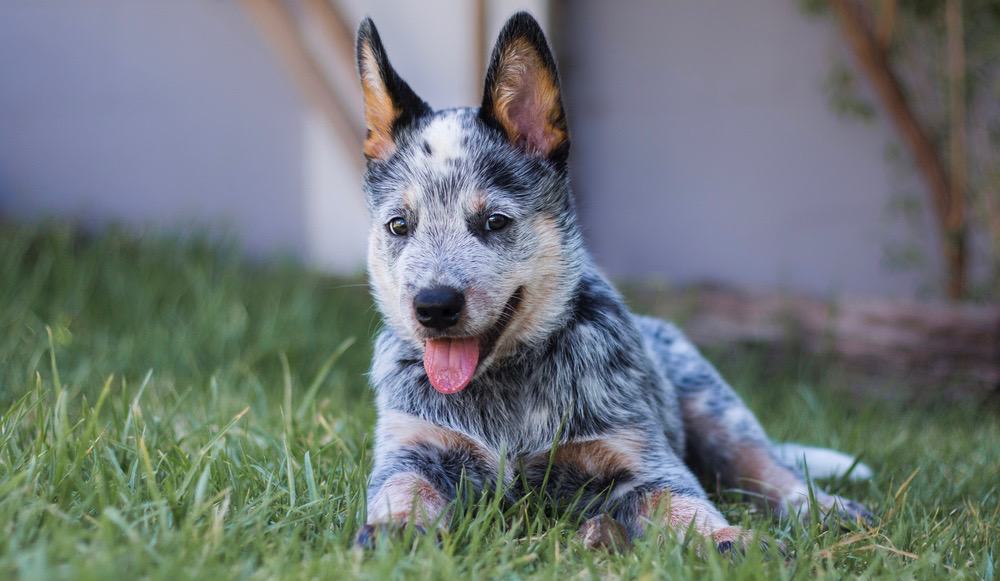 8-Week-Old Blue Heeler Puppy
The responsibility to feed your puppy will now be totally up to you as the dog owner. They should be strong enough to survive without their mothers, who will no longer be grooming and feeding them.
In this stage, you should give him a total of 1 ½ cups of food daily, but spread this out between 4 meals. Also, place a high emphasis on nutrient-rich food that contains the nutrients needed to grow.
10-Week-Old Blue Heeler Puppy
You can now begin to feed your Australian cattle dog puppy three times per day. It is okay to gradually reduce the feeding times without the amount of food.
Your puppy should be able to survive on one and a half cups per day, but you can increase this amount slightly if you realize that he is hungry or starts to lose weight.
Another way that's you can tell is if you notice bad he is rummaging through the trash in search of food. You are trying to avoid a hungry puppy during the day. By maintaining a strict schedule, you will have a better-behaved dog in the years to come.
12-Week-Old Blue Heeler Puppy
This is when you can begin to increase the amount of food that you give to your puppy. You can also reduce the feeding times to twice per day. He should be getting around 2 cups throughout the day.
You will notice that he will be eager when it is time to have his meals as his appetite will be healthy but still continued to monitor and assess his health. Ensure that this food is packed with nutrients during this critical stage in his development.
You should increase or decrease the amount of food he is given based on the way he responds in terms of his weight loss or weight gain. Also, think about his activity level, which should be frequency levels of activity throughout the day for a healthy pup.
Best Puppy Food For Blue Heelers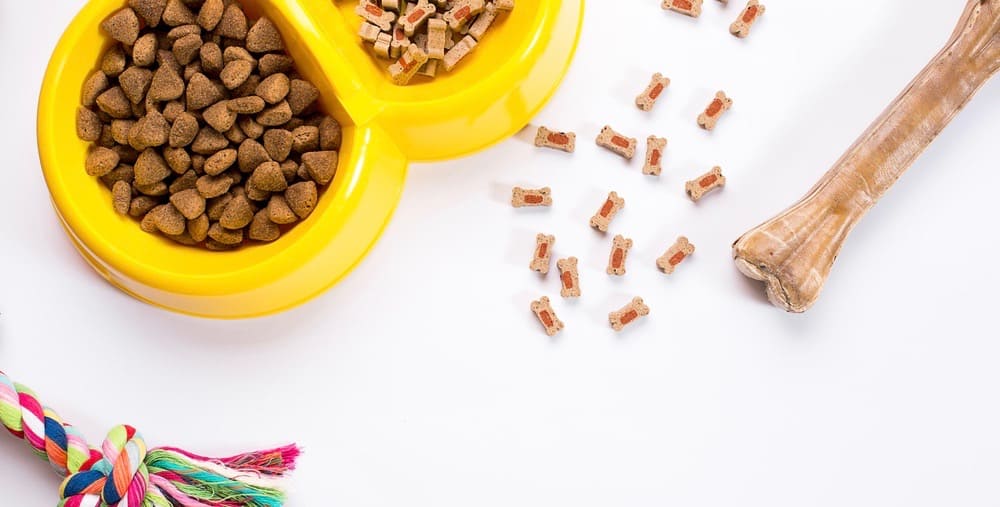 Editor's Choice
#1. Royal Canin Medium Puppy Dry Dog Food
Royal Canin has been a leader when it comes to providing nutritious food for pets since 1968.
They pay great attention to detail, so advanced proper nutrition can be achieved for an array of dog breeds with a variety of needs as it pertains to health.
This dog food caters to breeds that have high energy and provides an abundance of nutrition needed to develop.
It also aids in the maintenance of your puppy's natural defenses so that they can ward off diseases through nutrition while maintaining a healthy weight.
It contains a high amount of phosphorus and calcium and is aimed at puppies that are around 21 & 55 lbs and are no older than 12 months. This dog food is a winner when it comes to probiotics and digestible proteins for digestive health.
Pros
Easily digestible
Helps support healthy bones
Great for medium breeds with high energy
Nutritious, high-quality ingredients
Supports natural defenses with antioxidants
Cons
For pups up to 1 year only
Runner-Up
#2. Blue Buffalo Life Protection Dog Food
Blue Buffalo believes in dog food that is made from natural, high-quality ingredients.
Their products are formulated to be nutrient-rich and contain real meat. They also use precise combinations of fruits, garden vegetables, and whole grains.
The dog food is known to be delicious and full of the necessary vitamin minerals and proteins that a growing medium size dog needs. It allows your puppy to meet developmental milestones to proper nutrition
Some of the real food that is contained in the Blue Buffalo Life protection formula, are real apples, spinach, chicken, brown rice, blueberries, and pumpkin just to name a few. All of these ingredients make for an overall healthy puppy.
Pros
Easy to digest
Calcium and phosphorus for healthy bones
Vitamins and minerals for immune health
Healthy skin and coat through omega 3 & 6
Supports brain and eye development
Small kibble size for tartar removal
No soy, wheat, corn, or poultry by-product
Cons
#3. Taste of the Wild High Prairie Puppy Dog Food
Taste of the Wild High Prairie Puppy Formula provides a well-balanced diet that is packed with nutrition. Their special formula contains novel proteins such as bison and buffalo, along with other grain-free ingredients such as sweet potatoes and peas.
This combination results in highly digestible products that provide energy for a growing puppy, as well as natural antioxidants that come from real vegetables and fruits.
Your Blue Heeler will certainly benefit from essential minerals and vitamins that are easily absorbed into their system.
Pros
High protein for muscles
Real meat, fruits, and vegetables
Omega fatty acids for skin and coat
Probiotics and antioxidants for overall health
No artificial flavors, wheat, grain, or corn.
Cons
Not all dogs like the dry bits

#4. Purina Pro Plan Puppy Dog Food
The Purina Pro Plan Puppy Shredded Blend stands out because chicken is listed as the first ingredient, which is an indication this dog food is serious about providing proper nutrition through protein. It also provides a taste that is loved by most pups.
The high protein content gives your puppy a higher level of nutrition for healthy muscles and bones. They will need this nutrition as they develop.
Since your blue heeler will be active, this brand accommodates that fact by giving an adequate source of carbohydrates in the form of brown rice. This is needed to maintain energy levels.
Perhaps what is most appealing about this food is the dual-texture formula.
The formula consists of a small kibble size where there are tender pieces as well as hard kibble dispersed proportionately for your dog's enjoyment.
Pros
Dogs tend to love the taste
Calcium for healthy teeth and bones
Omega-rich for vision and brain
Nutritious, high-quality ingredients
High in minerals and antioxidants
Cons
Bag not resealable
For under 1 year only
#5. VICTOR Purpose Active Dog Food
The VICTOR Purpose Active Dog & Puppy Formula is specially designed for dogs who have sensitive stomachs. It is able to provide a balanced natural and healthy diet through a nutrient-dense and multi-protein recipe.
It contains premium quality fresh beef and pork that growing puppies need. Not only that but it may also be used for lactating and pregnant female dogs who engage in a lot of physical activity.
Pros
Made primarily from real meat
Loaded with vitamins and minerals
Great for pups with grain sensitivity
Ideal for active pups
VPRO Blend for better digestion
Cons
Kibble too hard for some dogs
Understanding Blue Heeler Puppy Nutritional Needs
There are critical developmental milestones that every puppy should achieve throughout his life. These developmental milestones can only be possible if there is proper nutrition at specific stages in their younger years.
Ensure that your Australian Cattle Dog is in receipt of adequate nutrition so that he can develop into an adult that is strong and able to function properly.
This is why the type of food that you gave him should be properly researched, but a good way two separate high quality from low-quality is to read the label carefully.
Kibble vs Wet Food For Blue Heeler Puppies
Kibble is always a great choice for Blue Heeler puppies end puppies of all breeds in general. This is because it is a fast and convenient way to provide your developing pup with adequate nutrients.
Avoid the ones that have fillers because they are less nutritious and may hinder the growth of your puppy. He also needs to drink adequate amounts of water if his diet consists of kibble only.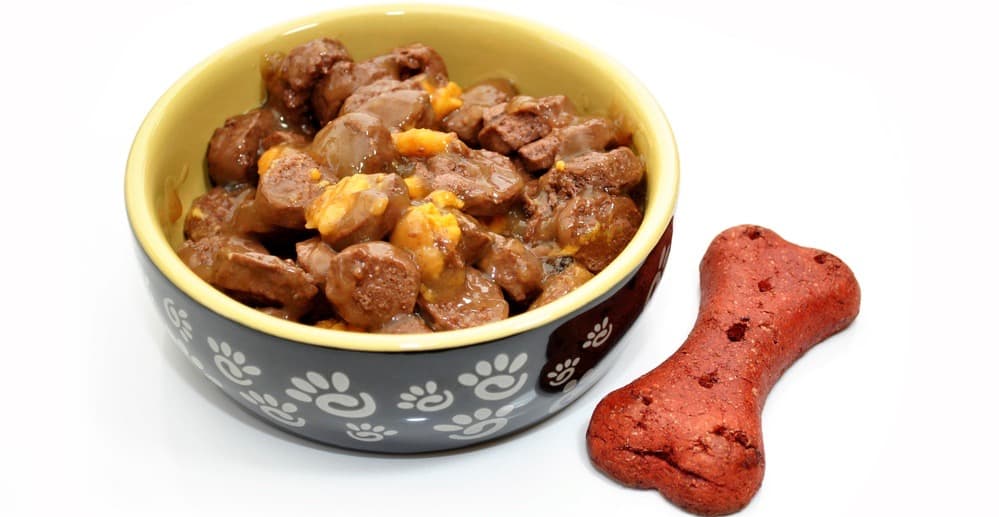 Wet foods are also an option if you have the time and the knowledge about what it's best for your pup.
If this wet food is cooked or raw, it needs to consist of a high protein mixture with essential nutrients found in fruits and vegetables. Many puppies find wet food more desirable because it is softer.
2-Month-Old Blue Heeler Puppy Weight
At this stage, a Blue Heeler is expected to weigh between 10-12 pounds. His food should be increased because he is developing and needs the extra calories, especially if he is more active than usual.
3-Month-Old Blue Heeler Puppy Weight
You can expect that your blue Heeler will weigh 13-15 pounds. He should be comfortable with around 2 cups of food, or more, per day.
4-Month-Old Blue Heeler Puppy Weight
At the 4-Month mark, 16 -18 pounds is a healthy weight. Australian Cattle Dogs will start to lose their puppy 'look' and depend on humans to a lesser extent.
How Much Do Blue Heelers Grow Each Week?
Growth depends on a variety of factors, and no two Blue Heeler puppies will develop at the same rate. This is because metabolism levels, diets, and levels of physical activity will be different in each dog.
Therefore, it is almost impossible to definitively determine the amount of growth that will take place in a given week.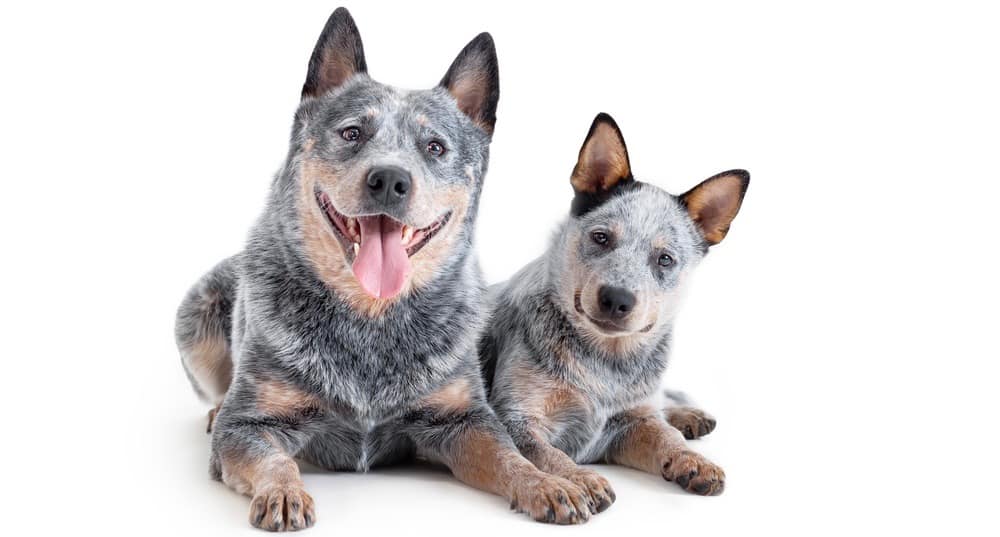 Switching From Puppy Food To Adult Food
When your Australian cattle dog has attained at least 12 months, you can begin to make the transition from puppy food to adult food. At this stage, your puppy is entering adulthood, and most of his growth and development will have already taken place.
Keep in mind that even within dog breeds, every puppy develops at a different rate, so it is always important to monitor.
Also, ensure that the transition is smooth by introducing some adult food at a particular feeding time throughout the day until you switch entirely. Drastic changes can result in stomach upset and other issues.
What If My Blue Heeler Won't Eat?
A puppy that refuses to eat is seen as a serious issue. Eating is the way that's your puppy takes in nutrients that are crucial to his survival.
So if he stops eating, you should pay special attention. Make sure that the reason for not eating is not something serious that you can't handle first before you visit your veterinarian.
Can You Freefeed A Blue Heeler Puppy?
Australian cattle dog pups tend to overeat when they are free-fed. This could result in an overweight puppy who has trouble with his joints and other serious health problems.
Blue Heelers are known to suffer from joints disorders because of excess weight. To know if you are on the right track when it comes to feeding, you should consult a Blue Heeler weight chart or your veterinarian.
Should You Feed A Blue Heeler Puppy Supplements?
This may prove to be beneficial to some puppies to ensure that they are receiving the right amount of nutrition as they grow. It is especially important when the food they are given or not of high quality.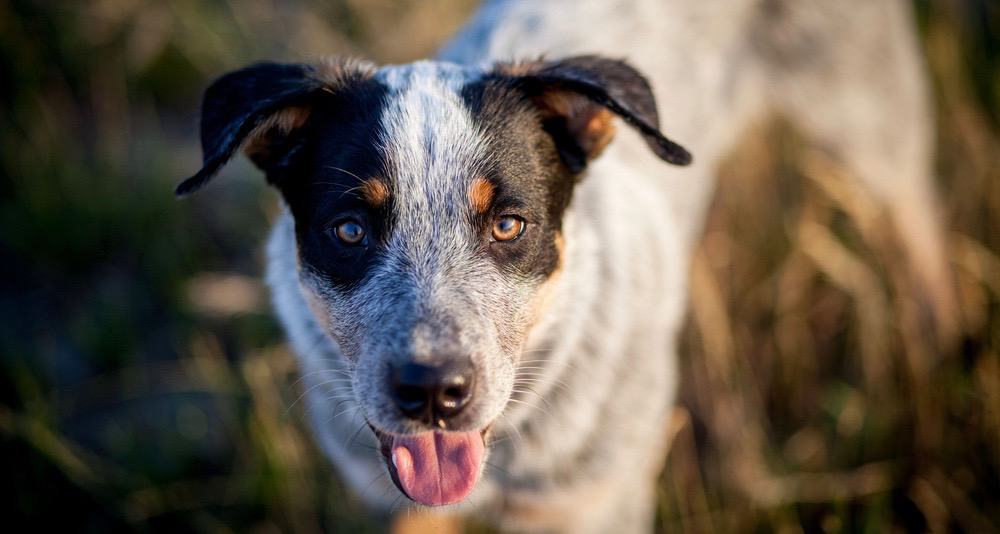 You can give it to them in the form of mineral canine tablets mixed in with their meals. This may be easier if you cook their food at home because commercial Foods tend to be of a harder texture. If you want to give a supplement to your dog ask your vet first.
How Much Water Should A Blue Heeler Puppy Drink?
Because Blue Heelers are known to be very active, they should drink a lot of water on a daily basis. About half a cup of water every 2 hours is sufficient.
It is okay to free feed water, so just place a bowl in a convenient position filled with water, so that your puppy can drink whenever he is thirsty.
How Much Exercise Does A Blue Heeler Puppy Need A Day?
Approximately two hours of exercise per day is normal for a healthy Blue Heeler. Make sure that you do not overdo it when it comes to exercise when your puppy is very young.
Even though they are naturally playful and enjoy running about, they can hurt themselves if they are overactive. Overall, exercise is good for healthy muscle and bone development.