How Much To Feed A Cocker Spaniel Puppy? 4 Week – 6 Week – 8 Week Old Cocker Spaniel Puppies
If you are a new Cocker Spaniel owner, you may want to get information on the best food for this breed so that they can maintain optimal health.
We have formulated this guide so that you will know how much to feed a Cocker Spaniel puppy.
Because of Cocker Spaniel's small size, they were used mainly for hunting. This was useful when it came to fitting themselves between warrens and bushes since other breeds were not able to accomplish this.
They are great dogs for first-time dog owners because of their quick adaptability to apartment living. This has made them a well-loved breed for most city dwellers.
How Much Should A Cocker Spaniel Puppy Eat?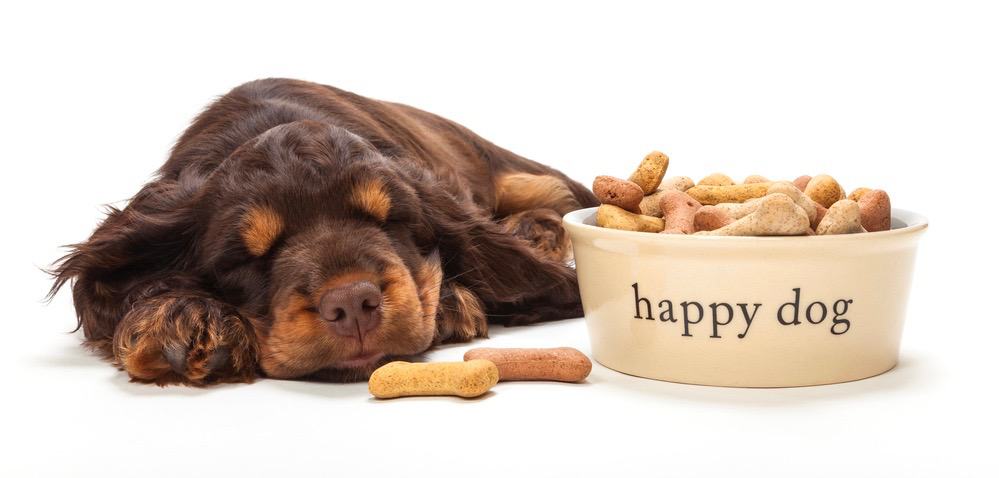 Through science, veterinarians are now able to give advice on precisely the amount of calories that are required by your Cocker Spaniel puppy.
Another way that you can tell is by simply looking at your pet food package or following our Cocker Spaniel feeding chart. Be sure to follow the measurements stated on the package and measure out the food carefully.
If your Cocker Spaniel is about 1-3 months, they should be fed at least 4 meals per day, but this can be reduced as they grow older. On average, a Cocker Spaniel puppy should have 2-3 cups of food every day.
It is also important to remember that male and female puppies require different amounts. Usually, females require less because of their slightly smaller dimensions in terms of height and weight.
Cocker Spaniel Puppy Feeding Chart
Another way that is commonly used to figure out the amount of food that you should give your puppy is the RER method. RER simply stands for your dog's Resting Energy Requirements.
For instance, if your puppy has a weight of 10 kg then multiply 10 kg to the power of ¾ multiplied by 70. You will get an RER of 70 X 10kgs ¾ = 400 calories per day.
Then you can ensure that the food you are providing for your puppy is equal to this amount.
The food you give your pup should be altered as time progresses, and he grows. It is important to feed him a balanced diet as he develops into adulthood, which occurs typically at 12 months since this is a small to medium-sized breed.
2-Week-Old Cocker Spaniel Puppy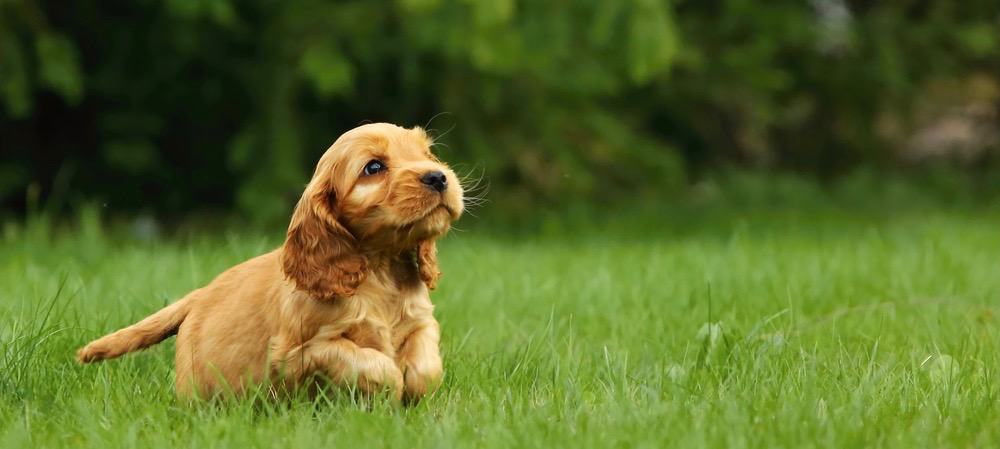 Your Cocker Spaniel pup will be in a delicate state at 2 weeks old. His food source will come from his mother, which means that you will not be doing this just yet. His mother and littermates will also keep him warm.
However, there are certain cases when puppies are rejected, so this is when you will be expected to step in and take over this job.
For food, you would need to find a good canine milk replacer and feed him through a tube or bottle.
As for warmth, you would need to invest in a heating pad that should be placed under a blanket. Make sure you adjust the setting, so that's the puppy is only warm, and it doesn't get too hot for him.
4-Week-Old Cocker Spaniel Puppy
Major changes will occur at this time in your puppy's life. The most prominent change is the weaning to a solid diet that will occur. Your puppy will make the transition from milk only to the dry or wet food that you will provide.
It is possible to make this switch an easy one on their puppy, and you should do everything in your power to ensure that this happens. One of the first things that you should do is remember to approach things gradually.
If you do not handle this properly, then there may be a delay in developmental milestones because of improper nutrition. If you make the switch too quickly, then your puppy could have a hard time.
The food you feed him should not be too hard for his tender teeth. It should be like a thick soup or mashed potatoes so that he can get used to eating more and more solid food.
You should mix the kibble with a broth or water to soften it but monitor him to make sure that he is enjoying it.
He will be learning to chew, and you can reduce the amount of liquid you add over time until he gets accustomed. You can give him 1-2 cups of food spread out over three to four meals.
Don't be alarmed if you realize that your puppy is also occasionally suckling his mother. Soon this will stop completely.
As he gets used to solid food, it is wise to maintain one brand of dog food that he likes or make his food the same way every time, following a recipe.
This is because if his food has changed suddenly, it may cause him to either reject dog food or consume it and have an upset stomach.
6-Week-Old Cocker Spaniel Puppy
Your cocker spaniel will now be growing at a rapid pace and be used to solid food without needing his mother's milk.
You should assess his movements carefully and if it is necessary increase his rations because he may be engaged in more physical activity as he runs about and explorers.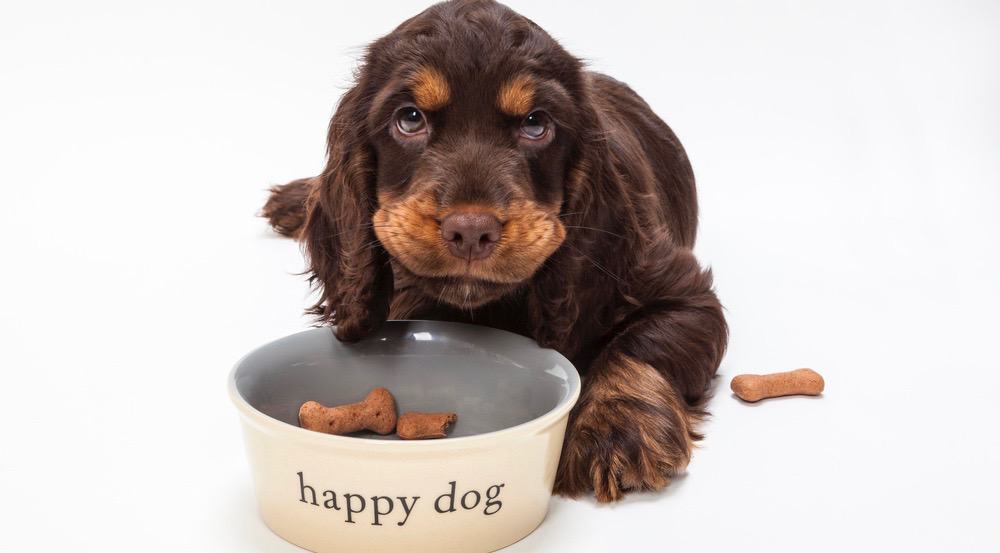 It would be safe to feed him about 2 cups of food per day spread over three to four meals. But remember to check and make sure he is not hungry all the time or overfed.
8-Week-Old Cocker Spaniel Puppy
Your Cocker Spaniel will continue to grow, and it is okay to feed him approximately 2-3 cups of food, which should be spread out into 4 meals.
He will be even more active and playful, and his training should be well on the way as he learns what is acceptable and what is not.
Physical activity is important at this stage, as well as proper and balanced nutrition. Surviving without their mothers would not be an issue for them, as they do not need warmth and nutrition from her.
10-Week-Old Cocker Spaniel Puppy
It is perfectly fine to give your puppy around 3-4 cups of food per day and you should continue to spread this over four meals per day.
Look at how this amount of food is affecting him and make adjustments as necessary, keeping in mind that not all cocker spaniels are the same.
The reason for continuing to feed him 4 times per day is because he is prone to bloating and this could affect his health drastically.
But keep in mind that you also shouldn't that underfeed him and look for signs that he is still hungry. If he is, he will be scrounging around for scraps of food, or he may look too thin.
12-Week-Old Cocker Spaniel Puppy
At this point, it is now a good time to increase your cocker spaniels rations to about 4-5 cups per day. You can try spreading this over three times per day, but make sure that you monitor him to avoid an upset stomach or bloating.
Also, watch to see how eager he is when it is time to feed him. Most dogs are eager when it's time to eat, so this is a good sign of a healthy appetite.
Best Puppy Food For Cocker Spaniel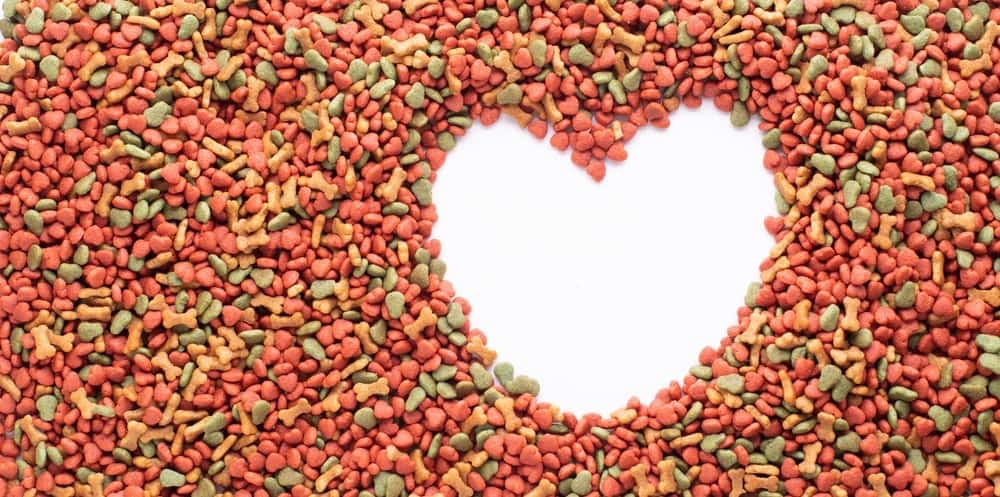 Editor's Choice
#1. Royal Canin Cocker Spaniel Puppy Dry Dog Food
This is a special brand of dog food because it was created specifically for the purebred Cocker Spaniel breed of puppies.
This puppy food can be given to dogs until they are 10 months old. It provides all the nutrients that your Cocker Spaniel puppy needs to develop, even though it is a different breed.
Expert breeders utilized scientific data on nutrition to come up with this exclusive kibble. It can help your Cocker Spaniel to easily pick up the food in his bowl.
When it comes to cardiac and digestive health, this dog food brand can't be beaten. As if that weren't enough, it also helps to boost your dog's immune system so that he would be more healthy overall.
Pros
Healthy ingredients to aid digestion
Special kibble shape to help to chew
Great taste your pup will love
EPA and DHA for heart health
A great mix of antioxidants
Cons
Tends to be sold out at times
Runner-Up
#2. Purina Pro Plan Puppy Dog Food
Perhaps the most salient feature of Purina Pro Plan Puppy Small Breed Chicken & Rice Formula is the great big taste that your puppy will love.
It is packed with real animal protein from chicken and contains DHA that aid in the development of healthy eyes and the brain. It also has calcium for healthy bones and teeth.
The kibble size especially crafted for small breed dogs so that your problem will have no problem consuming this is food. The omega-6 fatty acids will provide help with a healthy, beautiful coat that everyone will marvel at.
Pros
Live probiotics for digestion & immune system
Helps with the growth of small pups
High-quality chicken protein
Omega-rich fish oil for vision and brain
No artificial flavors or colors
Cons
Kibble too hard for smaller pups
#3. Hill's Science Diet Puppy Healthy Development Dog Food
If you want your cocker spaniel to have a well-balanced diet that is filled with beneficial nutrition, then look no further than Hill's Science Diet Puppy Healthy Development Small Bites Dry Dog Food.
This food gives your pup wholesome nutrition in every bag. You can rest assured that's your Cocker Spaniel is getting quality animal protein as well as an abundance of nutrition.
It is made for smaller breed puppies who attain adulthood within one year of age, and may also be used for dogs that are nursing or pregnant.
This nutrition that is gained during the first year of your Cocker Spaniels life will affect him throughout his life span. With this in mind, make sure to provide a special blend of vitamins and minerals that cater to your dog's entire body.
Pros
Balanced nutrition for up to 12 months
Great for small to medium pups
DHA for brain and vision
No preservatives or artificial flavors & colors
Antioxidants, vitamin E & C for immune health
Cons

#4. Taste of the Wild High Prairie Puppy Dog Food
Taste of the Wild High Prairie Puppy Formula Dog Food will provide your puppy with well-balanced nourishment that comes from high-quality protein such as bison and buffalo.
Your pup will love the taste of this nutritious recipe that is also free of grain and contains sweet potatoes and peas. Additionally, it is easy to digest so that these beneficial nutrients can be easily absorbed to be used by your dog's body.
The essential minerals help to give your dog balanced nutrition and the prebiotics help to maintain a healthy gut, leading to an improved immune system.
Pros
Made with real protein for lean muscles
Real fruits and vegetables for nutrition
Probiotics, prebiotics & antioxidants
Ingredients for digestive and immune health
No wheat, corn, or grain
Cons
Some kibble pieces are too small
#5. Blue Buffalo Life Protection Dog Food
You can find a tasty deboned, protein-rich chicken in this special dog food. Blue Buffalo Life Protection Formula Puppy Chicken & Brown Rice Recipe doesn't miss the mark when it comes to the health of your puppy.
Their formula contains real meat, fruits, and vegetables like apples, pumpkin, spinach, and blueberries.
Additionally, it is full of antioxidants that help your dog to have a healthy immune system. It contains DHA and ARA to aid your dog's vision and brain development.
It is also delicious, and your puppy will love the taste of these real ingredients.
Pros
Calcium for strong bones and teeth
Special kibble for smaller jaws
ARA & DHA for healthy eye and brain
No corn, wheat, or soy
Healthy coat & skin with Omega-3 & 6
Understanding Cocker Spaniel Puppy Nutritional Needs
Cons
Contains grain
Understanding Cocker Spaniel Puppy Nutritional Needs
Cocker spaniels require dog food that has a high level of protein along with the necessary vitamins and minerals that he needs to survive.
A protein level of around 25%- 28% is acceptable. Remember that when your dog is a puppy, he would need more protein because his muscles are developing.
This can be reduced slightly as he got older. Anyone who owns a cocker spaniel knows that they love their food, so it is important to develop a system of discipline when it comes to feeding them.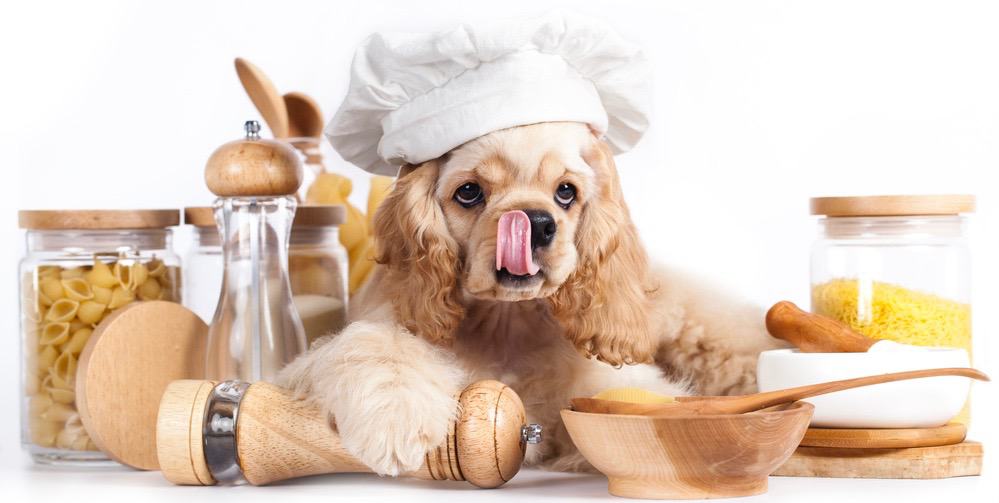 Their food should be well proportioned and limited to specific times every day. Also, check the package of your dog food to ensure that there are no artificial flavors or colors, as well as preservatives.
As a puppy, your cocker spaniel will need a dog food that has the right amount of calcium so that his bones can be strong and healthy.
He will also need food that contains antioxidants so that he will have a healthy immune system and Omega fatty acid for beautiful skin and coat.
Kibble vs Wet Food For Cocker Spaniel Puppies
When it comes to choosing the right food for your puppy, keep in mind there are advantages and disadvantages of both dry and wet foods.
For instance, dry food has the advantage of being easy, quick, and convenient. It is also beneficial because there are many great brands on the market and for the most part dogs love them.
It can also last for a very long time without getting spoiled. There is also a wide variety of high-protein kibbles such as beef, lamb, chicken, salmon, and rabbits with added vitamins and minerals that will benefit your dog.
The sad part about kibble is that it is very dry, and sometimes the shape of kibble may not be the right one for your dog. Because it is dry, very young puppies may have a problem consuming it because it may be too hard.
On the other hand, wet food will not last as long and is less convenient. And it's also easier on your dog's teeth.
If you make the wet food at home, you also have the benefits of adding specific ingredients that would provide nutrition to your growing puppy.
2-Month-Old Cocker Spaniel Puppy Weight
At the 2-month mark, the male Cocker Spaniel is expected to weigh about 5 pounds, while the female can weigh 4 pounds.
You can increase the rations of your puppy as he is growing and would require extra calories, especially if he is more active.
3-Month-Old Cocker Spaniel Puppy Weight
At 3 months, it is normal for your male Cocker Spaniel to weigh about 11 pounds, as the female weighs 7 pounds. He should be satisfied with around 4 cups of food, every day.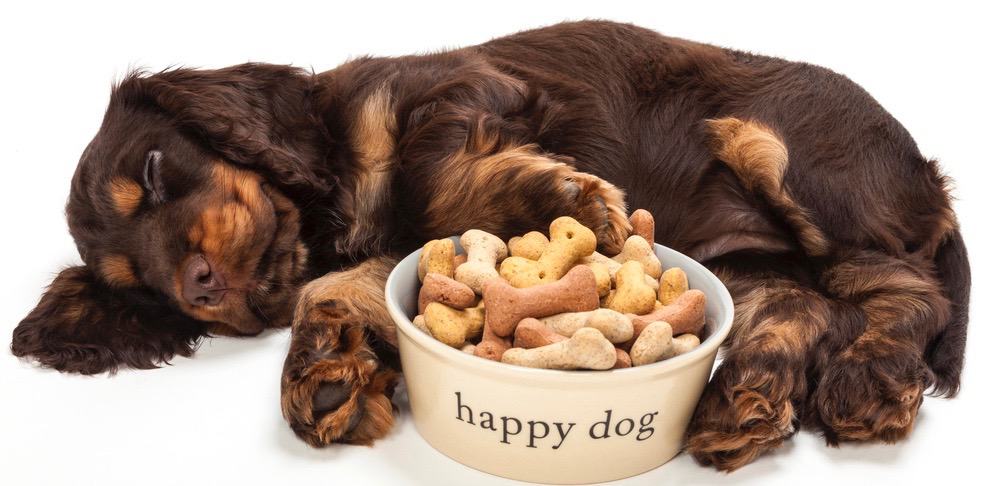 4-Month-Old Cocker Spaniel Puppy Weight
At this time, a male Cocker Spaniel is expected to weigh around 15 pounds, while the female should weigh 11 pounds. Cocker Spaniels will not need your help as much as he learns the lay of the land and matures.
How Much Do Cocker Spaniel Puppies Grow Each Week?
There are many factors that determine the growth rate of your puppy. You can expect that your Cocker Spaniel puppy will grow at a slightly slower rate than other breeds because they tend to be small or medium-sized.
That said, the growth rate every week may vary from puppy to puppy depending on nutrition, activity level, and genetics. But ½ pound per week is it safe estimate, but this may vary from week to week.
Switching From Puppy Food To Adult Food
There will always come a time in your puppy's life when it's time to switch from puppy food to adult food. The name of the game when it comes to changing foods is to do it gradually. If you abruptly switch the food, your dog could become sick.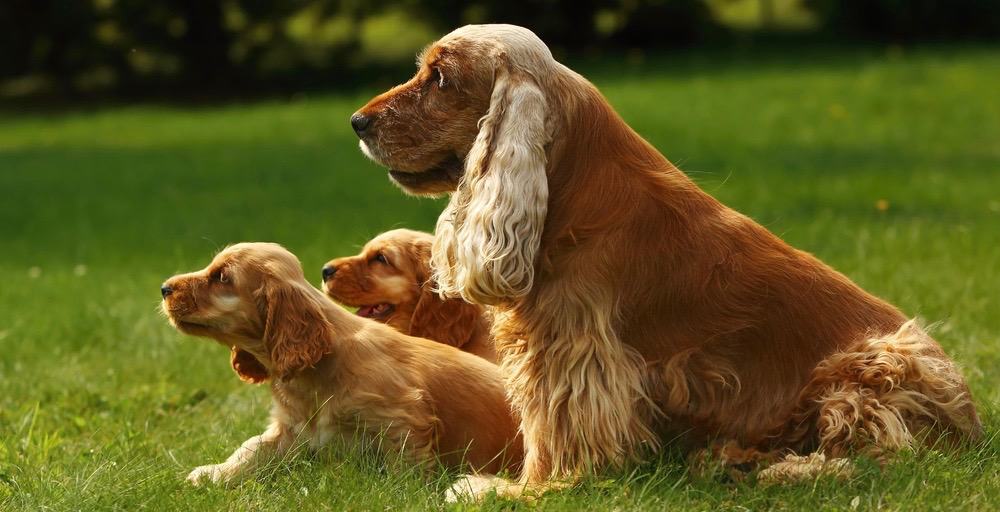 The best way to do it is to mix the new brand with the old one gradually in varying amounts. For instance, you can start with most of the food being the one he is used to, with a lesser amount of the new one.
Then you gradually add the new one until the switch is complete.
What If My Cocker Spaniel Won't Eat?
Dogs can have allergies as well, and this may cause them to lose their appetite. The allergies may have originated from his diet, parasites, pollen, or chemicals in his environment.
Also, if your cocker spaniel is overfed, he may simply need a break from food for a while.
This shouldn't be too long of a time though, so do your best to be disciplined with his feeding, and if the situation continues pay a visit to your vet.
Can You Freefeed A Cocker Spaniel Puppy?
This is not a good idea because free feeding can result in a cocker spaniel that is overweight.
This breed is known to be prone to overeating, and being overweight can result in a myriad of health problems that can be detrimental. Get him used to a regular schedule of eating.
Should You Feed A Cocker Spaniel Puppy Supplements?
Then maybe great benefits in acquiring supplements for your Cocker Spaniel. This may be more important if the necessary nutrients can be found in the food that you feed him.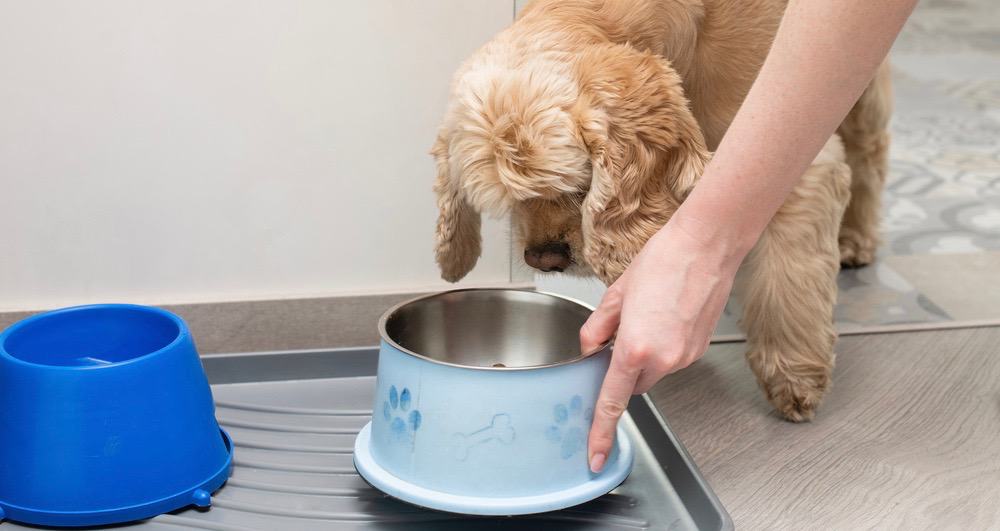 Vitamin C supplements are great for your Cocker Spaniel as well as Omega 3 & 6 for a healthy coat.
How Much Water Should A Cocker Spaniel Puppy Drink?
Cocker spaniels tend to drink a lot of water as they like to be active dogs. It is okay to free feed with water, and also make sure that his water bowl is always filled.
However, you should not allow him to have too much water at a given time, or he may suffer from bloating.