A question that has plagued dog owners for ever, and one that comes up every time dog owners talk about dog food, is whether one should choose dry or wet dog food. Wet dog food is also known as canned dog food. During this review we will use the term synonymously. Choosing the best dog food is an arduous task, let alone the best wet dog food, or deciding on feeding strategies based on the differences between wet and dry dog food.
We have put together a few pointers to help you make a more educated guess, and a little later we review 5 typical wet dog foods as a starting point.
How Do I Even Start to Choose?
When choosing wet dog food, you should first ask yourself a few fundamental questions about your dog's requirements
What age is your dog?
Puppies and elderly dogs have different requirements than healthy adult dogs when it comes to type of dog food. Puppies might find it difficult to chew dry kibble, and elderly dogs with dental problems will find it much easier to chew wet food.
What is the size of your dog?
Wet dog food can be quite a bit more expensive than dry dog food. It would work out very pricey to feed a huge dog like a German Shepherd entirely on wet dog food. A small dog like a Chihuahua will eat far less food and it will not hurt your pocket too much.
Special dietary requirements:
Canned dog food is ideal for a dog who is trying to lose weight. The extra moisture content of wet dog food keeps him feeling fuller for longer. The best wet dog foods will also have all the nutrients necessary for optimal health. Certain wet dog foods are also aimed at dogs that have specific age-related requirements i.e. senior recipes and specialist food for puppies.
What Should Best Wet Dog Food Contain?
Like any dog food, wet or dry, the mixture of protein to fat to carbohydrates must be correct. Wet dog food should therefore be just as high in protein as a dry food and have adequate supplies of essential fatty acids. Canned dog food generally has fewer carbohydrates than dry dog food.
Protein should be from a named source and not just "meat meal" or "meal" or "animal by products meal". The source of these ingredients is not known and therefore suspect.
The best wet dog food should have added vitamins and minerals to ensure optimal nutritional health.
Canned dog food should have no artificial colourants or synthetic preservatives.
The best wet dog food would have added fruit and vegetables, like sweet potato and peas, to improve taste and supply anti-oxidants.
What to Avoid in Wet Dog Food
Unnamed sources of protein such as meat meal
Grain
Artificial flavours and preservatives
Excessive carbohydrates
Let's proceed with our five reviews
Here, we have selected above-average wet dog foods. Unfortunately, the cheapest ones have all the no-no ingredients and few of the best ones.
Best Wet (Canned) Dog Food Brands in 2017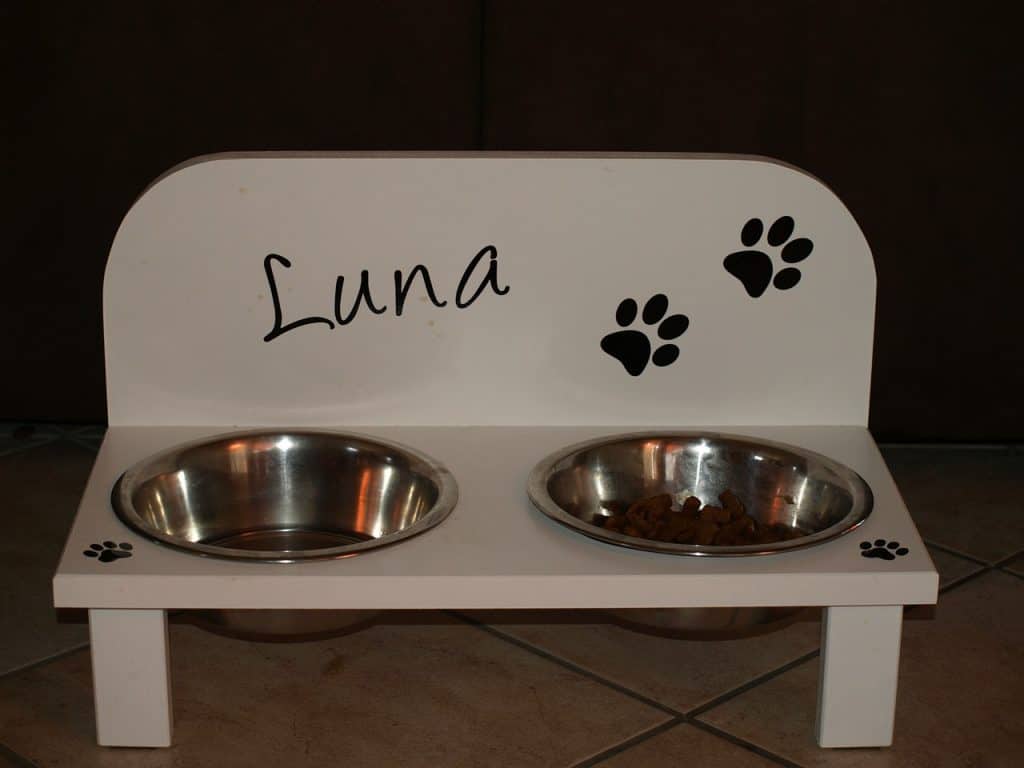 1. Wellness Thick & Chunky Natural Wet Grain Free Canned Dog Food Venison and Salmon Flavour
What we liked about this recipe
Protein, protein and more protein! This wet dog food is packed with high quality, named protein sources. Venison, salmon and beef liver are all excellent sources of animal protein and packed with amino acids essential for a dog's wellbeing. Salmon is not only an excellent source of protein but also rich in essential fatty acids.
The addition of dried egg whites and eggs, up the usable protein content, and are in no way detrimental to your dog.
Carbs are supplied by potato and potato starch. Potato is considered a good gluten-free source of carbohydrates.
The addition of carrots and apples adds flavour and provides anti-oxidants to combat those free radicals so detrimental to your dog's health.
This recipe is packed with added vitamins and minerals.
The minerals are chelated which means they have been chemically bonded to amino acids for easier absorption.
What we're not so sure about
The addition of potato starch is questionable. Some would say that potato starch is nothing more than a thickener.
The addition of guar gum is noted. It is a thickening and stabilising agent used in the food industry and, interestingly enough, is also used in hydraulic fracking. It is 8 times stronger than corn starch as a thickening agent. A little goes a long way. It would seem to have little nutritional value.
No grain, except for oat fibre, which, although of questionable nutritional value, adds extra fibre to the recipe to keep your dog regular.
Broths are often found in wet dog food to add extra moisture. They are, however, of questionable nutritional value
Pros
Good quality, named protein
Added salmon for essential fatty acids
No grain
Cons
Potato starch and oat fibre, as well as the addition of guar gum, is of questionable nutritional value. However, some fiber is good for digestive health, and the thickeners are commonly used and are harmless
 2 .Blue Buffalo Homestyle and Family Favorites Recipes Senior Chicken
This recipe has been specifically designed for senior dogs with added joint supporting supplements. We highly recommend this product for senior dogs, maintaining that their aged pooches got a new lease of life after switching to this formula.
The Essentials
Protein: Chicken is the principle source of protein in this recipe from Blue Buffalo. Chicken, chicken broth and chicken liver ensure that there are enough muscle building amino acids in this formula. Some dogs do develop intolerance to chicken, but luckily this manufacturer has many different flavours on offer, so you can switch recipes until you find one that your dog likes.
Carbs: Brown rice, barley, oatmeal and sweet potatoes provide complex, slow burning and gluten free carbs for your dog's energy requirements.
Fats: The only source of fat in this recipe is flaxseed. Flaxseed is a reliable source of essential omega-3 and omega-6 fatty acids. As long as the flaxseed has been ground, it is easily digestible by older dogs.
The Interesting Additions
Again we find the addition of guar gum and a new addition, cassia gum. These two together with carrageenan (a seaweed extract) are all thickening agents. One would assume these thickening agents are essential, given the nature of wet dog food (excess moisture). These thickening agents are preferable to wheat and corn starch which are used as thickeners in some wet dog foods.
There is an abundance of natural fruit and vegetables, in the form of carrots, peas, cranberries and blueberries. These ingredients do wonders for the flavour and are packed full of nutrients.
Essential vitamins and minerals are very well catered for and the minerals are chelated. Remember, chelated means they are chemically bound to amino acids for easier absorption.
Pros
Designed for senior dogs
Quality named protein
No wheat, corn or soya
Chelated minerals
Alternative non-gluten thickeners
Cons
Only one source of fatty acids
3. Wellness Complete Health Natural Wet Canned Dog Food Chicken and Sweet Potato Flavour
Most canned dog foods follow a similar recipe; it's normally only the quality of ingredients, and their proportions, that differ. The previous two brands reviewed were very similar and the third is no exception.
Protein
Proteins are provided by chicken, chicken liver, and whitefish. Once again a broth has been used, in this case, chicken broth. The nutritional value of broth is minimal; we presume it is there for flavour and added moisture. The chicken liver is rich in vitamin A, D and virtually all B vitamins. The whitefish not only adds quality protein, but also much needed essential fatty acids.
Carbohydrates
Most dogs are best suited to complex, slow burning and low glycemic carbohydrates, and not very much of them either. Don't forget, dogs are bred from ancestors who were, to a large extent, totally carnivorous. Be that as it may, modern nutrition dictates that your dog needs a certain amount of carbohydrates in his diet.
The carbs in this recipe come from ground barley, sweet potato and ground flaxseed. All are reliable sources of good quality carbs. Barley is packed with extra nutrients and flaxseed is rich in omega-3 fatty acid.
Fats
As mentioned earlier, the whitefish and flaxseed supply all the required omega-3 and omega-6 fatty acids.
Of Interest
Yet again we have the thickeners guar gum and carrageenan. These are common thickening and stabilising agents as they are present in all three recipes so far.
Canola oil is also a source of omega-3 fatty acids. Some nutritionists have noted that dogs absorb animal sourced fatty acids better than plant sourced. This recipe has adequate sources of all fatty acids both plant and animal based.
Pros
Good quality protein sources
Gluten free thickeners
Added vitamins and chelated minerals
No artificial colourants or preservatives
Cons
We found ourselves at a loss to find anything wrong with this recipe. Dogs, like humans, are fickle creatures. There will obviously be dogs out there somewhere who won't like this wet dog food.
4. Wilderness Blue Buffalo High Protein Wet Adult Dog Food Wolf Creek Chicken Stew
As discussed earlier this brand follows a pattern already establish in the preceding reviews.
Quality Protein:
Another quality product filled with high quality, named protein, in this case chicken, chicken liver, dried egg and chicken meal. The manufacturers have obviously plumbed for a single source protein. That can be useful if you are trying to find the best canned dog food for your dog. It can be used as part of an elimination exercise to see whether chicken agrees with your pooch or not. Chicken broth is also present for flavour. There is nothing wrong with the added dried egg. It is considered a valuable ingredient in dog food.
Complex Carbs:
Both potatoes and peas are excellent sources of gluten free carbohydrates. Potato adds calorific value to this recipe, if nothing else. Peas are also rich in plant based protein.
The Rest of the Ingredients:
Again we have the thickener guar gum. It seems that this ingredient is just about universal in its inclusion by canned dog food manufacturers. In this case, it is joined by xanthan gum, which is a similar product with similar uses, and potato starch which is also a thickener.
All the necessary vitamins and minerals have been added, and, interesting to note, the minerals are chelated for easier absorption.
Sunflower oil has been added as an excellent source of omega-6 fatty acids.
This recipe has a dry matter protein reading of 44%, fats 28%, and carbs 20%. This conforms to our criteria set out above for a good quality wet dog food.
Pros
Single source, named protein.
Natural Ingredients
Grain Free
No gluten thickeners
Added vitamins and chelated minerals
Cons
Again we hesitate to find anything amiss with this recipe.
5. Natural Balance Ultra Premium Wet Dog Food Beef Flavour
So far, each recipe has followed similar guidelines, and this brand is no exception. It appears to be packed with all necessary ingredients to provide all the required nutrition for man's best friend. We have a suspicion that the carb content is above average, compared to the others products reviewed previously.
The Three Essentials
Protein: This manufacturer has also opted for a single source of animal protein, namely beef and beef liver. As mentioned earlier this is useful if you are trying to determine which flavour your pooch likes. The beef liver also delivers essential vitamins to the formula.
Carbohydrates: Oat bran (milled whole grain oats) appears to be the principle source of complex carbohydrate in this recipe. This, together with brown rice and potato, make up the total calorie content in this dog food. Potato and brown rice are gluten free, easily digestible carbs. However besides their calorific input, they are of little nutritional value. Oat bran is particularly noteworthy in that it is a complex carbohydrate that is also packed with vitamins and minerals.
Fats: The only source of essential fatty acids in this recipe is canola oil, which is a source of omega-3 fatty acids. The anti-GMO sentiment prevalent in a lot of consumers might cause some to question the inclusion of this ingredient. It appears that certain canola oils come from GMO rapeseed. The fat sources in this recipe appear to rather skimpy.
The Rest
Carrageenan and guar gum are there again, but this time we have the addition of dried kelp. Recently carrageenan has attracted some controversy. Some have questioned its long-term biological safety, but as far as we know the jury is still out on that question. There are such small quantities present in a can of dog food anyway that we don't think that its presence poses any serious threat.
Kelp has been used in Asian cooking for centuries, but its nutritional value for dog has, as far as we can tell, never been ascertained. It is used in the food industry as a thickener and we can only assume that this is the case here.
Vitamins and minerals are here in abundance, but the minerals don't appear to be chelated.
Natural hickory smoke flavour and beef broth have been added and we are sure they will add flavour.
Pros
Single source, named protein
Complex carbs
Added vitamins and minerals
Cons
Contains grain
Above average carbs
Single source of essential fatty acids
Non-chelated minerals.
Benefits and Drawbacks of Wet Dog Food
Dry dog food or kibble is much more convenient than wet dog food. Wet dog food has greater weight than kibble. Kibble also comes in bigger packets and doesn't need any refrigeration.
Dry dog food is normally much cheaper, per volume, than wet dog food.
Wet dog food is normally higher in protein and lower in carbohydrates than dry dog food. Canned dog food has no need for fillers and extra carbohydrates to add volume.
Let's face it, wet dog food smells and tastes far better than kibble. Most dogs can't get enough of it! If you have a finicky eater or an older dog whose sense of smell is not what it used to be; one whiff of wet dog food usually does the trick.
Wet dog food generally has fewer chemical additives.
Wet dog food has a longer shelf life. However, once opened, the portion dished out must be consumed within a few hours. Because of the lack of preservatives and moisture, wet dog food can become contaminated very quickly. Once opened, the can must be refrigerated and should not stand in your fridge for longer than a few days.
Conclusion
As to our original question as to which is better, wet or dry dog food, we are sure that we have been able to prove, or at least, provoke some interesting thoughts; that it depends very much on you and your dog's personal requirements. Convenience, cost and a host of other factors should be weighed before jumping to any hasty conclusions. What we have proved is that the better quality canned dog food is just as nutritious as dry dog food.
What might work as a sensible compromise is to mix the two types in a practise known as topping. In that way you capture the best of both worlds. The nutritional value and convenience of kibble will be enhanced by the extra flavour and nutrients from the canned dog food.
As we have maintained over and over, it pays to familiarise yourself on how to read dog food labels, and to scrutinise the list of ingredients carefully. Therein, ultimately, lies the answer to the quest for the best wet dog food. We have given you tips on what to look for. It now up to you to go and start your own investigation and experimentation until, by finding the best canned dog food for your favourite friend, you will be rewarded with a happy, contented and well-fed dog.